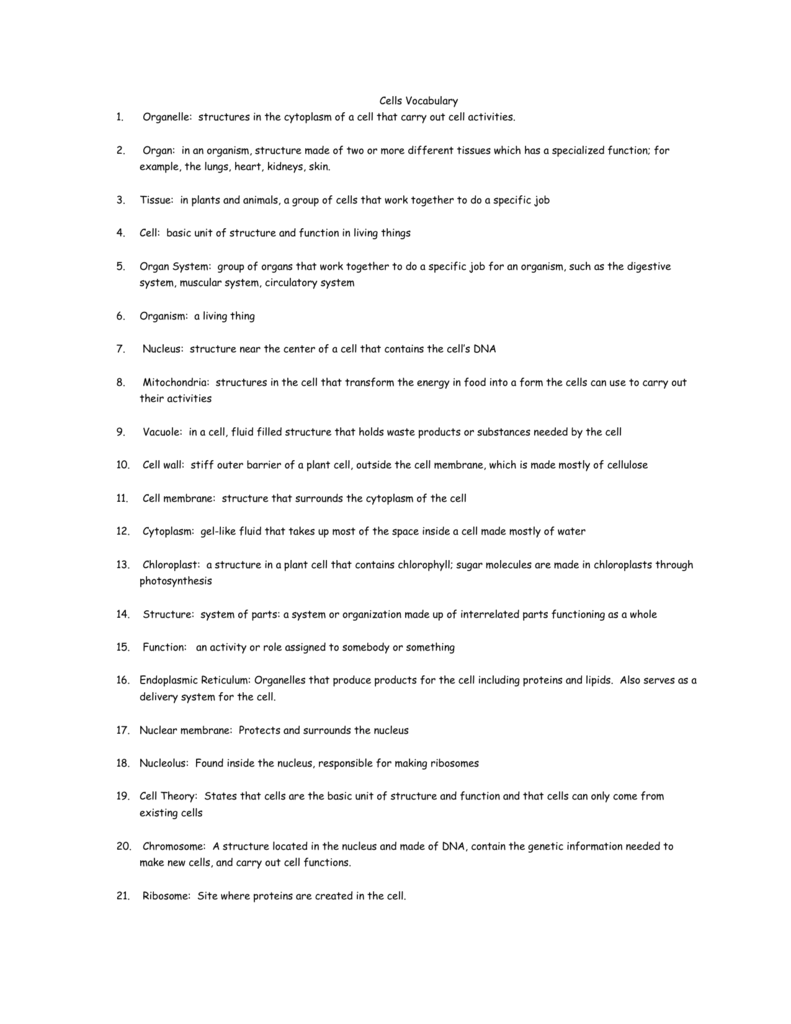 Cells Vocabulary
1.
2.
Organelle: structures in the cytoplasm of a cell that carry out cell activities.
Organ: in an organism, structure made of two or more different tissues which has a specialized function; for
example, the lungs, heart, kidneys, skin.
3.
Tissue: in plants and animals, a group of cells that work together to do a specific job
4.
Cell: basic unit of structure and function in living things
5.
Organ System: group of organs that work together to do a specific job for an organism, such as the digestive
system, muscular system, circulatory system
6.
Organism: a living thing
7.
Nucleus: structure near the center of a cell that contains the cell's DNA
8.
Mitochondria: structures in the cell that transform the energy in food into a form the cells can use to carry out
their activities
9.
Vacuole: in a cell, fluid filled structure that holds waste products or substances needed by the cell
10.
Cell wall: stiff outer barrier of a plant cell, outside the cell membrane, which is made mostly of cellulose
11.
Cell membrane: structure that surrounds the cytoplasm of the cell
12.
Cytoplasm: gel-like fluid that takes up most of the space inside a cell made mostly of water
13.
Chloroplast: a structure in a plant cell that contains chlorophyll; sugar molecules are made in chloroplasts through
photosynthesis
14.
Structure: system of parts: a system or organization made up of interrelated parts functioning as a whole
15.
Function: an activity or role assigned to somebody or something
16. Endoplasmic Reticulum: Organelles that produce products for the cell including proteins and lipids. Also serves as a
delivery system for the cell.
17. Nuclear membrane: Protects and surrounds the nucleus
18. Nucleolus: Found inside the nucleus, responsible for making ribosomes
19. Cell Theory: States that cells are the basic unit of structure and function and that cells can only come from
existing cells
20.
Chromosome: A structure located in the nucleus and made of DNA, contain the genetic information needed to
make new cells, and carry out cell functions.
21.
Ribosome: Site where proteins are created in the cell.
22.
Golgi apparatus (body):
An organelle consisting of folded membranes that works to change and transport
proteins out of eukaryotic cells.
23. Lysosome: The organelle that holds waste materials from the cell and breaks down food, worn out pieces of cell,
and other waste.