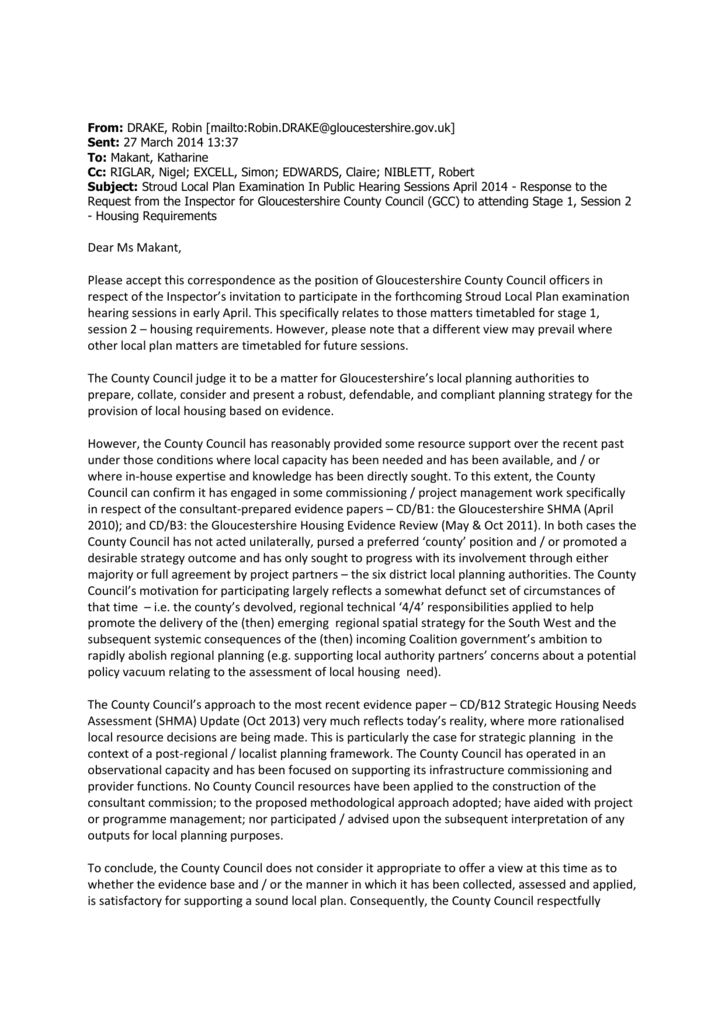 From: DRAKE, Robin [mailto:[email protected]]
Sent: 27 March 2014 13:37
To: Makant, Katharine
Cc: RIGLAR, Nigel; EXCELL, Simon; EDWARDS, Claire; NIBLETT, Robert
Subject: Stroud Local Plan Examination In Public Hearing Sessions April 2014 - Response to the
Request from the Inspector for Gloucestershire County Council (GCC) to attending Stage 1, Session 2
- Housing Requirements
Dear Ms Makant,
Please accept this correspondence as the position of Gloucestershire County Council officers in
respect of the Inspector's invitation to participate in the forthcoming Stroud Local Plan examination
hearing sessions in early April. This specifically relates to those matters timetabled for stage 1,
session 2 – housing requirements. However, please note that a different view may prevail where
other local plan matters are timetabled for future sessions.
The County Council judge it to be a matter for Gloucestershire's local planning authorities to
prepare, collate, consider and present a robust, defendable, and compliant planning strategy for the
provision of local housing based on evidence.
However, the County Council has reasonably provided some resource support over the recent past
under those conditions where local capacity has been needed and has been available, and / or
where in-house expertise and knowledge has been directly sought. To this extent, the County
Council can confirm it has engaged in some commissioning / project management work specifically
in respect of the consultant-prepared evidence papers – CD/B1: the Gloucestershire SHMA (April
2010); and CD/B3: the Gloucestershire Housing Evidence Review (May & Oct 2011). In both cases the
County Council has not acted unilaterally, pursed a preferred 'county' position and / or promoted a
desirable strategy outcome and has only sought to progress with its involvement through either
majority or full agreement by project partners – the six district local planning authorities. The County
Council's motivation for participating largely reflects a somewhat defunct set of circumstances of
that time – i.e. the county's devolved, regional technical '4/4' responsibilities applied to help
promote the delivery of the (then) emerging regional spatial strategy for the South West and the
subsequent systemic consequences of the (then) incoming Coalition government's ambition to
rapidly abolish regional planning (e.g. supporting local authority partners' concerns about a potential
policy vacuum relating to the assessment of local housing need).
The County Council's approach to the most recent evidence paper – CD/B12 Strategic Housing Needs
Assessment (SHMA) Update (Oct 2013) very much reflects today's reality, where more rationalised
local resource decisions are being made. This is particularly the case for strategic planning in the
context of a post-regional / localist planning framework. The County Council has operated in an
observational capacity and has been focused on supporting its infrastructure commissioning and
provider functions. No County Council resources have been applied to the construction of the
consultant commission; to the proposed methodological approach adopted; have aided with project
or programme management; nor participated / advised upon the subsequent interpretation of any
outputs for local planning purposes.
To conclude, the County Council does not consider it appropriate to offer a view at this time as to
whether the evidence base and / or the manner in which it has been collected, assessed and applied,
is satisfactory for supporting a sound local plan. Consequently, the County Council respectfully
declines the invitation to participate in hearing stage 1 session 2 of the Stroud Local Plan
examination.
The County Council raises no objection to this correspondence being included within the
examination library.
Yours sincerely,
Robin Drake
Strategic Infrastructure
Gloucestershire County Council
Shire Hall, Westgate Street, Gloucester, GL1 2TG
Tel: 01452 42 5702
Go to www.gloucestershire.gov.uk to find information on any County Council service.
It couldn't be easier to find information instantly and in some cases apply for services online
______________________________________
Think before you print - only print this email if absolutely necessary.
This email and any attachments are strictly confidential and intended for the addressee only.
If you are not the named addressee you must not disclose, copy or take any action in
reliance of this transmission and you should notify us as soon as possible.
This email and any attachments are believed to be free from viruses but it is your
responsibility to carry out all necessary virus checks and Gloucestershire County Council
accepts no liability in connection therewith.