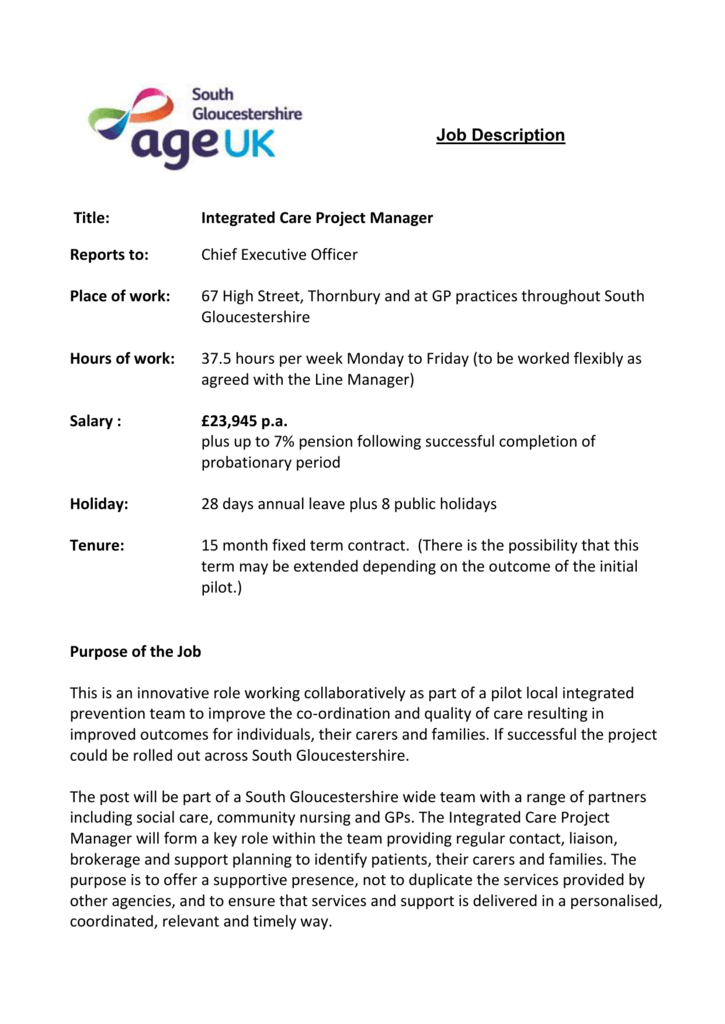 Job Description
Title:
Integrated Care Project Manager
Reports to:
Chief Executive Officer
Place of work:
67 High Street, Thornbury and at GP practices throughout South
Gloucestershire
Hours of work:
37.5 hours per week Monday to Friday (to be worked flexibly as
agreed with the Line Manager)
Salary :
£23,945 p.a.
plus up to 7% pension following successful completion of
probationary period
Holiday:
28 days annual leave plus 8 public holidays
Tenure:
15 month fixed term contract. (There is the possibility that this
term may be extended depending on the outcome of the initial
pilot.)
Purpose of the Job
This is an innovative role working collaboratively as part of a pilot local integrated
prevention team to improve the co-ordination and quality of care resulting in
improved outcomes for individuals, their carers and families. If successful the project
could be rolled out across South Gloucestershire.
The post will be part of a South Gloucestershire wide team with a range of partners
including social care, community nursing and GPs. The Integrated Care Project
Manager will form a key role within the team providing regular contact, liaison,
brokerage and support planning to identify patients, their carers and families. The
purpose is to offer a supportive presence, not to duplicate the services provided by
other agencies, and to ensure that services and support is delivered in a personalised,
coordinated, relevant and timely way.
The Integrated Care Project Manager's role is crucial to the delivery of personalised
planning and will offer encouragement and support for individuals to self-manage and
self-care using the best practice available.
The nature of this post will require travel therefore a requirement of this post will be
access to and the use of a reliable car and a current driving licence.
As duties and responsibilities change, the job description will be reviewed and
amended in consultation with the post holder:
Key Responsibilities:
 Develop and implement a detailed project delivery plan
 Develop project methodology as pilot evolves and assess options for future roll out.
 Ensure an interim and final independent project evaluation is undertaken
 Manage and help to train volunteers working as part of the locality team, to offer
initial visits, guided conversations and "checklist" reviews to individuals identified
within the programme.
 Visit individuals within the programme to undertake assisted self-assessments
within a format agreed by partner agencies.
 Develop a support plan, liaising with relatives, carers and other involved agencies as
agreed with the individual to ensure an integrated and personalised approach to
care and support.
 Liaise with other Age UK South Gloucestershire services and ensure appropriate
links are made to other services.
 Provide accurate and timely performance reporting.
 Understand and assist to identify triggers and developing protocols for ensuring any
deterioration results in an appropriate and timely response.
 Work with team members and other local organisations, statutory, voluntary and
independent organisation to ensure referrals are made appropriately.
 Understand the range of specialist clinical and support teams who can provide
assistance to an individual and their carer or family.
 Develop and monitor an outcomes star monitoring framework.
 Work as part of the Integrated Care Team to motivate and encourage older people
to improve mobility and become, and remain, more physically active through
involvement in community services and social activities.
General
 Attend mandatory training and meetings as directed by the Line Manager.
 Uphold the highest standards of personal conduct in all matters relating to the
role.
 Work within all policies and procedures of Age UK South Gloucestershire, such
as Health & Safety, Equality and Diversity, Lone Working, Confidentiality and
Data Protection and Safeguarding Adults, ensuring that client and carers'
information remains confidential.
 Such other duties which are consistent with the duties and responsibilities of
this post as required by the Chief Executive Officer of Age UK South
Gloucestershire
 This post will involve some lone working therefore the advice and guidance of
Age UK South Gloucestershire must be followed.
Person Specification - This person specification details the experience, skills,
knowledge, personal qualities and qualifications that are either essential or desirable
for the post
Knowledge and skills
Essential:
1.
Understanding the role of prevention and voluntary sector activities
2.
Appreciation of issues impacting on individuals, their carers and families in
having a long term condition
3.
Ability to report and provide performance management information
4.
Ability to work effectively as part of a multi-disciplinary locality team
5.
Experience in managing and supporting volunteers
6.
Communicate effectively and have good interpersonal skills in a variety of
environments, some of which could be potentially unpredictable
7.
Problem solve
8.
Be self-motivated and enthusiastic
9.
Plan, prioritise and work to timescales
10.
Personal care and support planning skills
11.
Community development skills
12.
Experience and knowledge of self-care and self-management opportunities
13.
The principles of Integrated Care
14.
Understanding of issues affecting cognition and communication
Desirable:
15. Motivational interviewing skills
16.
Developing social capital
Disclosure and Barring Service
This post is subject to a satisfactory Disclosure and Barring Service check, which will disclose
all cautions reprimands and warnings as well as convictions. In addition to completing this
application form you are required to provide us with details of all spent and unspent
convictions. Please send this information to us under separate, confidential cover to the
Chief Executive Officer. Remember to include your name, address and the position for which
you are applying. We guarantee that the information you provide be used fairly and will only
be seen by those who need to see it as part of the recruitment process.
A criminal record will not necessarily bar you from the advertised position. This will depend
on the nature of the position and the circumstances and background of your offences.
However, failure to reveal this information could lead to the withdrawal of an offer of
employment.