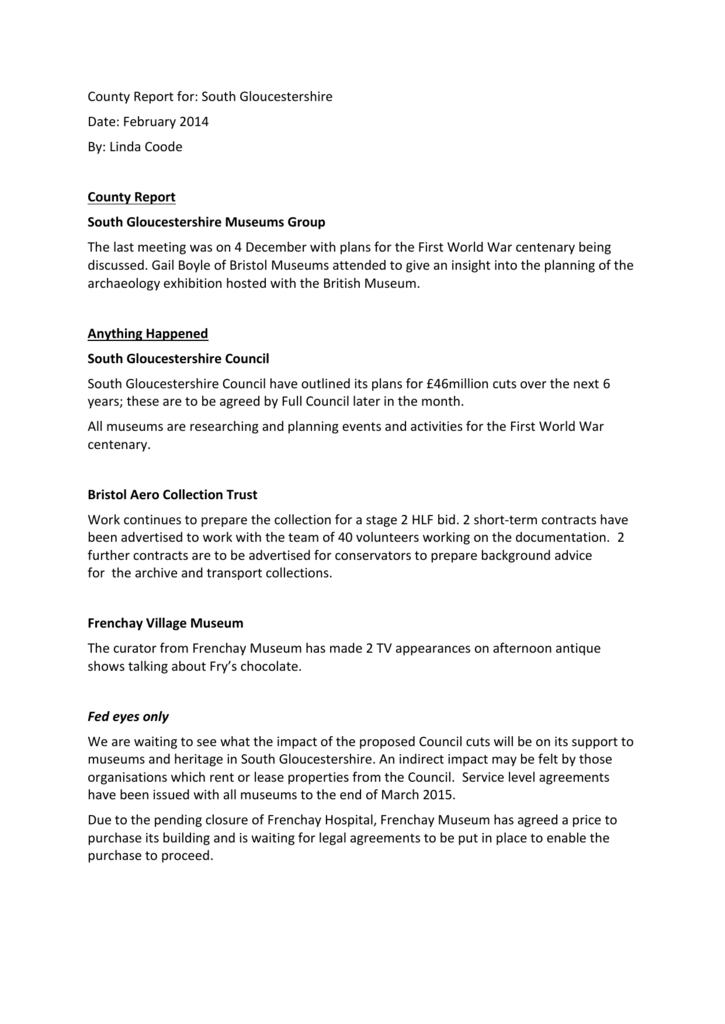 County Report for: South Gloucestershire
Date: February 2014
By: Linda Coode
County Report
South Gloucestershire Museums Group
The last meeting was on 4 December with plans for the First World War centenary being
discussed. Gail Boyle of Bristol Museums attended to give an insight into the planning of the
archaeology exhibition hosted with the British Museum.
Anything Happened
South Gloucestershire Council
South Gloucestershire Council have outlined its plans for £46million cuts over the next 6
years; these are to be agreed by Full Council later in the month.
All museums are researching and planning events and activities for the First World War
centenary.
Bristol Aero Collection Trust
Work continues to prepare the collection for a stage 2 HLF bid. 2 short-term contracts have
been advertised to work with the team of 40 volunteers working on the documentation. 2
further contracts are to be advertised for conservators to prepare background advice
for the archive and transport collections.
Frenchay Village Museum
The curator from Frenchay Museum has made 2 TV appearances on afternoon antique
shows talking about Fry's chocolate.
Fed eyes only
We are waiting to see what the impact of the proposed Council cuts will be on its support to
museums and heritage in South Gloucestershire. An indirect impact may be felt by those
organisations which rent or lease properties from the Council. Service level agreements
have been issued with all museums to the end of March 2015.
Due to the pending closure of Frenchay Hospital, Frenchay Museum has agreed a price to
purchase its building and is waiting for legal agreements to be put in place to enable the
purchase to proceed.