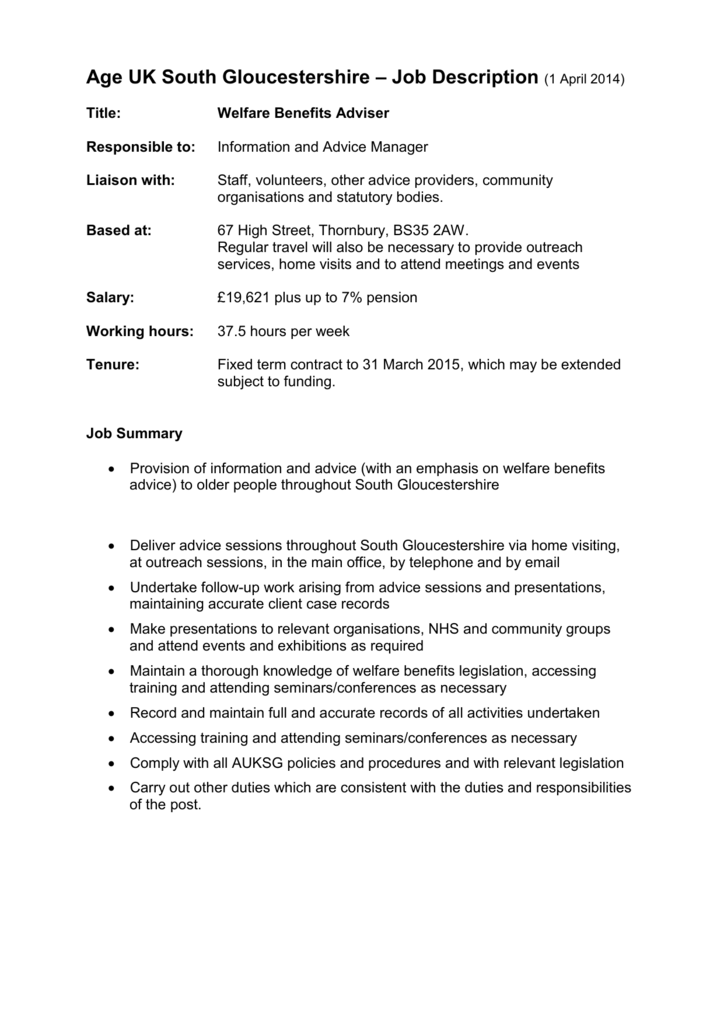 Age UK South Gloucestershire – Job Description (1 April 2014)
Title:
Welfare Benefits Adviser
Responsible to:
Information and Advice Manager
Liaison with:
Staff, volunteers, other advice providers, community
organisations and statutory bodies.
Based at:
67 High Street, Thornbury, BS35 2AW.
Regular travel will also be necessary to provide outreach
services, home visits and to attend meetings and events
Salary:
£19,621 plus up to 7% pension
Working hours:
37.5 hours per week
Tenure:
Fixed term contract to 31 March 2015, which may be extended
subject to funding.
Job Summary

Provision of information and advice (with an emphasis on welfare benefits
advice) to older people throughout South Gloucestershire

Deliver advice sessions throughout South Gloucestershire via home visiting,
at outreach sessions, in the main office, by telephone and by email

Undertake follow-up work arising from advice sessions and presentations,
maintaining accurate client case records

Make presentations to relevant organisations, NHS and community groups
and attend events and exhibitions as required

Maintain a thorough knowledge of welfare benefits legislation, accessing
training and attending seminars/conferences as necessary

Record and maintain full and accurate records of all activities undertaken

Accessing training and attending seminars/conferences as necessary

Comply with all AUKSG policies and procedures and with relevant legislation

Carry out other duties which are consistent with the duties and responsibilities
of the post.
Person Specification
Essential Criteria
1. A minimum of one year's experience of working in an advice giving capacity in
either a paid or a voluntary capacity
2. Knowledge and understanding of current welfare benefits and pensions
relevant to older people
3. Experience and ability to assist clients with the explanation and completion of
complex application forms
4. Ability and commitment to increase knowledge and skills relevant to the
provision of support to older people
5. Excellent verbal and written communication skills
6. Good numeric skills
7. A working knowledge of Microsoft Office (MS Word, MS Excel, MS Powerpoint
and MS Outlook), web based applications, and databases.
8. Ability to organise and prioritise a challenging workload effectively
9. Ability to work effectively as part of a team and to use initiative and work
independently when necessary
10. Commitment to the aims, objectives and policies of AUKSG
11. An understanding of and commitment to equal opportunities
12. The nature of this post will require regular travel throughout South
Gloucestershire and occasionally further afield therefore access to and the
use of a reliable car is essential.
13. Willingness to work occasional evenings and weekends
Desirable Criteria
14. Experience of providing advice in other areas of social welfare law
15. Experience of working with older people
16. Good presentation skills
17. Knowledge and understanding of the social security benefits and financial
support available from Social Services and the NHS for those living in
residential or nursing home accommodation, or who have particular
healthcare needs.
18. Knowledge of more advanced legal information and experience in completing
forms, such as Power of Attorney.