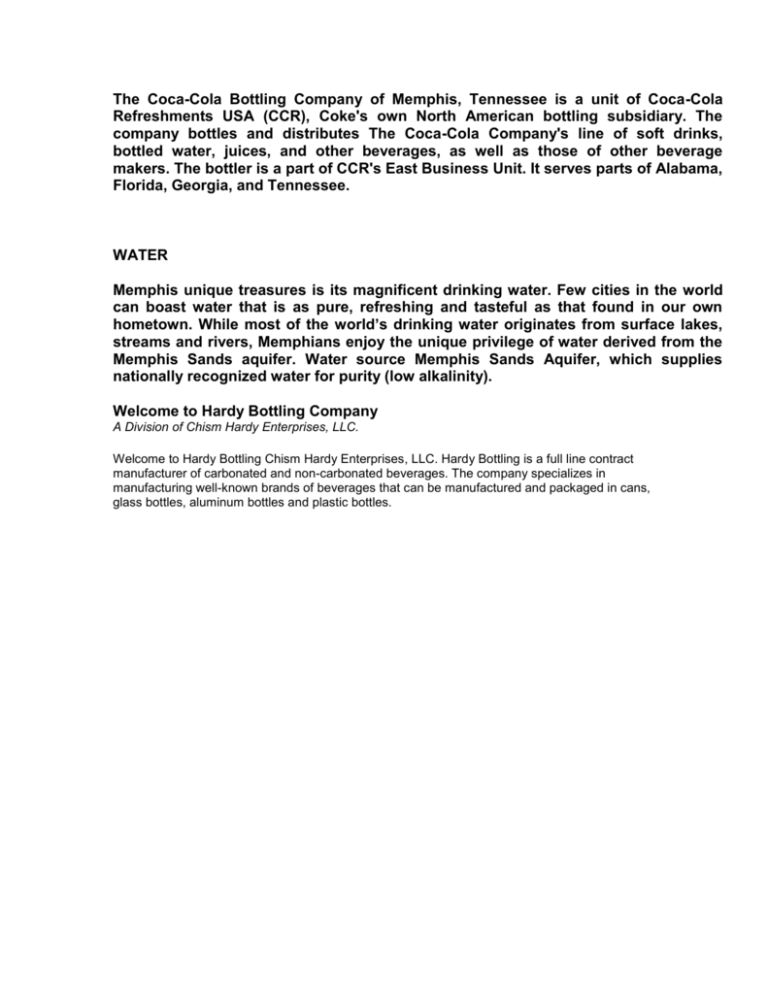 The Coca-Cola Bottling Company of Memphis, Tennessee is a unit of Coca-Cola
Refreshments USA (CCR), Coke's own North American bottling subsidiary. The
company bottles and distributes The Coca-Cola Company's line of soft drinks,
bottled water, juices, and other beverages, as well as those of other beverage
makers. The bottler is a part of CCR's East Business Unit. It serves parts of Alabama,
Florida, Georgia, and Tennessee.
WATER
Memphis unique treasures is its magnificent drinking water. Few cities in the world
can boast water that is as pure, refreshing and tasteful as that found in our own
hometown. While most of the world's drinking water originates from surface lakes,
streams and rivers, Memphians enjoy the unique privilege of water derived from the
Memphis Sands aquifer. Water source Memphis Sands Aquifer, which supplies
nationally recognized water for purity (low alkalinity).
Welcome to Hardy Bottling Company
A Division of Chism Hardy Enterprises, LLC.
Welcome to Hardy Bottling Chism Hardy Enterprises, LLC. Hardy Bottling is a full line contract
manufacturer of carbonated and non-carbonated beverages. The company specializes in
manufacturing well-known brands of beverages that can be manufactured and packaged in cans,
glass bottles, aluminum bottles and plastic bottles.