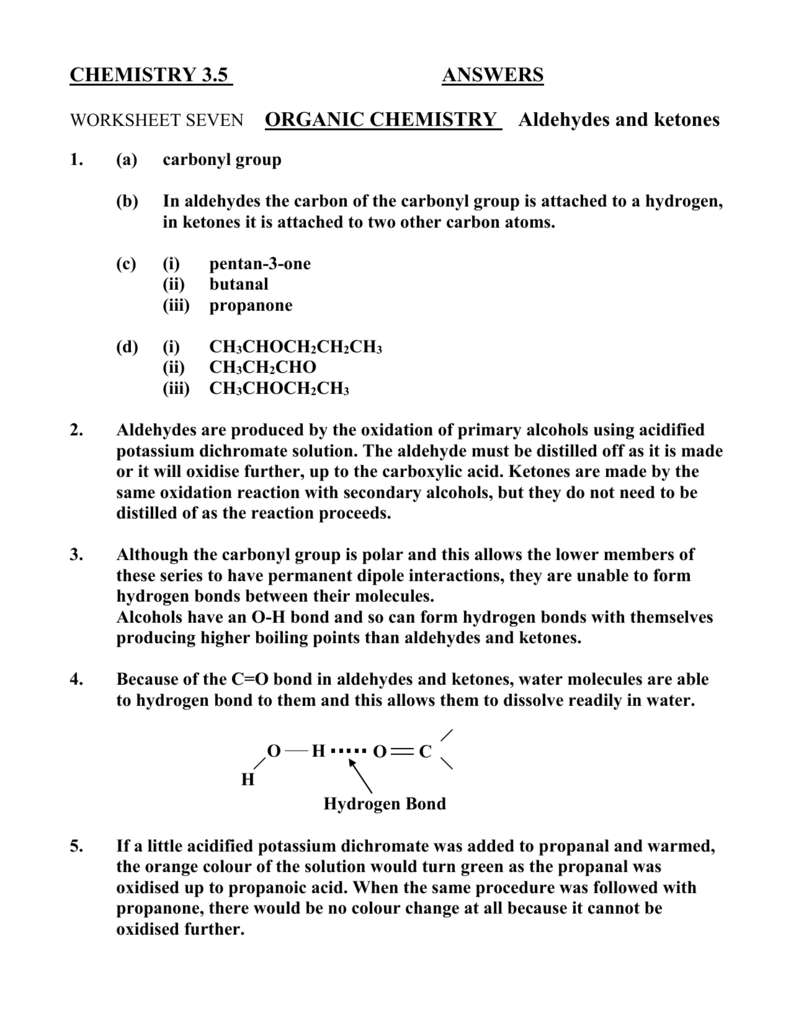 CHEMISTRY 3.5
ANSWERS
WORKSHEET SEVEN
1.
ORGANIC CHEMISTRY
Aldehydes and ketones
(a)
carbonyl group
(b)
In aldehydes the carbon of the carbonyl group is attached to a hydrogen,
in ketones it is attached to two other carbon atoms.
(c)
(i)
(ii)
(iii)
pentan-3-one
butanal
propanone
(d)
(i)
(ii)
(iii)
CH3CHOCH2CH2CH3
CH3CH2CHO
CH3CHOCH2CH3
2.
Aldehydes are produced by the oxidation of primary alcohols using acidified
potassium dichromate solution. The aldehyde must be distilled off as it is made
or it will oxidise further, up to the carboxylic acid. Ketones are made by the
same oxidation reaction with secondary alcohols, but they do not need to be
distilled of as the reaction proceeds.
3.
Although the carbonyl group is polar and this allows the lower members of
these series to have permanent dipole interactions, they are unable to form
hydrogen bonds between their molecules.
Alcohols have an O-H bond and so can form hydrogen bonds with themselves
producing higher boiling points than aldehydes and ketones.
4.
Because of the C=O bond in aldehydes and ketones, water molecules are able
to hydrogen bond to them and this allows them to dissolve readily in water.
O
H
O
C
H
Hydrogen Bond
5.
If a little acidified potassium dichromate was added to propanal and warmed,
the orange colour of the solution would turn green as the propanal was
oxidised up to propanoic acid. When the same procedure was followed with
propanone, there would be no colour change at all because it cannot be
oxidised further.
6.
(a)
Tollen's reagent contains the silver diammine complex ion [Ag(NH3)2]+
(b)
(i)
(ii)
If the reaction is carried out in a clean test tube a silver mirror
forms on the glass. Otherwise the silver produced appears as a
black ppt.
Metallic silver and a carboxylic acid.
(c)
Tollens reagent will oxidise aldehydes but will not oxidise ketones or
alcohols so it can be used to identify aldehydes from these two other
compounds.
7.
(a)
(b)
(c)
Blue
A brick-red ppt forms.
Cu2O
8.
Step 1.
Add Tollens reagent to samples of each chemical and warm. The
mixture that either makes a silver mirror or a black ppt is an
aldehyde.
Step 2.
Add a little acidified potassium dichromate to samples of the
remaining two chemicals. The mixture that turns from orange to
green is an alcohol.
The remaining liquid is the ketone.