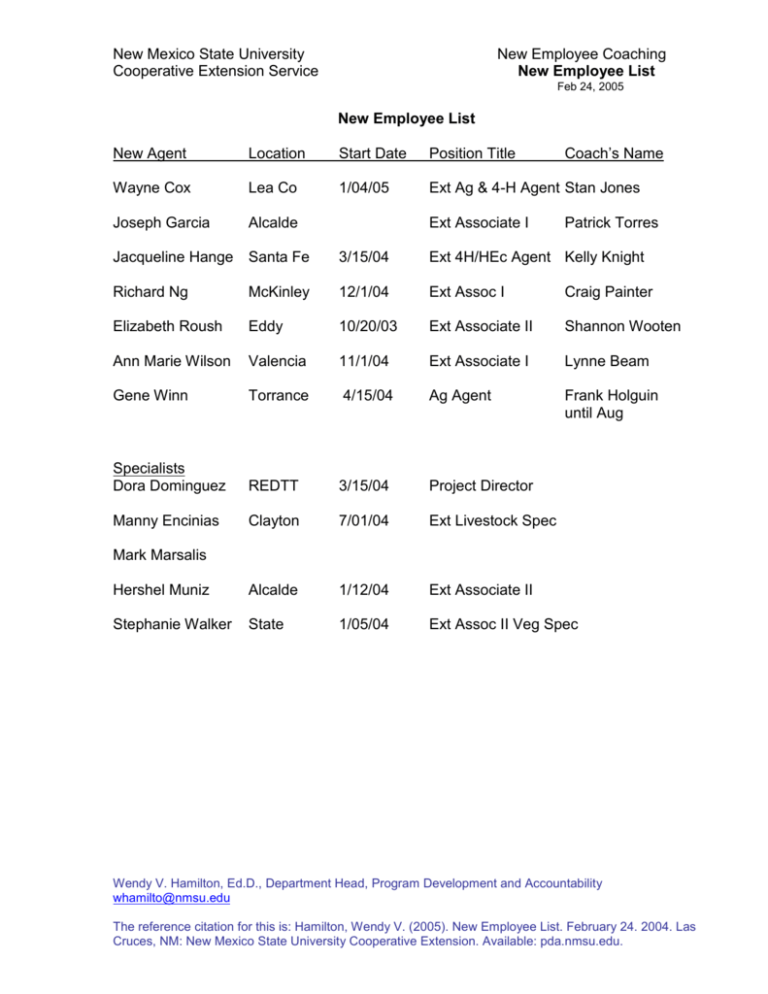 New Mexico State University
Cooperative Extension Service
New Employee Coaching
New Employee List
Feb 24, 2005
New Employee List
Coach's Name
New Agent
Location
Start Date
Position Title
Wayne Cox
Lea Co
1/04/05
Ext Ag & 4-H Agent Stan Jones
Joseph Garcia
Alcalde
Jacqueline Hange
Santa Fe
3/15/04
Ext 4H/HEc Agent Kelly Knight
Richard Ng
McKinley
12/1/04
Ext Assoc I
Craig Painter
Elizabeth Roush
Eddy
10/20/03
Ext Associate II
Shannon Wooten
Ann Marie Wilson
Valencia
11/1/04
Ext Associate I
Lynne Beam
Gene Winn
Torrance
4/15/04
Ag Agent
Frank Holguin
until Aug
Specialists
Dora Dominguez
REDTT
3/15/04
Project Director
Manny Encinias
Clayton
7/01/04
Ext Livestock Spec
Hershel Muniz
Alcalde
1/12/04
Ext Associate II
Stephanie Walker
State
1/05/04
Ext Assoc II Veg Spec
Ext Associate I
Patrick Torres
Mark Marsalis
Wendy V. Hamilton, Ed.D., Department Head, Program Development and Accountability
whamilto@nmsu.edu
The reference citation for this is: Hamilton, Wendy V. (2005). New Employee List. February 24. 2004. Las
Cruces, NM: New Mexico State University Cooperative Extension. Available: pda.nmsu.edu.