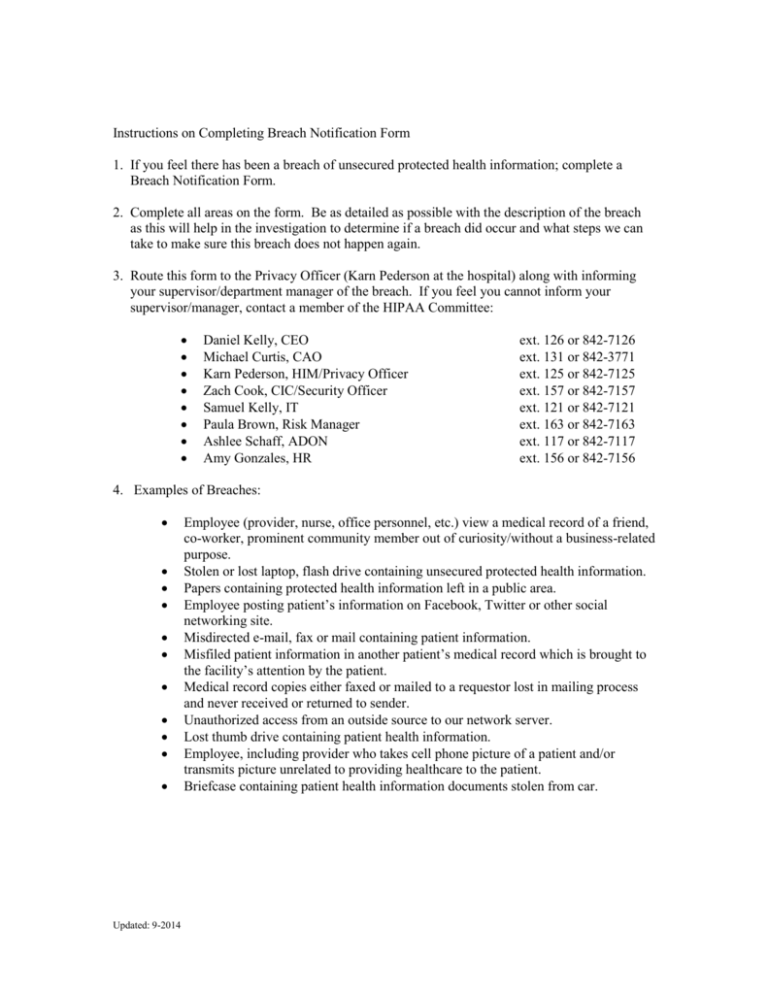 Instructions on Completing Breach Notification Form
1. If you feel there has been a breach of unsecured protected health information; complete a
Breach Notification Form.
2. Complete all areas on the form. Be as detailed as possible with the description of the breach
as this will help in the investigation to determine if a breach did occur and what steps we can
take to make sure this breach does not happen again.
3. Route this form to the Privacy Officer (Karn Pederson at the hospital) along with informing
your supervisor/department manager of the breach. If you feel you cannot inform your
supervisor/manager, contact a member of the HIPAA Committee:








Daniel Kelly, CEO
Michael Curtis, CAO
Karn Pederson, HIM/Privacy Officer
Zach Cook, CIC/Security Officer
Samuel Kelly, IT
Paula Brown, Risk Manager
Ashlee Schaff, ADON
Amy Gonzales, HR
ext. 126 or 842-7126
ext. 131 or 842-3771
ext. 125 or 842-7125
ext. 157 or 842-7157
ext. 121 or 842-7121
ext. 163 or 842-7163
ext. 117 or 842-7117
ext. 156 or 842-7156
4. Examples of Breaches:











Updated: 9-2014
Employee (provider, nurse, office personnel, etc.) view a medical record of a friend,
co-worker, prominent community member out of curiosity/without a business-related
purpose.
Stolen or lost laptop, flash drive containing unsecured protected health information.
Papers containing protected health information left in a public area.
Employee posting patient's information on Facebook, Twitter or other social
networking site.
Misdirected e-mail, fax or mail containing patient information.
Misfiled patient information in another patient's medical record which is brought to
the facility's attention by the patient.
Medical record copies either faxed or mailed to a requestor lost in mailing process
and never received or returned to sender.
Unauthorized access from an outside source to our network server.
Lost thumb drive containing patient health information.
Employee, including provider who takes cell phone picture of a patient and/or
transmits picture unrelated to providing healthcare to the patient.
Briefcase containing patient health information documents stolen from car.