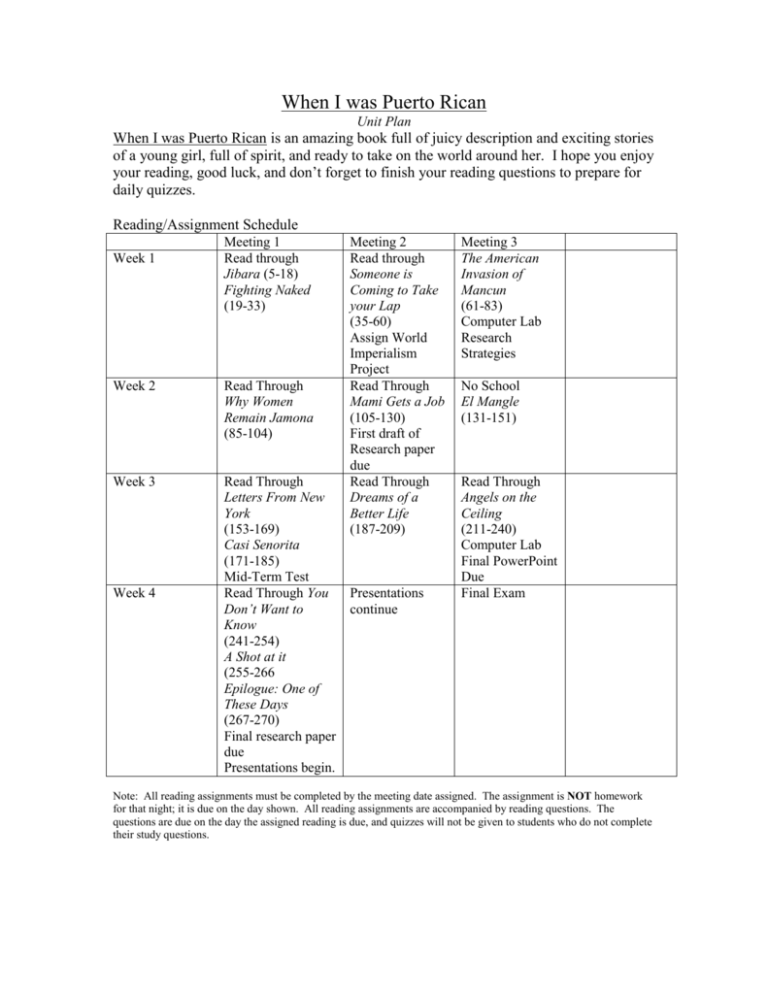 When I was Puerto Rican
Unit Plan
When I was Puerto Rican is an amazing book full of juicy description and exciting stories
of a young girl, full of spirit, and ready to take on the world around her. I hope you enjoy
your reading, good luck, and don't forget to finish your reading questions to prepare for
daily quizzes.
Reading/Assignment Schedule
Week 1
Meeting 1
Read through
Jibara (5-18)
Fighting Naked
(19-33)
Week 2
Read Through
Why Women
Remain Jamona
(85-104)
Week 3
Read Through
Letters From New
York
(153-169)
Casi Senorita
(171-185)
Mid-Term Test
Read Through You
Don't Want to
Know
(241-254)
A Shot at it
(255-266
Epilogue: One of
These Days
(267-270)
Final research paper
due
Presentations begin.
Week 4
Meeting 2
Read through
Someone is
Coming to Take
your Lap
(35-60)
Assign World
Imperialism
Project
Read Through
Mami Gets a Job
(105-130)
First draft of
Research paper
due
Read Through
Dreams of a
Better Life
(187-209)
Presentations
continue
Meeting 3
The American
Invasion of
Mancun
(61-83)
Computer Lab
Research
Strategies
No School
El Mangle
(131-151)
Read Through
Angels on the
Ceiling
(211-240)
Computer Lab
Final PowerPoint
Due
Final Exam
Note: All reading assignments must be completed by the meeting date assigned. The assignment is NOT homework
for that night; it is due on the day shown. All reading assignments are accompanied by reading questions. The
questions are due on the day the assigned reading is due, and quizzes will not be given to students who do not complete
their study questions.