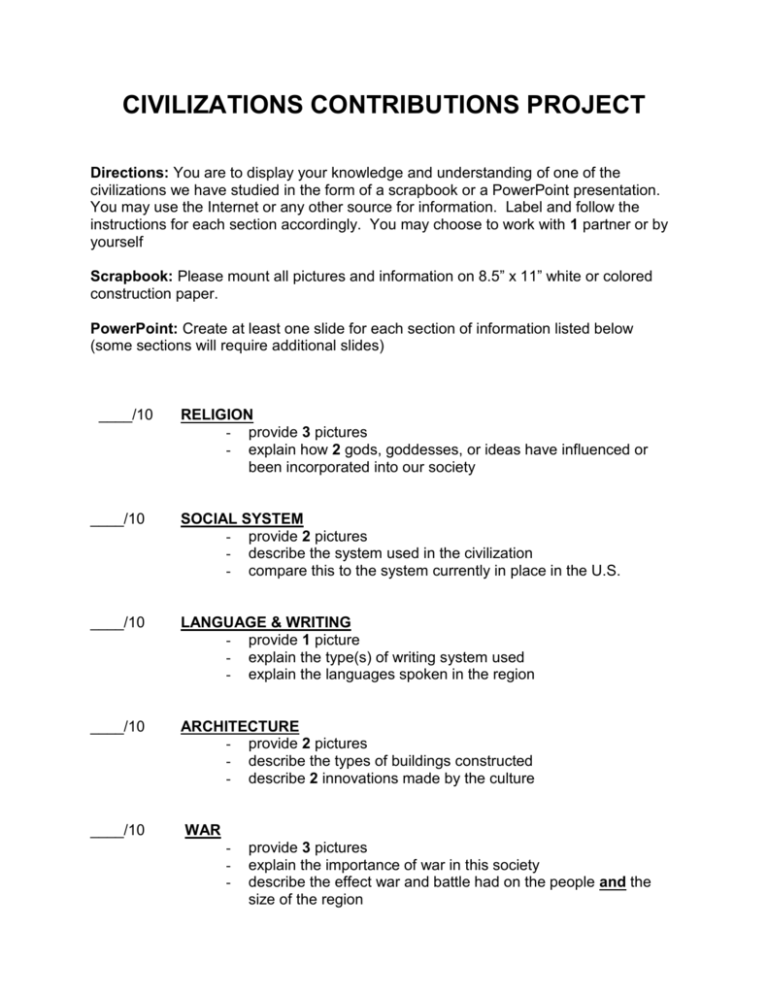 CIVILIZATIONS CONTRIBUTIONS PROJECT
Directions: You are to display your knowledge and understanding of one of the
civilizations we have studied in the form of a scrapbook or a PowerPoint presentation.
You may use the Internet or any other source for information. Label and follow the
instructions for each section accordingly. You may choose to work with 1 partner or by
yourself
Scrapbook: Please mount all pictures and information on 8.5" x 11" white or colored
construction paper.
PowerPoint: Create at least one slide for each section of information listed below
(some sections will require additional slides)
____/10
RELIGION
- provide 3 pictures
- explain how 2 gods, goddesses, or ideas have influenced or
been incorporated into our society
____/10
SOCIAL SYSTEM
- provide 2 pictures
- describe the system used in the civilization
- compare this to the system currently in place in the U.S.
____/10
LANGUAGE & WRITING
- provide 1 picture
- explain the type(s) of writing system used
- explain the languages spoken in the region
____/10
ARCHITECTURE
- provide 2 pictures
- describe the types of buildings constructed
- describe 2 innovations made by the culture
____/10
WAR
-
provide 3 pictures
explain the importance of war in this society
describe the effect war and battle had on the people and the
size of the region
____/10
SCIENCE & ART
- provide 2 pictures
- explain 2 accomplishments of those in the culture
____/10
LOCATION
- provide 1 map
- provide 2 pictures
- describe the physical conditions of the terrain and region
(you may need more than one description for large groups)
______________________________________________________________________
____/10
IN CLASS PRESENTATION
- eye contact
- understanding
- preparedness
____/10
QUALITY
-
spelling
grammar
neatness
appearance
____/10
CREATIVITY
____/100
TOTAL
COMMENTS:
RULES
 The scrapbook option must be in the form of a booklet. The PowerPoint must be in
slide show format.
 You must provide a cover page for the scrapbook. You must have a title page for
the PowerPoint.
 Be neat, creative, and colorful. I will provide advice and assistance, but you must
ask for help.
 You may not use pictures from the textbook.

Final presentations will be due on
.