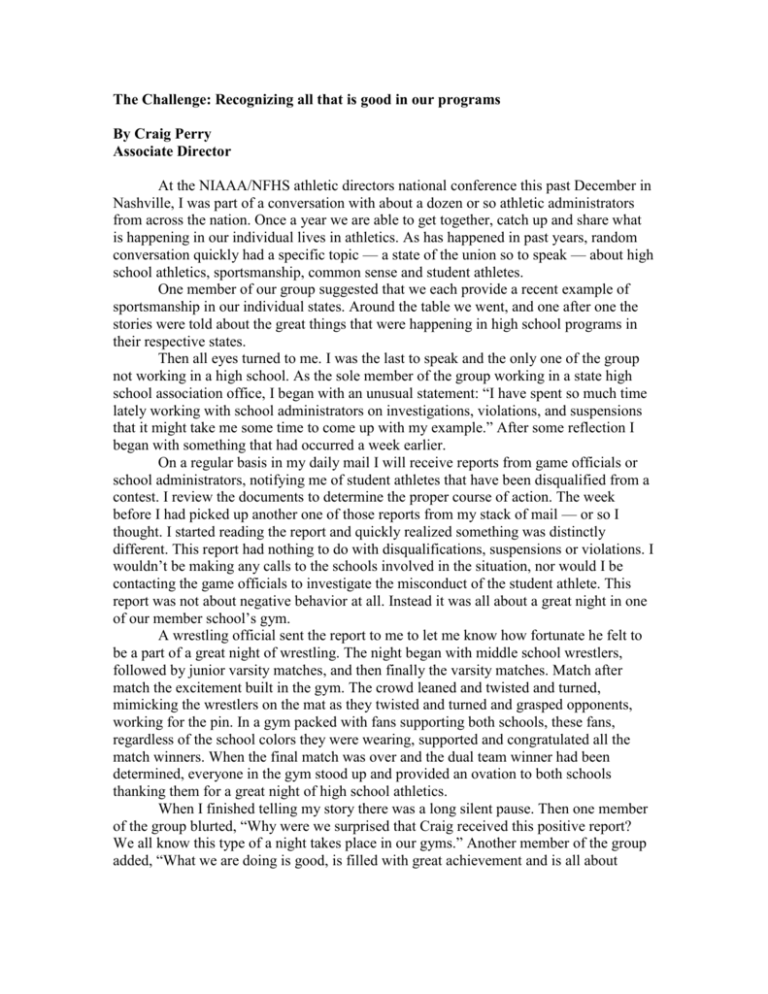 The Challenge: Recognizing all that is good in our programs
By Craig Perry
Associate Director
At the NIAAA/NFHS athletic directors national conference this past December in
Nashville, I was part of a conversation with about a dozen or so athletic administrators
from across the nation. Once a year we are able to get together, catch up and share what
is happening in our individual lives in athletics. As has happened in past years, random
conversation quickly had a specific topic — a state of the union so to speak — about high
school athletics, sportsmanship, common sense and student athletes.
One member of our group suggested that we each provide a recent example of
sportsmanship in our individual states. Around the table we went, and one after one the
stories were told about the great things that were happening in high school programs in
their respective states.
Then all eyes turned to me. I was the last to speak and the only one of the group
not working in a high school. As the sole member of the group working in a state high
school association office, I began with an unusual statement: "I have spent so much time
lately working with school administrators on investigations, violations, and suspensions
that it might take me some time to come up with my example." After some reflection I
began with something that had occurred a week earlier.
On a regular basis in my daily mail I will receive reports from game officials or
school administrators, notifying me of student athletes that have been disqualified from a
contest. I review the documents to determine the proper course of action. The week
before I had picked up another one of those reports from my stack of mail — or so I
thought. I started reading the report and quickly realized something was distinctly
different. This report had nothing to do with disqualifications, suspensions or violations. I
wouldn't be making any calls to the schools involved in the situation, nor would I be
contacting the game officials to investigate the misconduct of the student athlete. This
report was not about negative behavior at all. Instead it was all about a great night in one
of our member school's gym.
A wrestling official sent the report to me to let me know how fortunate he felt to
be a part of a great night of wrestling. The night began with middle school wrestlers,
followed by junior varsity matches, and then finally the varsity matches. Match after
match the excitement built in the gym. The crowd leaned and twisted and turned,
mimicking the wrestlers on the mat as they twisted and turned and grasped opponents,
working for the pin. In a gym packed with fans supporting both schools, these fans,
regardless of the school colors they were wearing, supported and congratulated all the
match winners. When the final match was over and the dual team winner had been
determined, everyone in the gym stood up and provided an ovation to both schools
thanking them for a great night of high school athletics.
When I finished telling my story there was a long silent pause. Then one member
of the group blurted, "Why were we surprised that Craig received this positive report?
We all know this type of a night takes place in our gyms." Another member of the group
added, "What we are doing is good, is filled with great achievement and is all about
doing what is right. So, why are the success stories hidden amongst the sensational and
negative? Why does the negative always come to the forefront?"
Those comments caused all of us to look inward for a response, and then quickly,
in rapid fire succession with comments from everyone, we came up with a plan. This
gang of 12 decided to recognize the greatness of high school students and high school
athletic programs. Simple and from the heart, we agreed to commit ourselves to the plan.
The challenge is really quite simple: Identify ways we can promote and recognize
all that is good in our programs.
l
Send one note a week to a coach, student or school administrator
recognizing their positive efforts or sporting behavior. It only takes a couple of minutes
and the impact lasts for days.
l
Recognize the positive support of your fans at one of your home games.
l
Send an email once a week to your team of coaches highlighting the
examples of positive student athlete behavior that you witnessed during the past week.
l
During team introductions before the game make sure your student
athletes face the other team as they are introduced. It is a simple gesture, yet a powerful
display of respect. It sounds like common sense, but it has become an uncommon
practice. Similar to the post-game ritual. The post-game hand shake is supposed to be just
that — a hand shake — not a knuckle-bumping sprint.
These challenges are not ground-breaking or earth-shattering. And to those of us
whose lives are spent in athletics and athletic administration, they really seem to be plain
common sense items. Yet the irony, we found, is that common sense has become
uncommon. They may start as a challenge, but they will quickly become a part of your
routine. Our gang of 12 set the goal of meeting the challenge.
The second part of the challenge is to add to the list above, to continue to identify
more ways to recognize the greatness in high school extracurricular programs. Next
December, when the group meets again, we will all report our commitment to and our
experiences with accepting the challenge.
I have accepted the challenge and I am looking forward to recognizing all that is
good with League member schools, their coaches and student athletes, and our officials.
You, too, have a choice to accept the challenge. I encourage you to commit yourself to
take the challenge and start recognizing the simple things that make our high school
programs great.