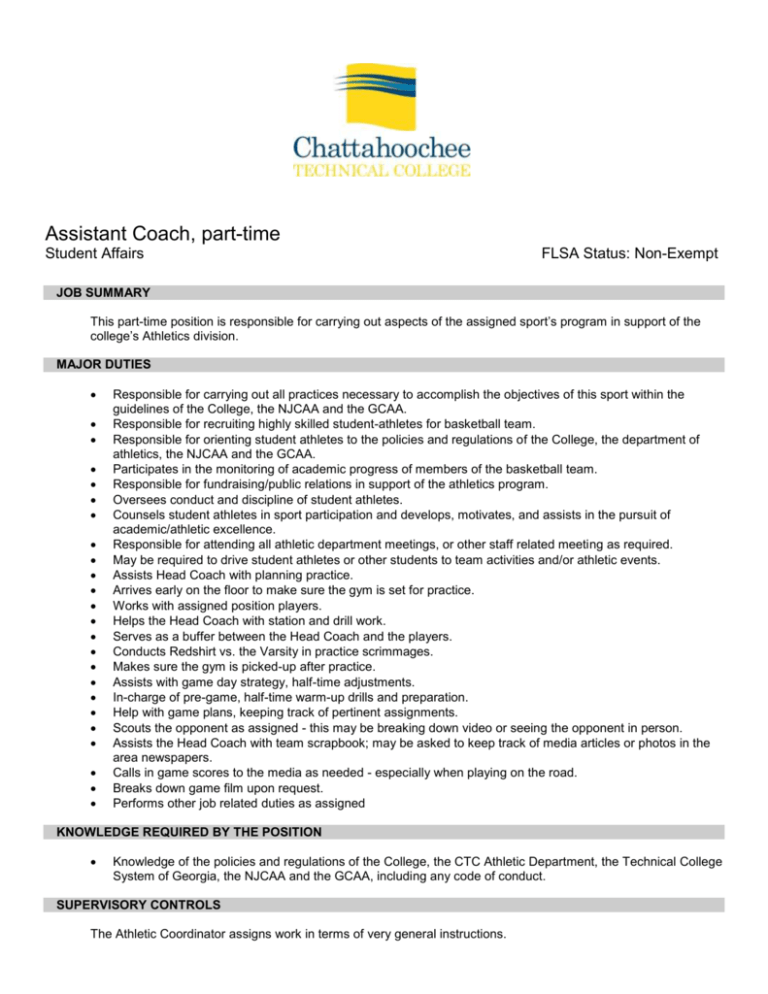 Assistant Coach, part-time
Student Affairs
FLSA Status: Non-Exempt
JOB SUMMARY
This part-time position is responsible for carrying out aspects of the assigned sport's program in support of the
college's Athletics division.
MAJOR DUTIES
























Responsible for carrying out all practices necessary to accomplish the objectives of this sport within the
guidelines of the College, the NJCAA and the GCAA.
Responsible for recruiting highly skilled student-athletes for basketball team.
Responsible for orienting student athletes to the policies and regulations of the College, the department of
athletics, the NJCAA and the GCAA.
Participates in the monitoring of academic progress of members of the basketball team.
Responsible for fundraising/public relations in support of the athletics program.
Oversees conduct and discipline of student athletes.
Counsels student athletes in sport participation and develops, motivates, and assists in the pursuit of
academic/athletic excellence.
Responsible for attending all athletic department meetings, or other staff related meeting as required.
May be required to drive student athletes or other students to team activities and/or athletic events.
Assists Head Coach with planning practice.
Arrives early on the floor to make sure the gym is set for practice.
Works with assigned position players.
Helps the Head Coach with station and drill work.
Serves as a buffer between the Head Coach and the players.
Conducts Redshirt vs. the Varsity in practice scrimmages.
Makes sure the gym is picked-up after practice.
Assists with game day strategy, half-time adjustments.
In-charge of pre-game, half-time warm-up drills and preparation.
Help with game plans, keeping track of pertinent assignments.
Scouts the opponent as assigned - this may be breaking down video or seeing the opponent in person.
Assists the Head Coach with team scrapbook; may be asked to keep track of media articles or photos in the
area newspapers.
Calls in game scores to the media as needed - especially when playing on the road.
Breaks down game film upon request.
Performs other job related duties as assigned
KNOWLEDGE REQUIRED BY THE POSITION

Knowledge of the policies and regulations of the College, the CTC Athletic Department, the Technical College
System of Georgia, the NJCAA and the GCAA, including any code of conduct.
SUPERVISORY CONTROLS
The Athletic Coordinator assigns work in terms of very general instructions.
Assistant Coach, part-time – Athletics, Student Affairs
Page 2
PHYSICAL DEMANDS/ WORK ENVIRONMENT


The work is typically performed while intermittently sitting, standing, stooping, running or walking. The
employee occasionally lifts light objects, and performs other physical activities associated with coaching.
The work is typically performed in an office or on sports fields and facilities.
MINIMUM QUALIFICATIONS



High School Diploma required.
Experience with basketball coaching at the high school, college, university, and/or professional level to
include demonstrated skill in developing student-athletes.
Possession of or ability to readily obtain a valid driver's license issued by the State of Georgia for the type of
vehicle or equipment operated.