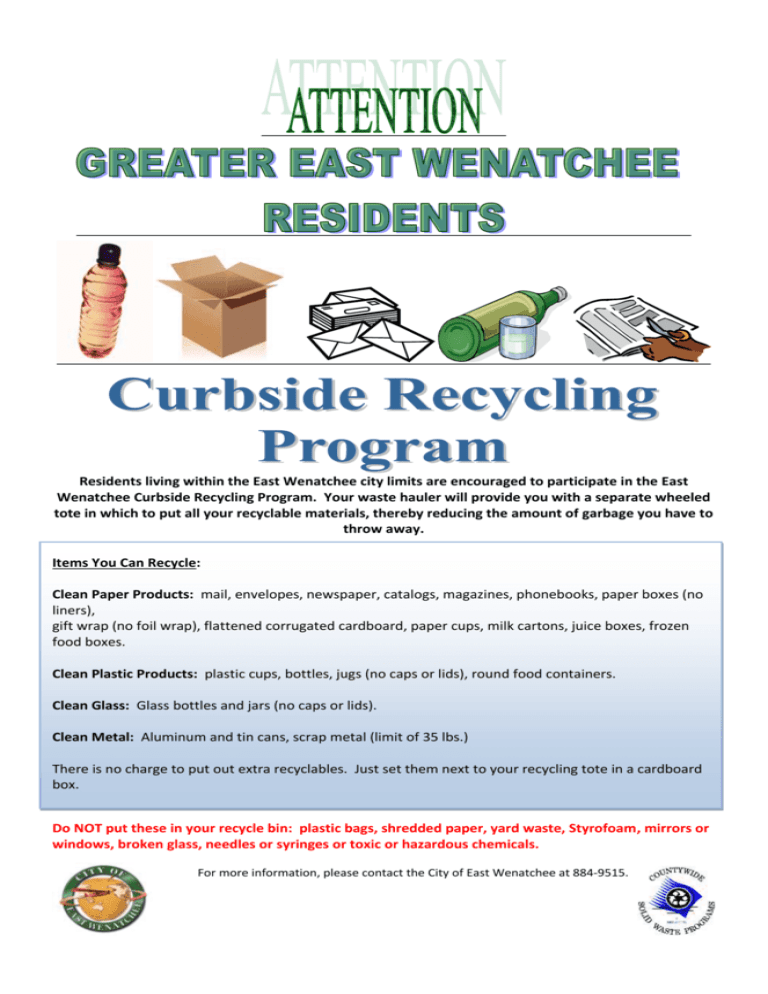 Residents living within the East Wenatchee city limits are encouraged to participate in the East
Wenatchee Curbside Recycling Program. Your waste hauler will provide you with a separate wheeled
tote in which to put all your recyclable materials, thereby reducing the amount of garbage you have to
throw away.
Items You Can Recycle:
Clean Paper Products: mail, envelopes, newspaper, catalogs, magazines, phonebooks, paper boxes (no
liners),
gift wrap (no foil wrap), flattened corrugated cardboard, paper cups, milk cartons, juice boxes, frozen
food boxes.
Clean Plastic Products: plastic cups, bottles, jugs (no caps or lids), round food containers.
Clean Glass: Glass bottles and jars (no caps or lids).
Clean Metal: Aluminum and tin cans, scrap metal (limit of 35 lbs.)
There is no charge to put out extra recyclables. Just set them next to your recycling tote in a cardboard
box.
Do NOT put these in your recycle bin: plastic bags, shredded paper, yard waste, Styrofoam, mirrors or
windows, broken glass, needles or syringes or toxic or hazardous chemicals.
For more information, please contact the City of East Wenatchee at 884-9515.