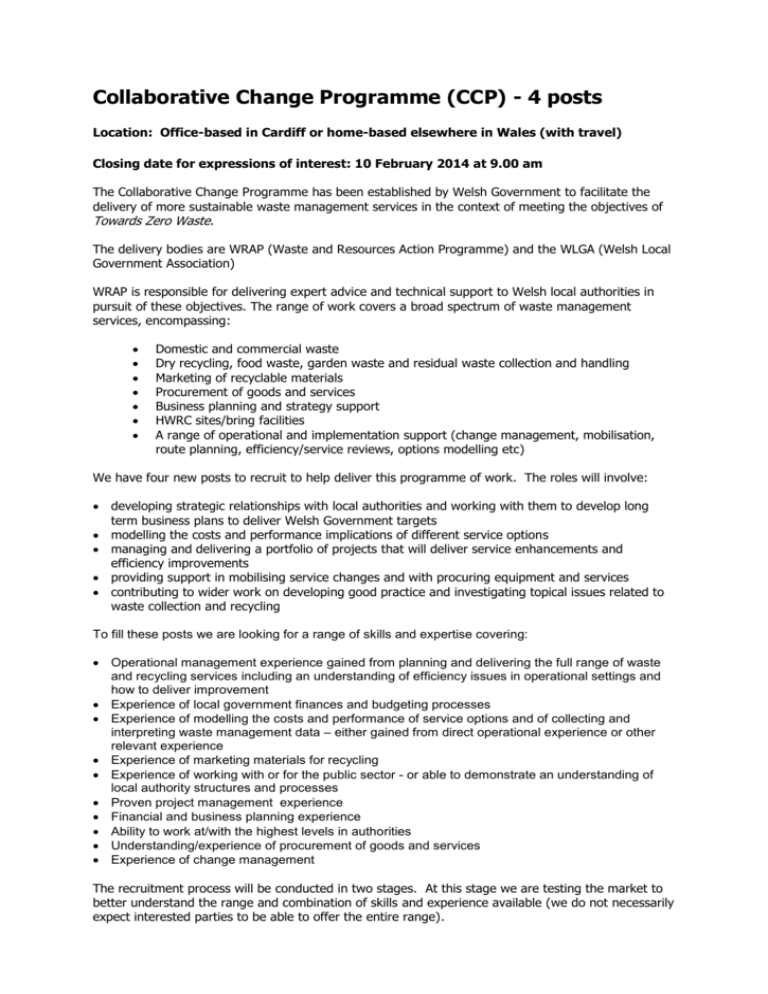 Collaborative Change Programme (CCP) - 4 posts
Location: Office-based in Cardiff or home-based elsewhere in Wales (with travel)
Closing date for expressions of interest: 10 February 2014 at 9.00 am
The Collaborative Change Programme has been established by Welsh Government to facilitate the
delivery of more sustainable waste management services in the context of meeting the objectives of
Towards Zero Waste.
The delivery bodies are WRAP (Waste and Resources Action Programme) and the WLGA (Welsh Local
Government Association)
WRAP is responsible for delivering expert advice and technical support to Welsh local authorities in
pursuit of these objectives. The range of work covers a broad spectrum of waste management
services, encompassing:







Domestic and commercial waste
Dry recycling, food waste, garden waste and residual waste collection and handling
Marketing of recyclable materials
Procurement of goods and services
Business planning and strategy support
HWRC sites/bring facilities
A range of operational and implementation support (change management, mobilisation,
route planning, efficiency/service reviews, options modelling etc)
We have four new posts to recruit to help deliver this programme of work. The roles will involve:
 developing strategic relationships with local authorities and working with them to develop long
term business plans to deliver Welsh Government targets
 modelling the costs and performance implications of different service options
 managing and delivering a portfolio of projects that will deliver service enhancements and
efficiency improvements
 providing support in mobilising service changes and with procuring equipment and services
 contributing to wider work on developing good practice and investigating topical issues related to
waste collection and recycling
To fill these posts we are looking for a range of skills and expertise covering:
 Operational management experience gained from planning and delivering the full range of waste
and recycling services including an understanding of efficiency issues in operational settings and
how to deliver improvement
 Experience of local government finances and budgeting processes
 Experience of modelling the costs and performance of service options and of collecting and
interpreting waste management data – either gained from direct operational experience or other
relevant experience
 Experience of marketing materials for recycling
 Experience of working with or for the public sector - or able to demonstrate an understanding of
local authority structures and processes
 Proven project management experience
 Financial and business planning experience
 Ability to work at/with the highest levels in authorities
 Understanding/experience of procurement of goods and services
 Experience of change management
The recruitment process will be conducted in two stages. At this stage we are testing the market to
better understand the range and combination of skills and experience available (we do not necessarily
expect interested parties to be able to offer the entire range).
If you demonstrate relevant skills and experience, you will be invited to attend an initial interview
where you will have the opportunity to discuss your skills and knowledge in more detail, as well as
learning more about the posts. Successful candidates will then be shortlisted for second interview.
If you are interested, you are invited to respond by submitting a CV setting out your qualifications
and work experience (including details of your current employment/salary) to
wendy.cleveland@wrap.org.uk.
Secondment opportunities from current employer organisations will be considered.
WRAP welcomes applications from all suitably qualified applicants, regardless of religion, age, gender,
disability or race.
We offer an attractive salary, contributory pension scheme, free life assurance, private healthcare, 25
days holiday and a discretionary performance related payment.
Submissions by email are preferred. No agencies thank you.
Closing date for applications: Monday 10th February 2014 at 9.00 am
Initial interviews will be carried out on 19th, 20th and 21st February 2014.