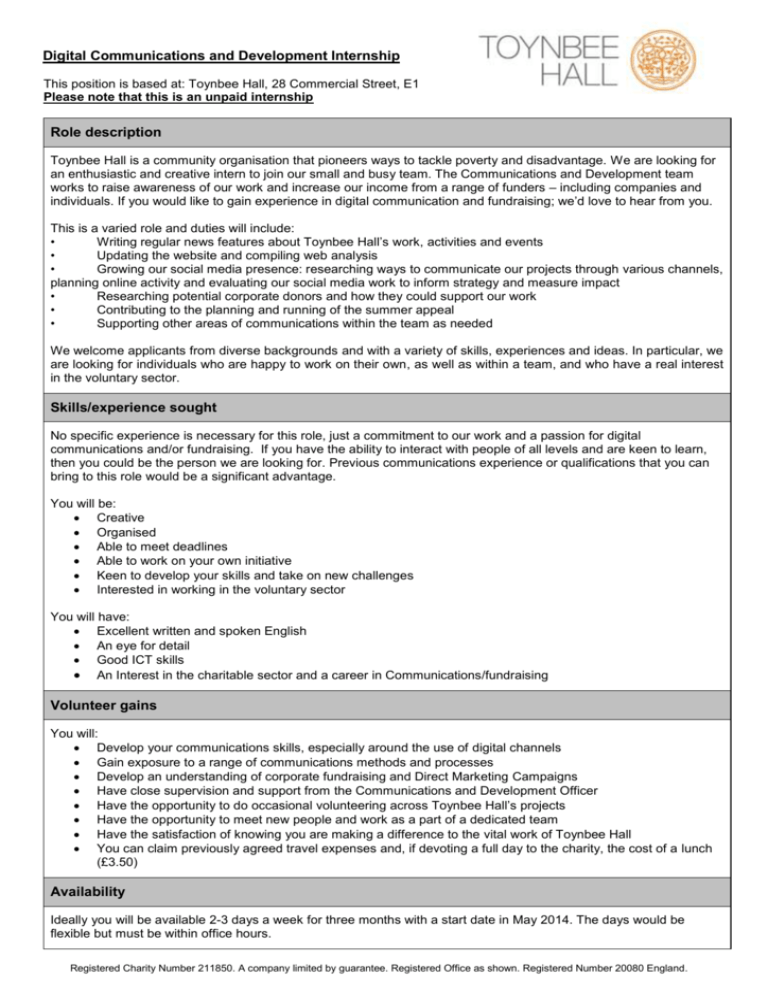 Digital Communications and Development Internship
This position is based at: Toynbee Hall, 28 Commercial Street, E1
Please note that this is an unpaid internship
Role description
Toynbee Hall is a community organisation that pioneers ways to tackle poverty and disadvantage. We are looking for
an enthusiastic and creative intern to join our small and busy team. The Communications and Development team
works to raise awareness of our work and increase our income from a range of funders – including companies and
individuals. If you would like to gain experience in digital communication and fundraising; we'd love to hear from you.
This is a varied role and duties will include:
•
Writing regular news features about Toynbee Hall's work, activities and events
•
Updating the website and compiling web analysis
•
Growing our social media presence: researching ways to communicate our projects through various channels,
planning online activity and evaluating our social media work to inform strategy and measure impact
•
Researching potential corporate donors and how they could support our work
•
Contributing to the planning and running of the summer appeal
•
Supporting other areas of communications within the team as needed
We welcome applicants from diverse backgrounds and with a variety of skills, experiences and ideas. In particular, we
are looking for individuals who are happy to work on their own, as well as within a team, and who have a real interest
in the voluntary sector.
Skills/experience sought
No specific experience is necessary for this role, just a commitment to our work and a passion for digital
communications and/or fundraising. If you have the ability to interact with people of all levels and are keen to learn,
then you could be the person we are looking for. Previous communications experience or qualifications that you can
bring to this role would be a significant advantage.
You will be:
 Creative
 Organised
 Able to meet deadlines
 Able to work on your own initiative
 Keen to develop your skills and take on new challenges
 Interested in working in the voluntary sector
You will have:
 Excellent written and spoken English
 An eye for detail
 Good ICT skills
 An Interest in the charitable sector and a career in Communications/fundraising
Volunteer gains
You will:
 Develop your communications skills, especially around the use of digital channels
 Gain exposure to a range of communications methods and processes
 Develop an understanding of corporate fundraising and Direct Marketing Campaigns
 Have close supervision and support from the Communications and Development Officer
 Have the opportunity to do occasional volunteering across Toynbee Hall's projects
 Have the opportunity to meet new people and work as a part of a dedicated team
 Have the satisfaction of knowing you are making a difference to the vital work of Toynbee Hall
 You can claim previously agreed travel expenses and, if devoting a full day to the charity, the cost of a lunch
(£3.50)
Availability
Ideally you will be available 2-3 days a week for three months with a start date in May 2014. The days would be
flexible but must be within office hours.
Registered Charity Number 211850. A company limited by guarantee. Registered Office as shown. Registered Number 20080 England.
Nearest tube stations: Aldgate East (3 min walk); Liverpool Street (10 min walk); Shoreditch High Street (15 min walk)
To apply
Please submit your Application Form by 7th May to: volunteering@toynbeehall.org.uk.
 Interviews will take place in the w/c: 12th May 2014
 Position to start w/c: 19th May 2014
Please visit www.toynbeehall.org.uk for further details
For an informal chat about the role call: Marie-Ophelie Sarrade, Communications and Development Officer,
0207 392 2937
Registered Charity Number 211850. A company limited by guarantee. Registered Office as shown. Registered Number 20080 England.