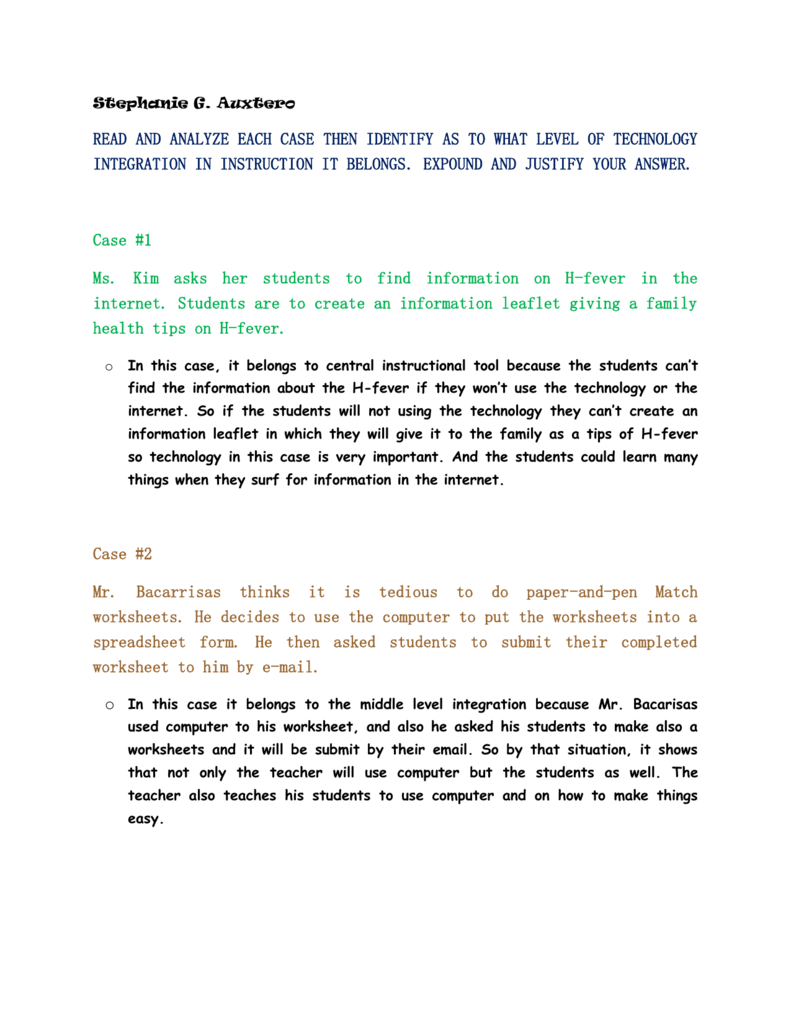 Stephanie G. Auxtero
READ AND ANALYZE EACH CASE THEN IDENTIFY AS TO WHAT LEVEL OF TECHNOLOGY
INTEGRATION IN INSTRUCTION IT BELONGS. EXPOUND AND JUSTIFY YOUR ANSWER.
Case #1
Ms. Kim asks her students to find information on H-fever in the
internet. Students are to create an information leaflet giving a family
health tips on H-fever.
o
In this case, it belongs to central instructional tool because the students can't
find the information about the H-fever if they won't use the technology or the
internet. So if the students will not using the technology they can't create an
information leaflet in which they will give it to the family as a tips of H-fever
so technology in this case is very important. And the students could learn many
things when they surf for information in the internet.
Case #2
Mr. Bacarrisas thinks it is tedious to do paper-and-pen Match
worksheets. He decides to use the computer to put the worksheets into a
spreadsheet form. He then asked students to submit their completed
worksheet to him by e-mail.
o In this case it belongs to the middle level integration because Mr. Bacarisas
used computer to his worksheet, and also he asked his students to make also a
worksheets and it will be submit by their email. So by that situation, it shows
that not only the teacher will use computer but the students as well. The
teacher also teaches his students to use computer and on how to make things
easy.
Case #3
To dish out information on the Asean Region, Mr. Mariano assigned
newsletter computer production by group.
o In this case it represents the middle level integration because the teacher let
her students to use computer in making the newsletter computer production. By
that the students could learn on how to make newsletter using computer. The
students could also benefit in using the computer.
Case #4
English teacher, Ms. Acera, used computer-based activities (software)
which students can go through during library time.
o
In this case, it is a middle level integration because the students will also use
computer during their library time. And the teacher used computer in teaching
her students.