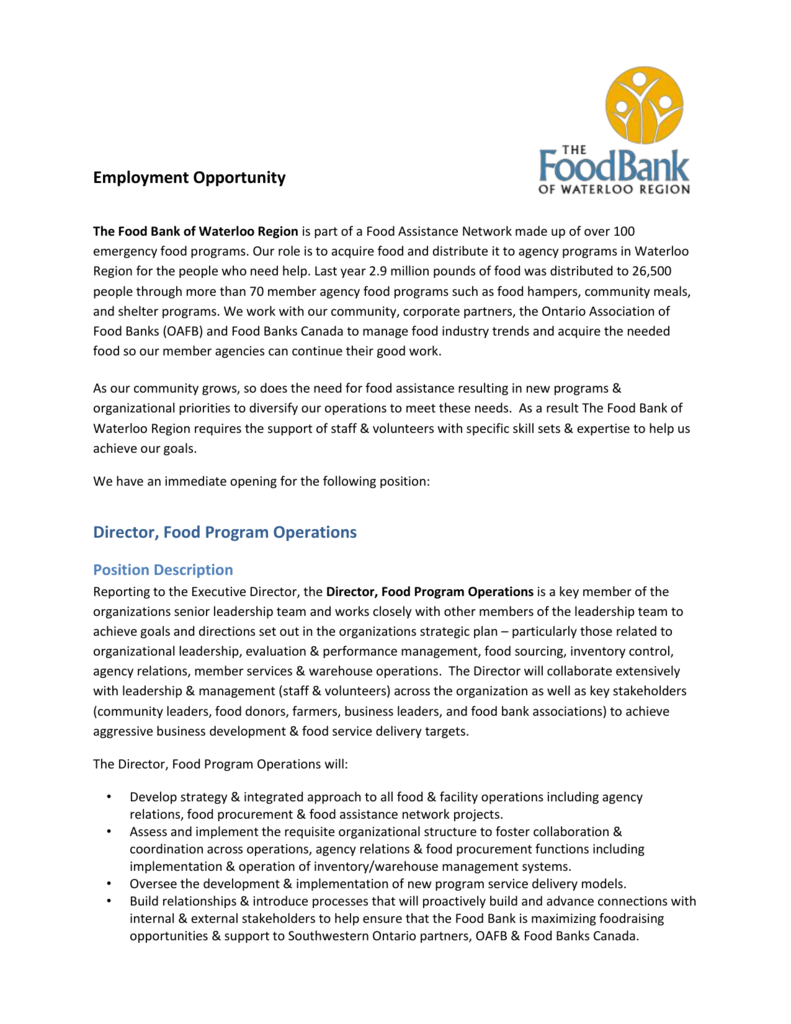 Employment Opportunity
The Food Bank of Waterloo Region is part of a Food Assistance Network made up of over 100
emergency food programs. Our role is to acquire food and distribute it to agency programs in Waterloo
Region for the people who need help. Last year 2.9 million pounds of food was distributed to 26,500
people through more than 70 member agency food programs such as food hampers, community meals,
and shelter programs. We work with our community, corporate partners, the Ontario Association of
Food Banks (OAFB) and Food Banks Canada to manage food industry trends and acquire the needed
food so our member agencies can continue their good work.
As our community grows, so does the need for food assistance resulting in new programs &
organizational priorities to diversify our operations to meet these needs. As a result The Food Bank of
Waterloo Region requires the support of staff & volunteers with specific skill sets & expertise to help us
achieve our goals.
We have an immediate opening for the following position:
Director, Food Program Operations
Position Description
Reporting to the Executive Director, the Director, Food Program Operations is a key member of the
organizations senior leadership team and works closely with other members of the leadership team to
achieve goals and directions set out in the organizations strategic plan – particularly those related to
organizational leadership, evaluation & performance management, food sourcing, inventory control,
agency relations, member services & warehouse operations. The Director will collaborate extensively
with leadership & management (staff & volunteers) across the organization as well as key stakeholders
(community leaders, food donors, farmers, business leaders, and food bank associations) to achieve
aggressive business development & food service delivery targets.
The Director, Food Program Operations will:
•
•
•
•
Develop strategy & integrated approach to all food & facility operations including agency
relations, food procurement & food assistance network projects.
Assess and implement the requisite organizational structure to foster collaboration &
coordination across operations, agency relations & food procurement functions including
implementation & operation of inventory/warehouse management systems.
Oversee the development & implementation of new program service delivery models.
Build relationships & introduce processes that will proactively build and advance connections with
internal & external stakeholders to help ensure that the Food Bank is maximizing foodraising
opportunities & support to Southwestern Ontario partners, OAFB & Food Banks Canada.
•
•
•
Develop & provide support to food assistance networks & advisory groups including development
of operating procedures & sustainability plans for provincial based food acquisition & distribution
projects.
Provide highly effective leadership and motivation to staff & volunteers.
Define an accountability framework including multi-year success measures.
Building and working with a cohesive, high performance team aligned with the organization's strategic
objectives will be critical to the success of this position. The existing team has significant experience,
expertise and passion for their work. This new position will help our team move from "good to great"
and increase our impact on community services & programs.
Qualifications
 A passion & commitment for the work of the not for profit sector in delivering essential
community services. An understanding of the issues of hunger and poverty are an asset.
 10+ years' experience in a senior management/leadership role with demonstrated success in
operations management, multi-partner advisory teams & relationship development.
 Demonstrated experience in policy & procedure development & implementation.
 Strong administrative skills including: planning & evaluation, budgeting, personnel management
and assessment.
 Experience managing staff & financial resources and implementing related operational control &
reporting systems.
 Demonstrated ability to maintain and build consensus through collaboration.
 A record of progressive accomplishment in program/project management.
 Understanding of change management processes and proven ability to successfully implement
new projects with a diverse group of stakeholders.
 Expertise in building strategic advisory teams that support the strategic outcomes of the
organization & improved support to stakeholders.
 Experience in the implementation, operation & management of IT solutions to collect data,
produce reports, manage flow of work.
 Specific experience in warehouse management systems and/or food industry is an asset.
 Experience with working with volunteers and/or personal volunteer experience at a senior level.
 Personal attributes include strategic & integrative thinking, vision, innovation &
entrepreneurship; an engaging, consensual leadership style; superior communications &
relationship management skills.
 A graduate and/or professional degree or relevant designations are preferred but other
backgrounds/credentials will be considered.
To apply please forward your resume and cover letter no later than Monday August 20th to:
Human Resources
The Food Bank of Waterloo Region
50 Alpine Court, Kitchener, ON N2E 2M7
(519) 743-8965 (fax)
[email protected]
Please indicate which position you are applying for.
No telephone calls, please. Only those candidates selected for interviews will be contacted.