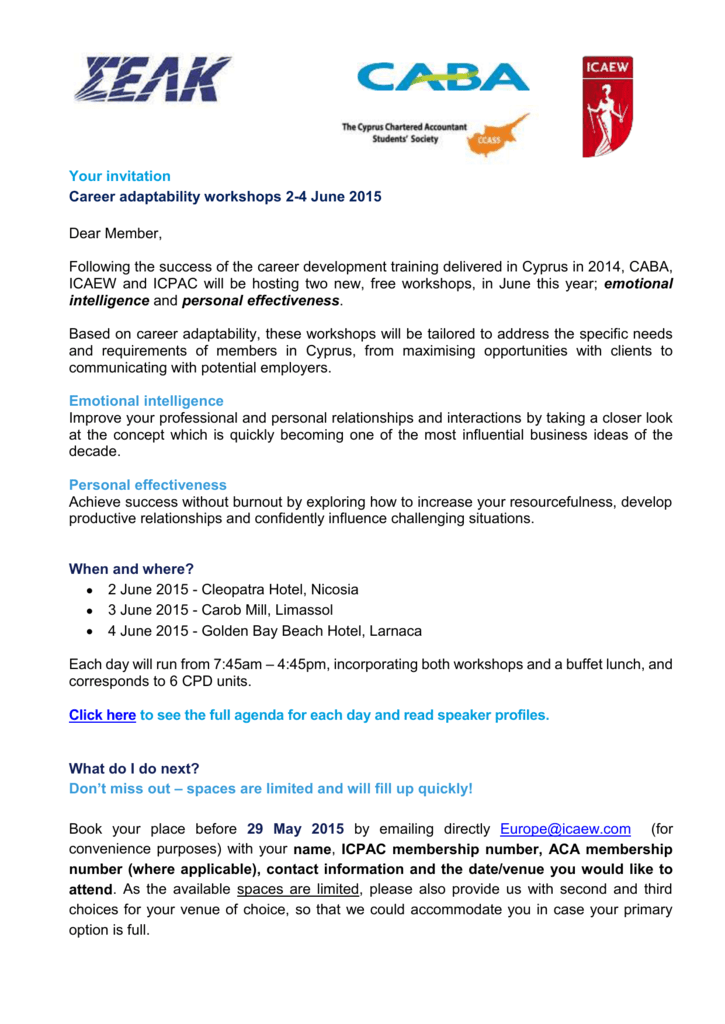 Your invitation
Career adaptability workshops 2-4 June 2015
Dear Member,
Following the success of the career development training delivered in Cyprus in 2014, CABA,
ICAEW and ICPAC will be hosting two new, free workshops, in June this year; emotional
intelligence and personal effectiveness.
Based on career adaptability, these workshops will be tailored to address the specific needs
and requirements of members in Cyprus, from maximising opportunities with clients to
communicating with potential employers.
Emotional intelligence
Improve your professional and personal relationships and interactions by taking a closer look
at the concept which is quickly becoming one of the most influential business ideas of the
decade.
Personal effectiveness
Achieve success without burnout by exploring how to increase your resourcefulness, develop
productive relationships and confidently influence challenging situations.
When and where?
 2 June 2015 - Cleopatra Hotel, Nicosia
 3 June 2015 - Carob Mill, Limassol
 4 June 2015 - Golden Bay Beach Hotel, Larnaca
Each day will run from 7:45am – 4:45pm, incorporating both workshops and a buffet lunch, and
corresponds to 6 CPD units.
Click here to see the full agenda for each day and read speaker profiles.
What do I do next?
Don't miss out – spaces are limited and will fill up quickly!
Book your place before 29 May 2015 by emailing directly [email protected] (for
convenience purposes) with your name, ICPAC membership number, ACA membership
number (where applicable), contact information and the date/venue you would like to
attend. As the available spaces are limited, please also provide us with second and third
choices for your venue of choice, so that we could accommodate you in case your primary
option is full.