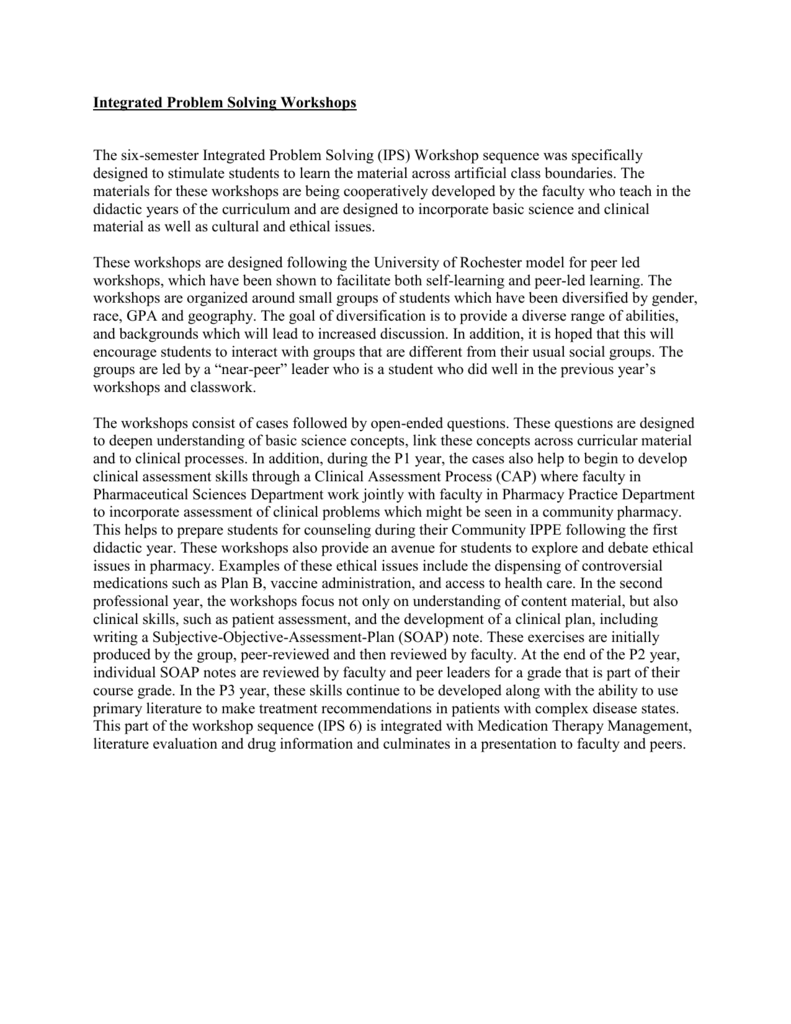 Integrated Problem Solving Workshops
The six-semester Integrated Problem Solving (IPS) Workshop sequence was specifically
designed to stimulate students to learn the material across artificial class boundaries. The
materials for these workshops are being cooperatively developed by the faculty who teach in the
didactic years of the curriculum and are designed to incorporate basic science and clinical
material as well as cultural and ethical issues.
These workshops are designed following the University of Rochester model for peer led
workshops, which have been shown to facilitate both self-learning and peer-led learning. The
workshops are organized around small groups of students which have been diversified by gender,
race, GPA and geography. The goal of diversification is to provide a diverse range of abilities,
and backgrounds which will lead to increased discussion. In addition, it is hoped that this will
encourage students to interact with groups that are different from their usual social groups. The
groups are led by a "near-peer" leader who is a student who did well in the previous year's
workshops and classwork.
The workshops consist of cases followed by open-ended questions. These questions are designed
to deepen understanding of basic science concepts, link these concepts across curricular material
and to clinical processes. In addition, during the P1 year, the cases also help to begin to develop
clinical assessment skills through a Clinical Assessment Process (CAP) where faculty in
Pharmaceutical Sciences Department work jointly with faculty in Pharmacy Practice Department
to incorporate assessment of clinical problems which might be seen in a community pharmacy.
This helps to prepare students for counseling during their Community IPPE following the first
didactic year. These workshops also provide an avenue for students to explore and debate ethical
issues in pharmacy. Examples of these ethical issues include the dispensing of controversial
medications such as Plan B, vaccine administration, and access to health care. In the second
professional year, the workshops focus not only on understanding of content material, but also
clinical skills, such as patient assessment, and the development of a clinical plan, including
writing a Subjective-Objective-Assessment-Plan (SOAP) note. These exercises are initially
produced by the group, peer-reviewed and then reviewed by faculty. At the end of the P2 year,
individual SOAP notes are reviewed by faculty and peer leaders for a grade that is part of their
course grade. In the P3 year, these skills continue to be developed along with the ability to use
primary literature to make treatment recommendations in patients with complex disease states.
This part of the workshop sequence (IPS 6) is integrated with Medication Therapy Management,
literature evaluation and drug information and culminates in a presentation to faculty and peers.