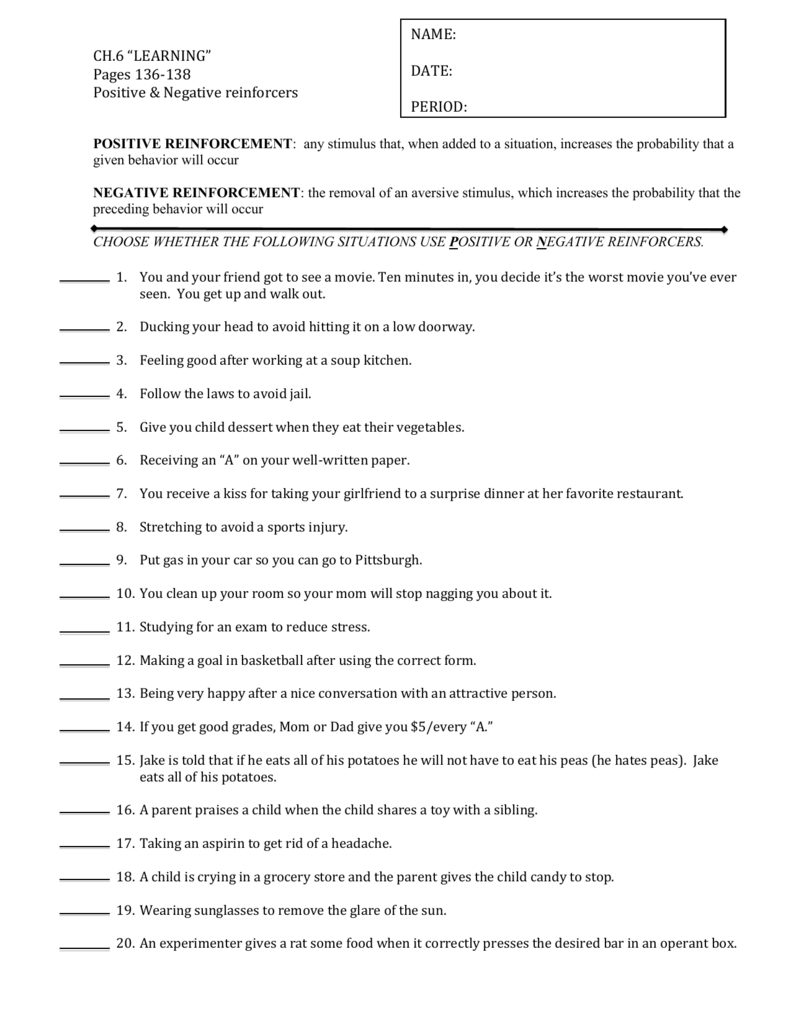 NAME:
CH.6 "LEARNING"
Pages 136-138
Positive & Negative reinforcers
DATE:
PERIOD:
POSITIVE REINFORCEMENT: any stimulus that, when added to a situation, increases the probability that a
given behavior will occur
NEGATIVE REINFORCEMENT: the removal of an aversive stimulus, which increases the probability that the
preceding behavior will occur
CHOOSE WHETHER THE FOLLOWING SITUATIONS USE POSITIVE OR NEGATIVE REINFORCERS.
1. You and your friend got to see a movie. Ten minutes in, you decide it's the worst movie you've ever
seen. You get up and walk out.
2. Ducking your head to avoid hitting it on a low doorway.
3. Feeling good after working at a soup kitchen.
4. Follow the laws to avoid jail.
5. Give you child dessert when they eat their vegetables.
6. Receiving an "A" on your well-written paper.
7. You receive a kiss for taking your girlfriend to a surprise dinner at her favorite restaurant.
8. Stretching to avoid a sports injury.
9. Put gas in your car so you can go to Pittsburgh.
10. You clean up your room so your mom will stop nagging you about it.
11. Studying for an exam to reduce stress.
12. Making a goal in basketball after using the correct form.
13. Being very happy after a nice conversation with an attractive person.
14. If you get good grades, Mom or Dad give you $5/every "A."
15. Jake is told that if he eats all of his potatoes he will not have to eat his peas (he hates peas). Jake
eats all of his potatoes.
16. A parent praises a child when the child shares a toy with a sibling.
17. Taking an aspirin to get rid of a headache.
18. A child is crying in a grocery store and the parent gives the child candy to stop.
19. Wearing sunglasses to remove the glare of the sun.
20. An experimenter gives a rat some food when it correctly presses the desired bar in an operant box.
POSITIVE REINFORCEMENT, NEGATIVE REINFORCEMENT, & PUNISHMENT
PUNISHMENT: an unpleasant stimulus that suppresses (or decreases/stops) the behavior it follows.
CHOOSE WHETHER OR NOT THE FOLLOWING SITUATIONS USE POSITIVE REINFORCEMENT, NEGATIVE
REINFORCEMENT OR PUNISHMENT
1. On the planet Zyg, when Fooch placed his tanacles into a blam, he receives a trassel. Fooch doesn't
place his tenacles into anymore blams.
2. On the planet Zyg, whenever Fooch places his tenacles into a clamutz, he receives a drassel. Fooch
places his tenacles into a clamutz whenever he gets the chance.
3. Teenager loses their cellphone for talking back to mom.
4. Taking out the garbage so dad will stop pestering you.
5. Smoking a cigarette brings a dopamine release in the brain – creating a good feeling.
6. You do your chores around the house and are given more freedoms.
7. Showing up for practices gives you more playing time in the games.
8. You get detention for showing up late to class too many times.
9. The teacher says to stop talking in the middle of class and all the other students glare at the
offenders.
10. Someone frowns when you tell a bad joke.
11. Students laugh at my jokes.
12. Hurting your head when you don't duck in a low doorway.
13. Losing your driver's license after getting a DUI.
14. Removing door from bedroom hinges after child slams it in anger. (remove privacy)
15. Tim thinks he is sneaky and tries to text in class. He is caught and given 2 hrs. detention.
16. Your sister whacks you upside the head for going into her room.
17. Removing video game playtime.
18. You put up an umbrella to avoid getting wet in the rain.
19. A person turns on the water faucet and receives water.
20. You run into a pole while texting.