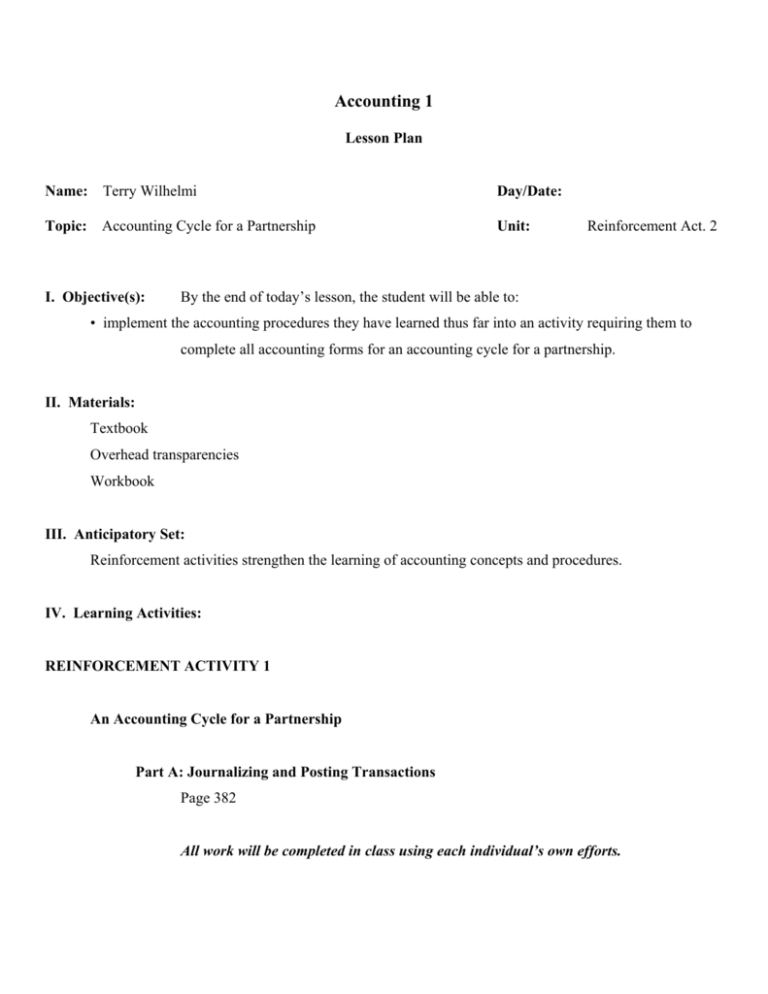 Accounting 1
Lesson Plan
Name:
Terry Wilhelmi
Day/Date:
Topic:
Accounting Cycle for a Partnership
Unit:
I. Objective(s):
Reinforcement Act. 2
By the end of today's lesson, the student will be able to:
• implement the accounting procedures they have learned thus far into an activity requiring them to
complete all accounting forms for an accounting cycle for a partnership.
II. Materials:
Textbook
Overhead transparencies
Workbook
III. Anticipatory Set:
Reinforcement activities strengthen the learning of accounting concepts and procedures.
IV. Learning Activities:
REINFORCEMENT ACTIVITY 1
An Accounting Cycle for a Partnership
Part A: Journalizing and Posting Transactions
Page 382
All work will be completed in class using each individual's own efforts.
2
Day 1 - Instructions 1 - 3
Day 2 - Instructions 4 - 6
Day 3 - Instructions 7 - 9
Check figures on the "Check Figure" handout.
Part B: End-of-Fiscal-Period Work
Page 466
Day 4 - Instructions 10 - 15
Day 5 - Instructions 16 - 18
V. Closure:
The reinforcement activity put together is one session what we have learned concerning accounting
procedures for a partnership.
VI. Evaluation of Student Learning:
Students will be evaluated using Reinforcement Activity 2.