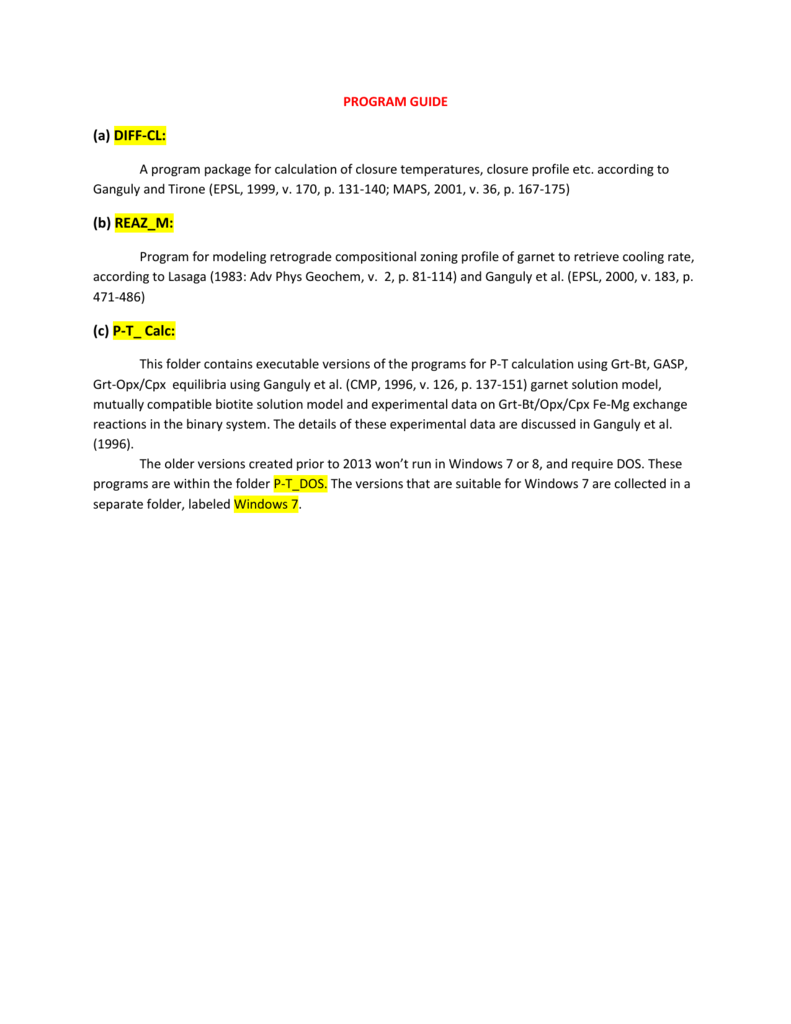 PROGRAM GUIDE
(a) DIFF-CL:
A program package for calculation of closure temperatures, closure profile etc. according to
Ganguly and Tirone (EPSL, 1999, v. 170, p. 131-140; MAPS, 2001, v. 36, p. 167-175)
(b) REAZ_M:
Program for modeling retrograde compositional zoning profile of garnet to retrieve cooling rate,
according to Lasaga (1983: Adv Phys Geochem, v. 2, p. 81-114) and Ganguly et al. (EPSL, 2000, v. 183, p.
471-486)
(c) P-T_ Calc:
This folder contains executable versions of the programs for P-T calculation using Grt-Bt, GASP,
Grt-Opx/Cpx equilibria using Ganguly et al. (CMP, 1996, v. 126, p. 137-151) garnet solution model,
mutually compatible biotite solution model and experimental data on Grt-Bt/Opx/Cpx Fe-Mg exchange
reactions in the binary system. The details of these experimental data are discussed in Ganguly et al.
(1996).
The older versions created prior to 2013 won't run in Windows 7 or 8, and require DOS. These
programs are within the folder P-T_DOS. The versions that are suitable for Windows 7 are collected in a
separate folder, labeled Windows 7.