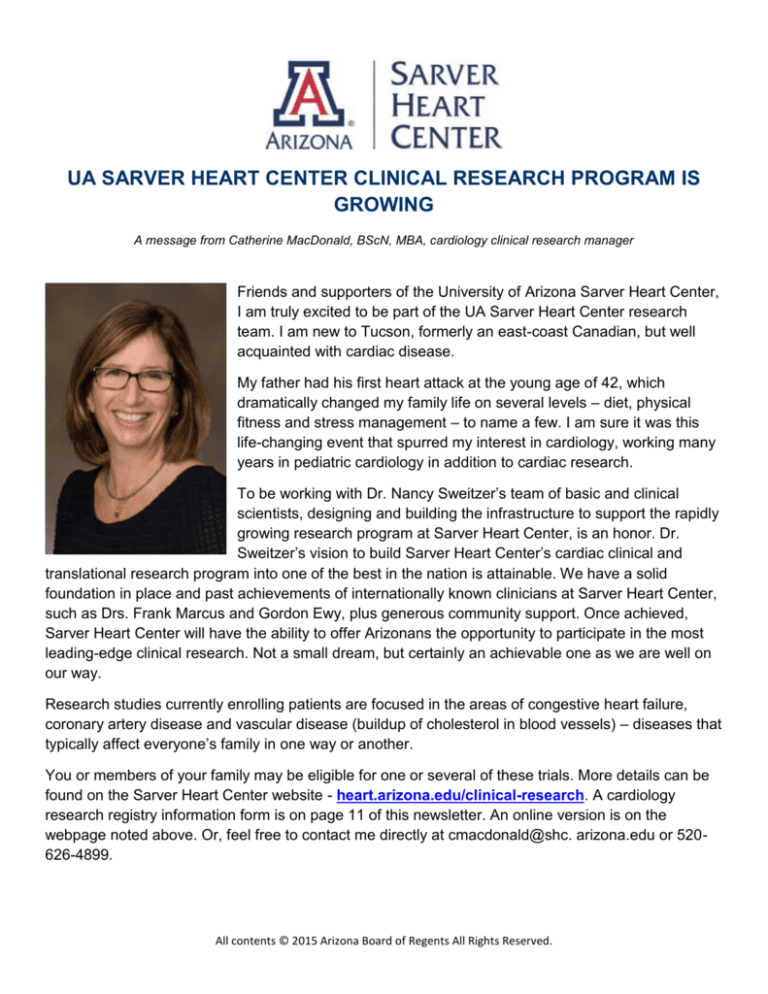 UA SARVER HEART CENTER CLINICAL RESEARCH PROGRAM IS
GROWING
A message from Catherine MacDonald, BScN, MBA, cardiology clinical research manager
Friends and supporters of the University of Arizona Sarver Heart Center,
I am truly excited to be part of the UA Sarver Heart Center research
team. I am new to Tucson, formerly an east-coast Canadian, but well
acquainted with cardiac disease.
My father had his first heart attack at the young age of 42, which
dramatically changed my family life on several levels – diet, physical
fitness and stress management – to name a few. I am sure it was this
life-changing event that spurred my interest in cardiology, working many
years in pediatric cardiology in addition to cardiac research.
To be working with Dr. Nancy Sweitzer's team of basic and clinical
scientists, designing and building the infrastructure to support the rapidly
growing research program at Sarver Heart Center, is an honor. Dr.
Sweitzer's vision to build Sarver Heart Center's cardiac clinical and
translational research program into one of the best in the nation is attainable. We have a solid
foundation in place and past achievements of internationally known clinicians at Sarver Heart Center,
such as Drs. Frank Marcus and Gordon Ewy, plus generous community support. Once achieved,
Sarver Heart Center will have the ability to offer Arizonans the opportunity to participate in the most
leading-edge clinical research. Not a small dream, but certainly an achievable one as we are well on
our way.
Research studies currently enrolling patients are focused in the areas of congestive heart failure,
coronary artery disease and vascular disease (buildup of cholesterol in blood vessels) – diseases that
typically affect everyone's family in one way or another.
You or members of your family may be eligible for one or several of these trials. More details can be
found on the Sarver Heart Center website - heart.arizona.edu/clinical-research. A cardiology
research registry information form is on page 11 of this newsletter. An online version is on the
webpage noted above. Or, feel free to contact me directly at cmacdonald@shc. arizona.edu or 520626-4899.
All contents © 2015 Arizona Board of Regents All Rights Reserved.