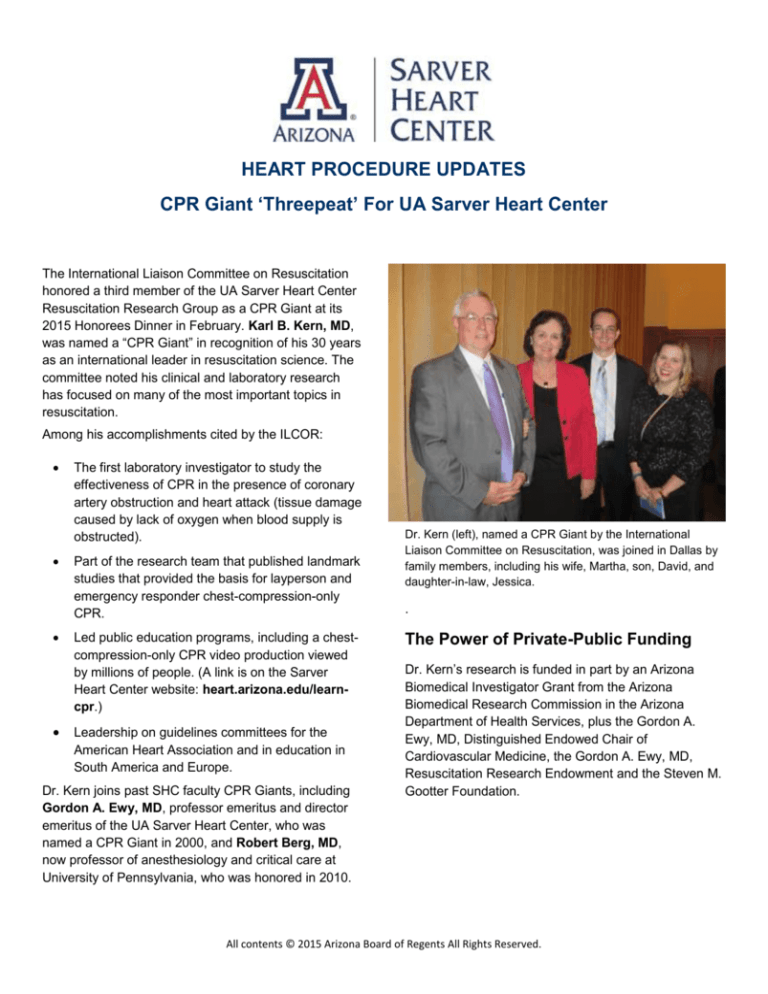 HEART PROCEDURE UPDATES
CPR Giant 'Threepeat' For UA Sarver Heart Center
The International Liaison Committee on Resuscitation
honored a third member of the UA Sarver Heart Center
Resuscitation Research Group as a CPR Giant at its
2015 Honorees Dinner in February. Karl B. Kern, MD,
was named a "CPR Giant" in recognition of his 30 years
as an international leader in resuscitation science. The
committee noted his clinical and laboratory research
has focused on many of the most important topics in
resuscitation.
Among his accomplishments cited by the ILCOR:




The first laboratory investigator to study the
effectiveness of CPR in the presence of coronary
artery obstruction and heart attack (tissue damage
caused by lack of oxygen when blood supply is
obstructed).
Part of the research team that published landmark
studies that provided the basis for layperson and
emergency responder chest-compression-only
CPR.
Led public education programs, including a chestcompression-only CPR video production viewed
by millions of people. (A link is on the Sarver
Heart Center website: heart.arizona.edu/learncpr.)
Leadership on guidelines committees for the
American Heart Association and in education in
South America and Europe.
Dr. Kern joins past SHC faculty CPR Giants, including
Gordon A. Ewy, MD, professor emeritus and director
emeritus of the UA Sarver Heart Center, who was
named a CPR Giant in 2000, and Robert Berg, MD,
now professor of anesthesiology and critical care at
University of Pennsylvania, who was honored in 2010.
Dr. Kern (left), named a CPR Giant by the International
Liaison Committee on Resuscitation, was joined in Dallas by
family members, including his wife, Martha, son, David, and
daughter-in-law, Jessica.
.
The Power of Private-Public Funding
Dr. Kern's research is funded in part by an Arizona
Biomedical Investigator Grant from the Arizona
Biomedical Research Commission in the Arizona
Department of Health Services, plus the Gordon A.
Ewy, MD, Distinguished Endowed Chair of
Cardiovascular Medicine, the Gordon A. Ewy, MD,
Resuscitation Research Endowment and the Steven M.
Gootter Foundation.
All contents © 2015 Arizona Board of Regents All Rights Reserved.
Next Horizon: Improving Emergency Care of Cardiac Arrest Patients
Dr. Kern is conducting a new clinical research study that could lead to further improvements in post-arrest
survival.
Cardiac arrest is a major public health issue.

Only 40 percent of the people who have an out-of-hospital cardiac arrest make it to the hospital
alive.

Of those 40 percent who make it to the hospital alive, only one in four survives to go home.

If the electrocardiogram (ECG) shows changes of a heart attack, cardiac arrest patients have a
coronary angiogram (heart catheterization).

When the ECG does not show an obvious heart attack, the timing of the heart catheterization is
decided on a case-by-case basis by treating doctors.
Dr. Kern's study will answer the question: Does an early heart catheterization improve survival, regardless of
what the ECG shows?
The PEARL Study – The University of Arizona Medical Center Study on Early
Coronary Angiography in Out-of-Hospital Cardiac Arrest Survivors
What is The PEARL Study?
A Pilot Randomized Clinical Trial of Early Coronary Angiography Versus No Early Coronary Angiography for
Post-Cardiac Arrest Patients Without ECG ST Segment Elevation, called The PEARL Study for short, is
evaluating the safety and effectiveness of coronary angiography (also known as heart catheterization)
performed within 90 minutes of hospital arrival in a population of post-cardiac arrest patients without ST
Segment elevation on their electrocardiograms (ECGs).
This study will help answer the question: "Does an early heart catheterization improve cardiac arrest
survival, regardless of what the ECG shows?"
Tell us what you think about this research and help the Sarver Heart Center doctors gain
answers to this important question: (Click here to start the survey)
All contents © 2015 Arizona Board of Regents All Rights Reserved.