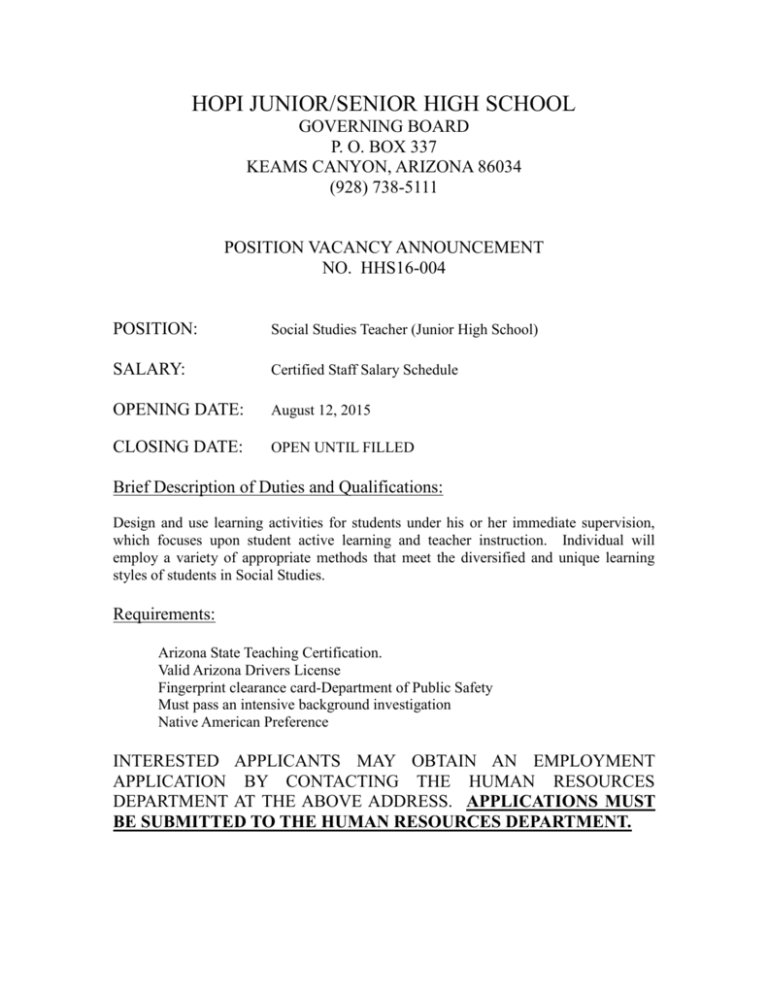 HOPI JUNIOR/SENIOR HIGH SCHOOL
GOVERNING BOARD
P. O. BOX 337
KEAMS CANYON, ARIZONA 86034
(928) 738-5111
POSITION VACANCY ANNOUNCEMENT
NO. HHS16-004
POSITION:
Social Studies Teacher (Junior High School)
SALARY:
Certified Staff Salary Schedule
OPENING DATE:
August 12, 2015
CLOSING DATE:
OPEN UNTIL FILLED
Brief Description of Duties and Qualifications:
Design and use learning activities for students under his or her immediate supervision,
which focuses upon student active learning and teacher instruction. Individual will
employ a variety of appropriate methods that meet the diversified and unique learning
styles of students in Social Studies.
Requirements:
Arizona State Teaching Certification.
Valid Arizona Drivers License
Fingerprint clearance card-Department of Public Safety
Must pass an intensive background investigation
Native American Preference
INTERESTED APPLICANTS MAY OBTAIN AN EMPLOYMENT
APPLICATION BY CONTACTING THE HUMAN RESOURCES
DEPARTMENT AT THE ABOVE ADDRESS. APPLICATIONS MUST
BE SUBMITTED TO THE HUMAN RESOURCES DEPARTMENT.