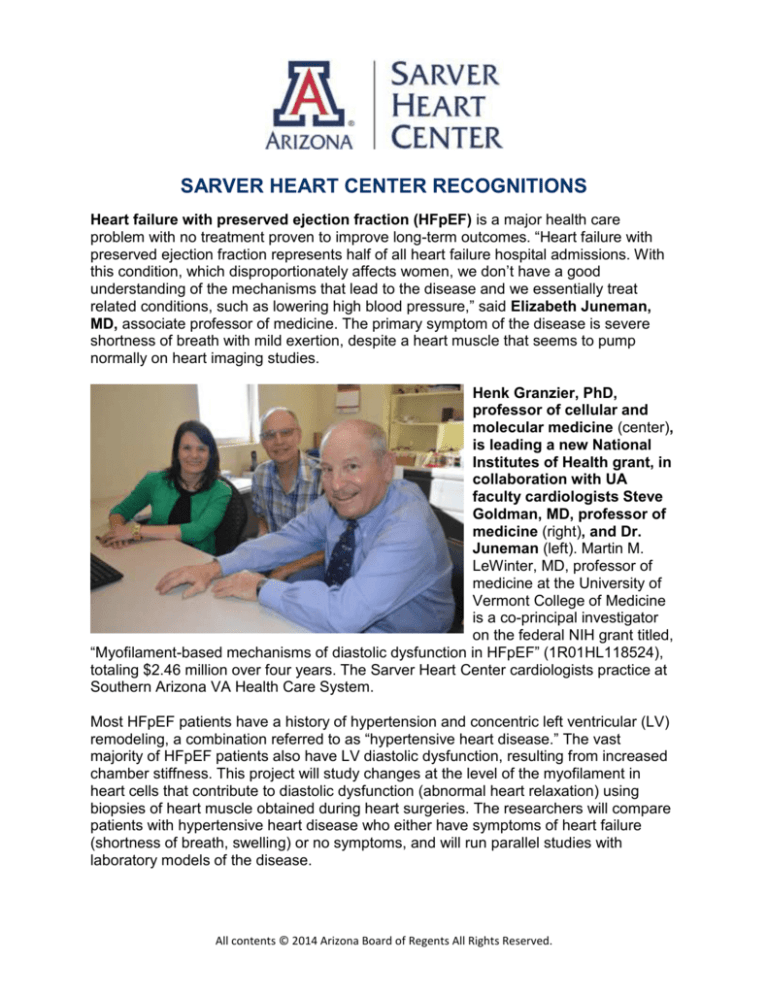 SARVER HEART CENTER RECOGNITIONS
Heart failure with preserved ejection fraction (HFpEF) is a major health care
problem with no treatment proven to improve long-term outcomes. "Heart failure with
preserved ejection fraction represents half of all heart failure hospital admissions. With
this condition, which disproportionately affects women, we don't have a good
understanding of the mechanisms that lead to the disease and we essentially treat
related conditions, such as lowering high blood pressure," said Elizabeth Juneman,
MD, associate professor of medicine. The primary symptom of the disease is severe
shortness of breath with mild exertion, despite a heart muscle that seems to pump
normally on heart imaging studies.
Henk Granzier, PhD,
professor of cellular and
molecular medicine (center),
is leading a new National
Institutes of Health grant, in
collaboration with UA
faculty cardiologists Steve
Goldman, MD, professor of
medicine (right), and Dr.
Juneman (left). Martin M.
LeWinter, MD, professor of
medicine at the University of
Vermont College of Medicine
is a co-principal investigator
on the federal NIH grant titled,
"Myofilament-based mechanisms of diastolic dysfunction in HFpEF" (1R01HL118524),
totaling $2.46 million over four years. The Sarver Heart Center cardiologists practice at
Southern Arizona VA Health Care System.
Most HFpEF patients have a history of hypertension and concentric left ventricular (LV)
remodeling, a combination referred to as "hypertensive heart disease." The vast
majority of HFpEF patients also have LV diastolic dysfunction, resulting from increased
chamber stiffness. This project will study changes at the level of the myofilament in
heart cells that contribute to diastolic dysfunction (abnormal heart relaxation) using
biopsies of heart muscle obtained during heart surgeries. The researchers will compare
patients with hypertensive heart disease who either have symptoms of heart failure
(shortness of breath, swelling) or no symptoms, and will run parallel studies with
laboratory models of the disease.
All contents © 2014 Arizona Board of Regents All Rights Reserved.
"Dr. Juneman made a heroic effort to obtain VA approval for this research protocol. The
biopsies obtained during surgeries with patient consent will provide valuable and unique
data," said Professor Granzier.
"This grant shows one of the values of the Sarver Heart Center. It fosters collaboration
where basic and clinical scientists are able to work together on a project to decipher the
primary cause of disease and improve patient care," said Dr. Goldman.
During the past few months, Karl B. Kern,
MD, (right, pictured with Daniel V. Schidlow,
MD, Drexel University senior vice president of
medical affairs and dean) has received several
well-deserved recognitions. Dr. Kern, codirector of the UA Sarver Heart Center and
professor of medicine, received the Lifetime
Achievement Award from Drexel University
College of Medicine's Alumni Association in
May. A 1980 graduate of the Hahnemann
Medical College in Philadelphia (now Drexel
School of Medicine), he was recognized for
outstanding achievements and making lasting
contributions, in particular his research that led
to cardio-cerebral resuscitation and his
mentoring of future physicians and scientists.
Dr. Kern also was inducted as an honorary member of the European
Resuscitation Council during its scientific conference in Bilboa, Spain, in May.
Honorary members are recognized for outstanding merit and life-long commitment and
leadership in resuscitation care. The ERC described Dr. Kern as "one of the most
influential leaders in resuscitation over many years. (His research) is renowned not only
for the originality and excellence of its published work, but also for its refreshing
willingness to challenge dogma where good grounds have existed for doubt about
current practice." The ERC has recognized only 40 honorary members worldwide. Dr.
Kern is one of 10 from the United States.
The Sarver Heart Center
Resuscitation Research Group's
success in improving long-term
survival from sudden cardiac arrest
by introducing chest-compressiononly CPR and cardio-cerebral
resuscitation for emergency
responders is well known. Postresuscitation care in hospitals offers
the next great opportunity to further
improve survival. Dr. Kern recently
was awarded an Arizona
Biomedical Investigator Grant (AZ
BIG) from the Arizona Department of Health Services to study whether early coronary
angiography is effective for cardiac arrest patients who have not had a classic heart
attack with ST elevation, a measurement that indicates a severe blood-flow blockage.
All contents © 2014 Arizona Board of Regents All Rights Reserved.
Some believe all post-cardiac-arrest patients should have emergent coronary
angiography, but others disagree.
This clinical study will evaluate early angiographic treatment in a multi-centered
randomized study of 240 patients resuscitated from out-of-hospital cardiac arrest. Dr.
Kern is collaborating with doctors from University of Arizona Medical Center – University
and South Campuses, University of North Carolina – Chapel Hill, Maine Medical Center,
Vanderbilt University Medical Center and Minneapolis Heart Institute. Dr. Kern and
others have already demonstrated improved survival in non-randomized, cohort studies.
This grant will be the first to support a prospective, randomized trial to examine the
benefit of this early angiographic approach in patients without ST elevation.
In September, Dr. Nancy Sweitzer
was recognized as one of the 50
most influential women in
Arizona by Arizona Business
Magazine. "This award is
recognition not only of the
uniqueness of having a woman
leader in cardiovascular medicine,
but also of the importance of the
work being done at the Sarver
Heart Center to prevent, treat and
cure heart disease and stroke,"
said Dr. Sweitzer, director of the
UA Sarver Heart Center.
In November, Dr. Sweitzer delivered two presentations for the Arizona Health Sciences
community. One, for Women in Academic Medicine was titled, "Dreaming the
Possible Dream: Overcoming Barriers and Being a Leader." She was joined by
other women faculty members of the Sarver Heart Center. (Pictured from left: Heddwen
Brooks, PhD, Betsy Dokken, NP, PhD, Dr. Sweitzer, and Margaret Briehl, PhD.) Dr.
Sweitzer also delivered a continuing medical education talk for the UA College of
Medicine – Tucson homecoming program titled, "Great Problems of Nature: Progress
in Mechanical Circulatory Support as a Treatment for Advanced Heart Disease."
Former Sarver Heart Center Investigator
Award recipient Dennis Pollow, Jr., MS,
RD, received a predoctoral fellowship
grant from the American Heart
Association Western States Affiliate to
continue his research on "Sex differences in
T cell-mediated regulation of blood pressure
and cardiovascular disease." The Sarver
Heart Center Heart Disease in Women
Award enabled Dennis to obtain preliminary
research data to compete for this national
award. His mentor is Sarver Heart Center
faculty member Heddwen Brooks, PhD,
associate professor of physiology and chair of the Physiological Sciences Graduate
Interdisciplinary Program.
All contents © 2014 Arizona Board of Regents All Rights Reserved.
Zain Khalpey, MD, PhD, MRCS, was selected by the International
Society for Cardiovascular Translational Research to be the
recipient of the 2014 ISCTR Cardiovascular Translational Research
Scholarship. Dr. Khalpey, associate professor, UA Division of
Cardiothoracic Surgery, currently serves as the co-director of Heart
Transplant and director of the Mechanical Circulatory Support Program.
Dr. Khalpey's research focuses on stem-cell applications in
transplantation and cardiothoracic surgery. The ISCTR's translational
research curriculum is designed to help clinicians and scientists learn
about new pathways for medical product development that can expedite
scientific advancements to benefit patients.
Marvin J. Slepian, MD, professor of medicine and biomedical
engineering and McGuire Scholar in the Eller College of Management,
is president-elect of the International Society for Rotary Blood
Pumps. The society, which will be renamed the International Society of
Mechanical Circulatory Support, will hold its 26th meeting in Tucson in
2016, with Dr. Slepian serving as program chair and president of the
society. "This will be a great opportunity for Tucson and the UA as well.
This meeting will bring to town an international concentration of leading
cardiologists, cardiac surgeons, engineers, coagulation/hematologists,
industry personnel, health administrators, and venture capitalists," said
Dr. Slepian.
Ankit Desai, MD, assistant professor of clinical medicine, has been
selected for an Arizona Health Sciences Center Career Development
Award, which provides funding to support physicians and scientists
across disciplines to develop a research project in an established
investigator's laboratory or program. The goal is to provide young
physician scientists time and resources to begin a productive research
career and successfully compete for national biomedical funding, such as
the National Institutes of Health and American Heart Association awards.
The AHSC awards are granted for up to two years at up to $75,000 per
year and portions can be applied to salary, lab supplies, tuition, fees and
travel to academic conferences.
Dr. Desai's mentors for his project, "Sudden Death and Sickle Cell Disease– An
Electrophysiological and Molecular Investigation," are Joe G.N. "Skip" Garcia, MD, senior vice
president for health sciences, and Jason Yuan, MD, PhD, associate vice president for
translational health sciences, at the Arizona Health Sciences Center.
All contents © 2014 Arizona Board of Regents All Rights Reserved.