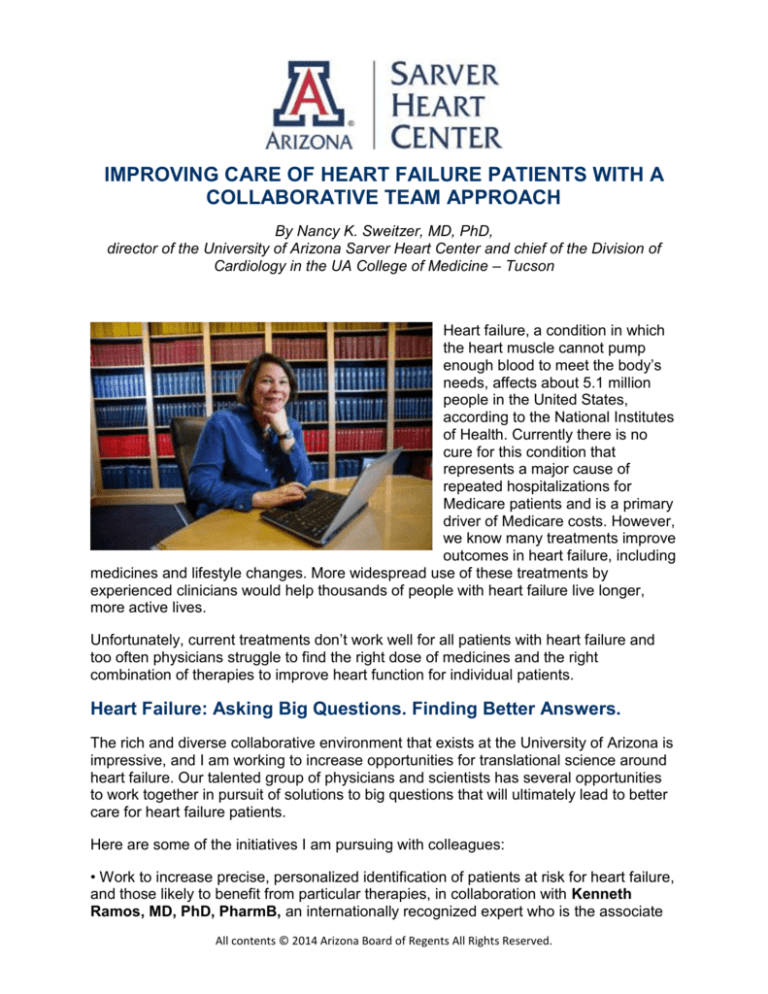 IMPROVING CARE OF HEART FAILURE PATIENTS WITH A
COLLABORATIVE TEAM APPROACH
By Nancy K. Sweitzer, MD, PhD,
director of the University of Arizona Sarver Heart Center and chief of the Division of
Cardiology in the UA College of Medicine – Tucson
Heart failure, a condition in which
the heart muscle cannot pump
enough blood to meet the body's
needs, affects about 5.1 million
people in the United States,
according to the National Institutes
of Health. Currently there is no
cure for this condition that
represents a major cause of
repeated hospitalizations for
Medicare patients and is a primary
driver of Medicare costs. However,
we know many treatments improve
outcomes in heart failure, including
medicines and lifestyle changes. More widespread use of these treatments by
experienced clinicians would help thousands of people with heart failure live longer,
more active lives.
Unfortunately, current treatments don't work well for all patients with heart failure and
too often physicians struggle to find the right dose of medicines and the right
combination of therapies to improve heart function for individual patients.
Heart Failure: Asking Big Questions. Finding Better Answers.
The rich and diverse collaborative environment that exists at the University of Arizona is
impressive, and I am working to increase opportunities for translational science around
heart failure. Our talented group of physicians and scientists has several opportunities
to work together in pursuit of solutions to big questions that will ultimately lead to better
care for heart failure patients.
Here are some of the initiatives I am pursuing with colleagues:
• Work to increase precise, personalized identification of patients at risk for heart failure,
and those likely to benefit from particular therapies, in collaboration with Kenneth
Ramos, MD, PhD, PharmB, an internationally recognized expert who is the associate
All contents © 2014 Arizona Board of Regents All Rights Reserved.
vice president for precision health sciences at the Arizona Health Sciences Center
(AHSC). This collaboration takes advantage of my prior work in heart failure genetics,
including published work about a gene associated with risk of heart failure development
(risk allele).
• In collaboration with Lee Ryan, PhD, associate director; Elizabeth Glisky, PhD, head
of the Department of Psychology; Carol Barnes, PhD, director, and other investigators
in the McKnight Brain Institute at the UA, we will be looking at the relationship
between inflammatory brain changes and cognition, mood and memory in patients with
heart failure.
• Further exploring the potential role of brain inflammation in heart failure, I am working
with physiologists John Konhilas, PhD, and Meredith Hay, PhD, to investigate the
immune mechanisms of brain inflammation in heart failure, both in animal models and in
patients, and exploring the possibility that pro-biotic therapy and changes in the
microbiota of the gut may positively affect both brain and systemic inflammation,
memory, mood and cognition.
• In close collaboration with Carol Gregorio, PhD, co-director of the UA Sarver Heart
Center, I am connecting our internationally known basic scientists studying heart muscle
proteins and diseases with collaborators in drug development to identify and smartly
develop drug therapies targeted at specific cell proteins and mechanisms identified in
laboratories at the University of Arizona.
• I am collaborating with Elizabeth Calhoun, PhD, MEd, associate vice president for
population health sciences and executive director of the Center for Population
Science and Discovery at AHSC, to develop projects that take advantage of the
unprecedented opportunity to study underserved minority populations. Our goal is to
learn more about cardiovascular disease risk in our rural and urban minority and nonminority populations, and ways we might work to improve health disparities and reduce
cardiovascular risk in those minority populations with the highest risk. One unique way
we might target this is by studying both individual, cultural and community factors that
alter the gut microbiota, and the association of this with inflammation and cardiovascular
risk.
Dr. Sweitzer is an advanced heart failure and transplant cardiologist and
clinical researcher, specializing in heart failure, mechanical circulatory support
and heart transplant patient care.
All contents © 2014 Arizona Board of Regents All Rights Reserved.