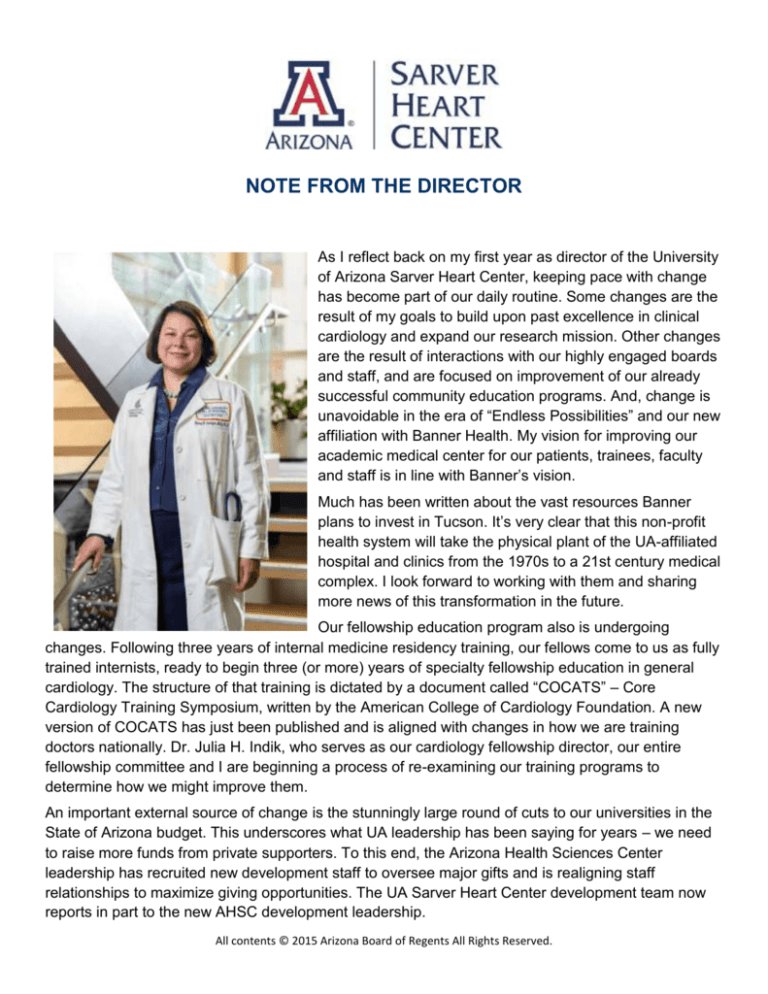 NOTE FROM THE DIRECTOR
As I reflect back on my first year as director of the University
of Arizona Sarver Heart Center, keeping pace with change
has become part of our daily routine. Some changes are the
result of my goals to build upon past excellence in clinical
cardiology and expand our research mission. Other changes
are the result of interactions with our highly engaged boards
and staff, and are focused on improvement of our already
successful community education programs. And, change is
unavoidable in the era of "Endless Possibilities" and our new
affiliation with Banner Health. My vision for improving our
academic medical center for our patients, trainees, faculty
and staff is in line with Banner's vision.
Much has been written about the vast resources Banner
plans to invest in Tucson. It's very clear that this non-profit
health system will take the physical plant of the UA-affiliated
hospital and clinics from the 1970s to a 21st century medical
complex. I look forward to working with them and sharing
more news of this transformation in the future.
Our fellowship education program also is undergoing
changes. Following three years of internal medicine residency training, our fellows come to us as fully
trained internists, ready to begin three (or more) years of specialty fellowship education in general
cardiology. The structure of that training is dictated by a document called "COCATS" – Core
Cardiology Training Symposium, written by the American College of Cardiology Foundation. A new
version of COCATS has just been published and is aligned with changes in how we are training
doctors nationally. Dr. Julia H. Indik, who serves as our cardiology fellowship director, our entire
fellowship committee and I are beginning a process of re-examining our training programs to
determine how we might improve them.
An important external source of change is the stunningly large round of cuts to our universities in the
State of Arizona budget. This underscores what UA leadership has been saying for years – we need
to raise more funds from private supporters. To this end, the Arizona Health Sciences Center
leadership has recruited new development staff to oversee major gifts and is realigning staff
relationships to maximize giving opportunities. The UA Sarver Heart Center development team now
reports in part to the new AHSC development leadership.
All contents © 2015 Arizona Board of Regents All Rights Reserved.
Sarver Heart Center is operating with its two partners – Banner and the AHSC leadership – to move
forward our mission to improve patient care, research and education of professionals and the public
at the University of Arizona. We ask for your patience as we learn how to balance long-standing
successful traditions with new ways of achieving excellence.
I want to take a moment to gratefully celebrate the life of one of our strongest private supporters, Alfie
Norville, who recently passed away. Alfie lived a remarkable and generous life – I wish I could have
known her longer. Among her many charitable causes, Alfie counted the UA Sarver Heart Center as
vital. She served as a member of the advisory board and the Women's Heart Health Education
Committee. She and her husband, Allan Norville, generously support our research mission by
providing funds for an endowed chair focusing on heart disease in women. In Alfie's memory, the
family continues their support of the Sarver Heart Center. (Please read more about the life of this
remarkable woman on page 15.)
With a focus on expanding and improving cardiology clinical services and heart failure research, I'm
pleased to welcome Dr. Elizabeth Juneman. Some of you know her as a faculty member with a
research laboratory at the Sarver Heart Center and a clinical cardiology appointment at the Southern
Arizona VA Health System. Dr. Juneman now will be on the Banner - University Medical Center and
Arizona Health Sciences Center campuses full time, serving as director of Outpatient Cardiology and
assistant program director of the Cardiovascular Disease Fellowship. She continues her important
research in deciphering the mechanisms of heart failure. In her role as Outpatient Cardiology director,
Dr. Juneman is soliciting feedback from patients and staff as she explores opportunities for improving
our outpatient care. (Learn more about Dr. Juneman on page 13.)
As I stated in prior messages, clinical research is one of my passions. Incorporation of more clinical
research is central to our mission of providing the highest-quality, cutting-edge patient care. I am
pleased to announce the addition of Catherine MacDonald, BScN, MBA, who joins the Sarver Heart
Center staff as cardiology clinical research manager. We have several clinical trials underway.
Catherine is helping us pursue even more. (Please see page 10 to learn more.)
I have always found energy and excitement in change, and came to the University of Arizona
specifically for the privilege of leading through such fast-changing times. Thank you for being part of
this progress.
Nancy K. Sweitzer, MD, PhD
Director, University of Arizona Sarver Heart Center
Chief, Division of Cardiology
All contents © 2015 Arizona Board of Regents All Rights Reserved.