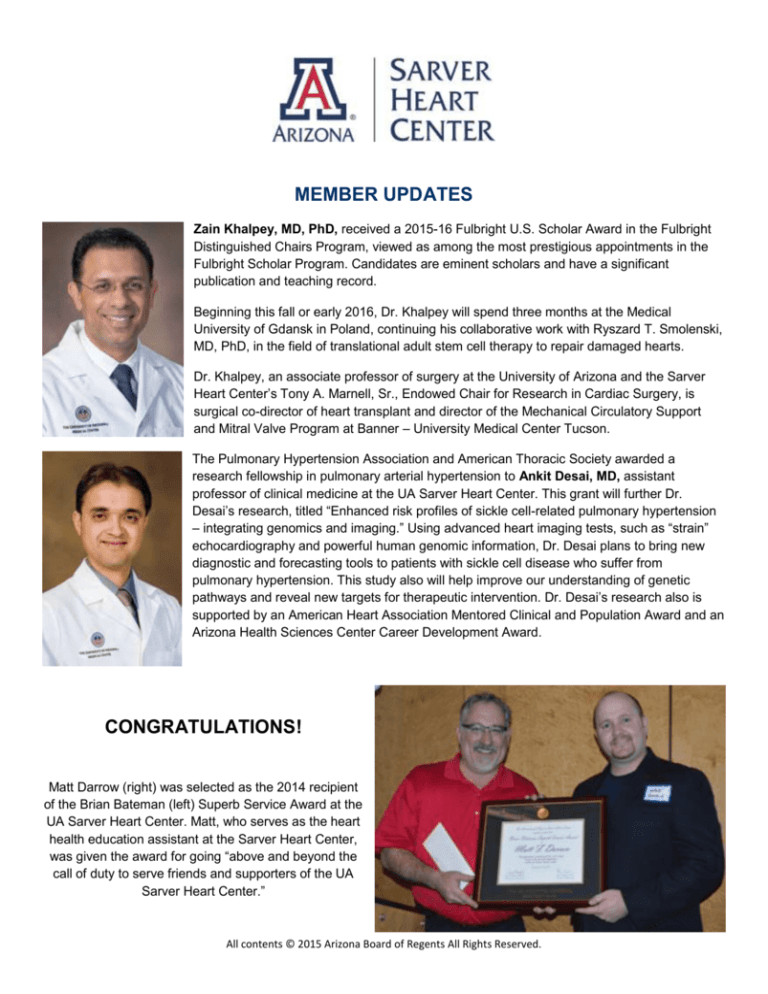 MEMBER UPDATES
Zain Khalpey, MD, PhD, received a 2015-16 Fulbright U.S. Scholar Award in the Fulbright
Distinguished Chairs Program, viewed as among the most prestigious appointments in the
Fulbright Scholar Program. Candidates are eminent scholars and have a significant
publication and teaching record.
Beginning this fall or early 2016, Dr. Khalpey will spend three months at the Medical
University of Gdansk in Poland, continuing his collaborative work with Ryszard T. Smolenski,
MD, PhD, in the field of translational adult stem cell therapy to repair damaged hearts.
Dr. Khalpey, an associate professor of surgery at the University of Arizona and the Sarver
Heart Center's Tony A. Marnell, Sr., Endowed Chair for Research in Cardiac Surgery, is
surgical co-director of heart transplant and director of the Mechanical Circulatory Support
and Mitral Valve Program at Banner – University Medical Center Tucson.
The Pulmonary Hypertension Association and American Thoracic Society awarded a
research fellowship in pulmonary arterial hypertension to Ankit Desai, MD, assistant
professor of clinical medicine at the UA Sarver Heart Center. This grant will further Dr.
Desai's research, titled "Enhanced risk profiles of sickle cell-related pulmonary hypertension
– integrating genomics and imaging." Using advanced heart imaging tests, such as "strain"
echocardiography and powerful human genomic information, Dr. Desai plans to bring new
diagnostic and forecasting tools to patients with sickle cell disease who suffer from
pulmonary hypertension. This study also will help improve our understanding of genetic
pathways and reveal new targets for therapeutic intervention. Dr. Desai's research also is
supported by an American Heart Association Mentored Clinical and Population Award and an
Arizona Health Sciences Center Career Development Award.
CONGRATULATIONS!
Matt Darrow (right) was selected as the 2014 recipient
of the Brian Bateman (left) Superb Service Award at the
UA Sarver Heart Center. Matt, who serves as the heart
health education assistant at the Sarver Heart Center,
was given the award for going "above and beyond the
call of duty to serve friends and supporters of the UA
Sarver Heart Center."
All contents © 2015 Arizona Board of Regents All Rights Reserved.
The importance of avoiding obesity is a renewed focus for
Frank Marcus, MD (left), professor emeritus at UA Sarver
Heart Center. He hosted Kim Eagle, MD (right), University of
Michigan, as the Samuel and Edith Marcus Visiting
Professor in Cardiology, pictured with Nancy Sweitzer, MD,
PhD (center), director of Sarver Heart Center. Dr. Eagle talked
about a healthy eating and exercise program that has
improved the health of school children in Michigan. This
systematic and comprehensive approach for decreasing the
prevalence of obesity also was the theme of Dr. Marcus'
lecture for the Donald K. Buffmire Visiting Lectureship in
Medicine series sponsored by the Flinn Foundation at the
University of Arizona College of Medicine, both in Tucson and
Phoenix. This approach, which includes collaboration by
physicians, schools and the entire community, will require a full-time leader and coordinator supported by an endowed chair at the
UA Sarver Heart Center. For information about the Marcus family's plans to build an endowment, please contact the UA Sarver
Heart Center Development Office at 520-626-4146 or email tmelendez@shc.arizona.edu.
Dr. Juneman Joins Faculty
Elizabeth Juneman, MD, joined the University of Arizona Sarver Heart Center as associate
professor of medicine in the Division of Cardiology at the University of Arizona College of
Medicine – Tucson and director of outpatient cardiology. Dr. Juneman also serves as assistant
program director of the Cardiovascular Disease Fellowship Program.
Dr. Juneman is board certified in internal medicine, cardiovascular disease, echocardiography,
nuclear cardiology and advanced heart failure/transplantation. She is a fellow of the American
College of Cardiology and a member of the American Society of Echocardiography, American
Heart Association, and Heart Failure Society of America. Dr. Juneman was honored with the
Charles W. Hall Jr. Memorial Cardiology Fellowship Teaching Award in 2011 from the UA Sarver
Heart Center and has been recognized by her peers as one of the "Best Doctors in America,"
annually since 2009.
Dr. Juneman conducts basic science research focused on mechanical and cellular remodeling in
heart failure, particularly alterations in systolic and diastolic dysfunction in various
cardiomyopathies. On the clinical research side, Dr. Juneman's focus is in heart failure. She has served as a principal investigator
on nationally funded, multi-center clinical trials, as well as her own investigator-initiated clinical trials. She has authored multiple
original research publications, a book chapter, and clinical reviews.
Currently, Dr. Juneman is collaborating with Henk Granzier, PhD, professor of cellular and molecular medicine at the UA College
of Medicine – Tucson, and Steve Goldman, MD, professor of medicine at the UA College of Medicine – Tucson and cardiologist at
Southern Arizona VA Health Care System, on a National Institutes of Health grant. Led by Professor Granzier, the team is
studying heart failure with preserved ejection fraction (HFpEF), a major health problem with no treatment proven to improve longterm outcomes. HFpEF represents half of all heart failure hospital admissions and disproportionately affects women.
Since 2007, she was clinical faculty at Southern Arizona VA Health Care System, where she served as director of
echocardiography and director of heart failure for seven years. She also had a research laboratory at the Sarver Heart Center.
Following medical school at the University of Texas - Houston Health Sciences Center, Dr. Juneman completed her internal
medicine residency and cardiology fellowship at the UA College of Medicine – Tucson.
All contents © 2015 Arizona Board of Regents All Rights Reserved.
Marvin Slepian, MD, UA Sarver Heart Center professor of medicine, was named director of the
Arizona Center for Accelerated Biomedical Innovation. Known as ACABI, the UA center will help
researchers form collaborations, find applications for new discoveries, develop their technologies
and access resources to move their innovations forward. It will focus primarily on the
development of translational biomedical technologies.
"ACABI is a 'creativity engine' that will fuel translational research at the UA," Dr. Slepian said. "It
will maximize the value of university research. It will translate interesting discoveries into real,
practical value, and it will be an economic engine to drive new startups and new corporate efforts
in Arizona.
All contents © 2015 Arizona Board of Regents All Rights Reserved.
All contents © 2014 Arizona Board of Regents All Rights Reserved.