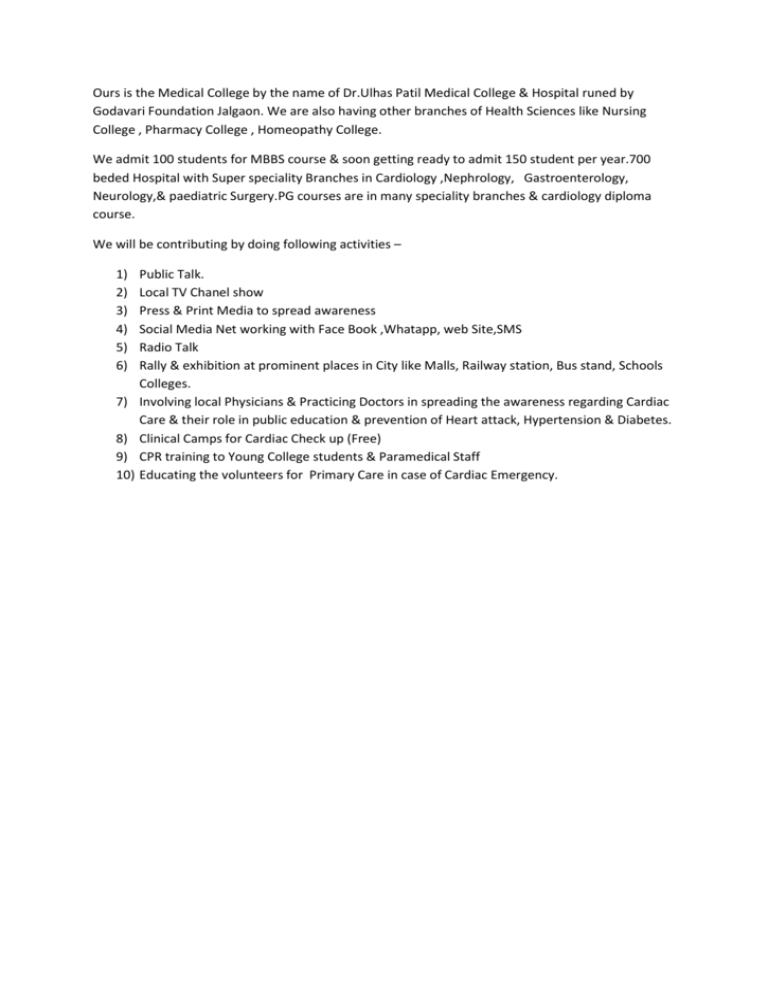 Ours is the Medical College by the name of Dr.Ulhas Patil Medical College & Hospital runed by
Godavari Foundation Jalgaon. We are also having other branches of Health Sciences like Nursing
College , Pharmacy College , Homeopathy College.
We admit 100 students for MBBS course & soon getting ready to admit 150 student per year.700
beded Hospital with Super speciality Branches in Cardiology ,Nephrology, Gastroenterology,
Neurology,& paediatric Surgery.PG courses are in many speciality branches & cardiology diploma
course.
We will be contributing by doing following activities –
1)
2)
3)
4)
5)
6)
7)
8)
9)
10)
Public Talk.
Local TV Chanel show
Press & Print Media to spread awareness
Social Media Net working with Face Book ,Whatapp, web Site,SMS
Radio Talk
Rally & exhibition at prominent places in City like Malls, Railway station, Bus stand, Schools
Colleges.
Involving local Physicians & Practicing Doctors in spreading the awareness regarding Cardiac
Care & their role in public education & prevention of Heart attack, Hypertension & Diabetes.
Clinical Camps for Cardiac Check up (Free)
CPR training to Young College students & Paramedical Staff
Educating the volunteers for Primary Care in case of Cardiac Emergency.