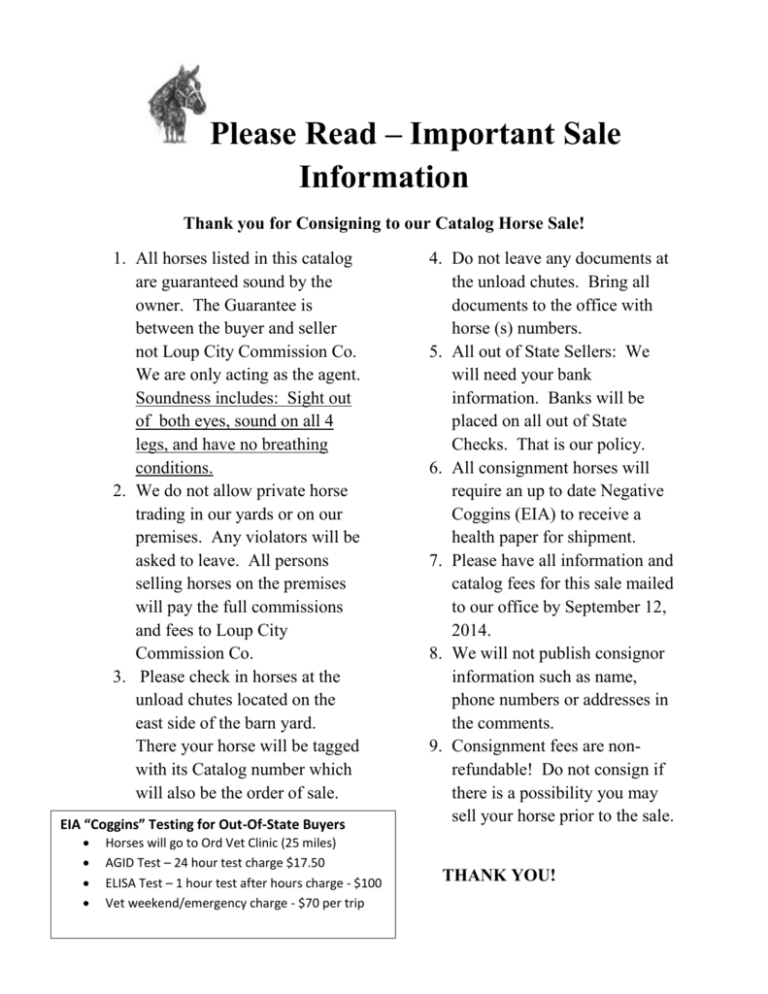 Please Read – Important Sale
Information
Thank you for Consigning to our Catalog Horse Sale!
1. All horses listed in this catalog
are guaranteed sound by the
owner. The Guarantee is
between the buyer and seller
not Loup City Commission Co.
We are only acting as the agent.
Soundness includes: Sight out
of both eyes, sound on all 4
legs, and have no breathing
conditions.
2. We do not allow private horse
trading in our yards or on our
premises. Any violators will be
asked to leave. All persons
selling horses on the premises
will pay the full commissions
and fees to Loup City
Commission Co.
3. Please check in horses at the
unload chutes located on the
east side of the barn yard.
There your horse will be tagged
with its Catalog number which
will also be the order of sale.
EIA "Coggins" Testing for Out-Of-State Buyers




Horses will go to Ord Vet Clinic (25 miles)
AGID Test – 24 hour test charge $17.50
ELISA Test – 1 hour test after hours charge - $100
Vet weekend/emergency charge - $70 per trip
4. Do not leave any documents at
the unload chutes. Bring all
documents to the office with
horse (s) numbers.
5. All out of State Sellers: We
will need your bank
information. Banks will be
placed on all out of State
Checks. That is our policy.
6. All consignment horses will
require an up to date Negative
Coggins (EIA) to receive a
health paper for shipment.
7. Please have all information and
catalog fees for this sale mailed
to our office by September 12,
2014.
8. We will not publish consignor
information such as name,
phone numbers or addresses in
the comments.
9. Consignment fees are nonrefundable! Do not consign if
there is a possibility you may
sell your horse prior to the sale.
THANK YOU!