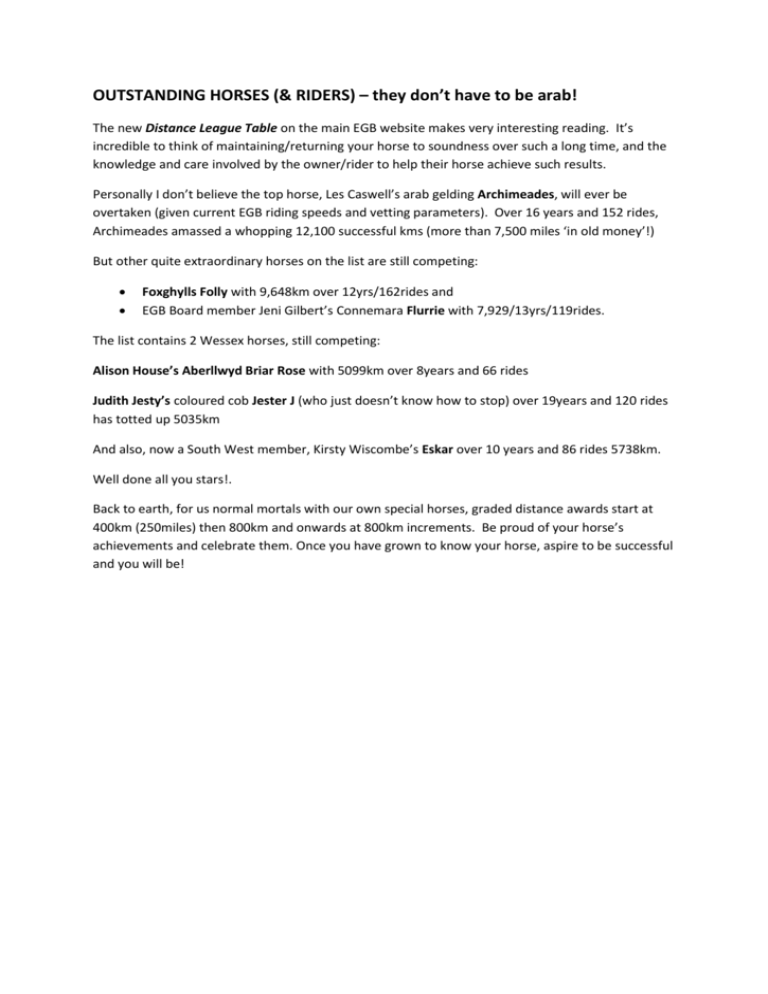 OUTSTANDING HORSES (& RIDERS) – they don't have to be arab!
The new Distance League Table on the main EGB website makes very interesting reading. It's
incredible to think of maintaining/returning your horse to soundness over such a long time, and the
knowledge and care involved by the owner/rider to help their horse achieve such results.
Personally I don't believe the top horse, Les Caswell's arab gelding Archimeades, will ever be
overtaken (given current EGB riding speeds and vetting parameters). Over 16 years and 152 rides,
Archimeades amassed a whopping 12,100 successful kms (more than 7,500 miles 'in old money'!)
But other quite extraordinary horses on the list are still competing:


Foxghylls Folly with 9,648km over 12yrs/162rides and
EGB Board member Jeni Gilbert's Connemara Flurrie with 7,929/13yrs/119rides.
The list contains 2 Wessex horses, still competing:
Alison House's Aberllwyd Briar Rose with 5099km over 8years and 66 rides
Judith Jesty's coloured cob Jester J (who just doesn't know how to stop) over 19years and 120 rides
has totted up 5035km
And also, now a South West member, Kirsty Wiscombe's Eskar over 10 years and 86 rides 5738km.
Well done all you stars!.
Back to earth, for us normal mortals with our own special horses, graded distance awards start at
400km (250miles) then 800km and onwards at 800km increments. Be proud of your horse's
achievements and celebrate them. Once you have grown to know your horse, aspire to be successful
and you will be!