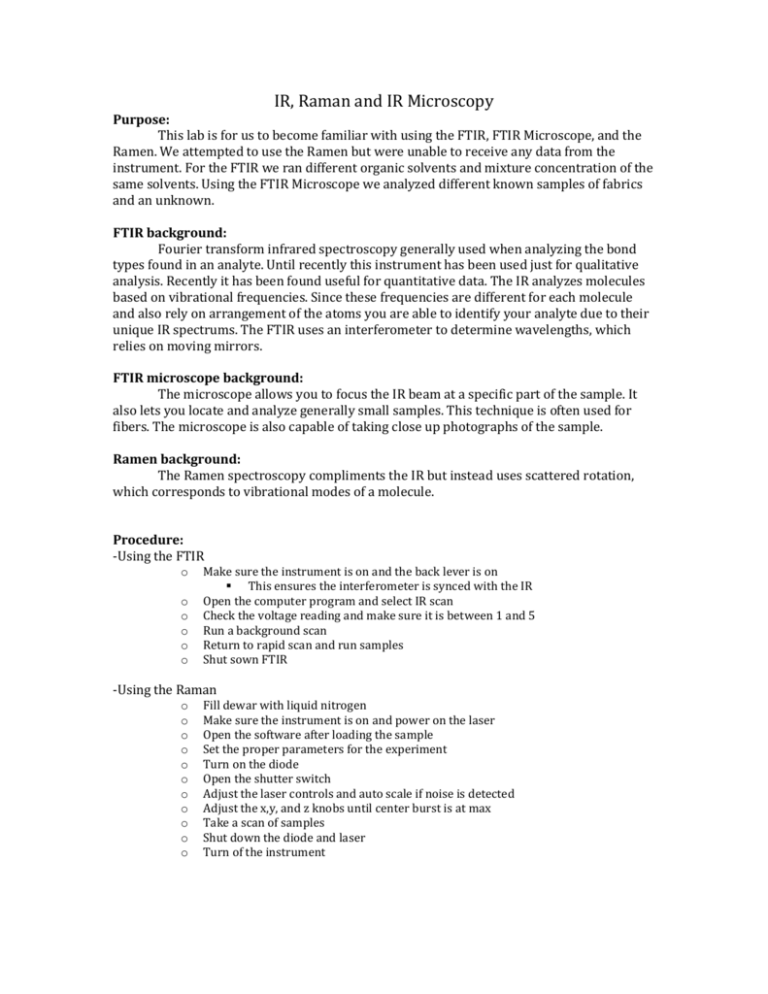 IR, Raman and IR Microscopy
Purpose:
This lab is for us to become familiar with using the FTIR, FTIR Microscope, and the
Ramen. We attempted to use the Ramen but were unable to receive any data from the
instrument. For the FTIR we ran different organic solvents and mixture concentration of the
same solvents. Using the FTIR Microscope we analyzed different known samples of fabrics
and an unknown.
FTIR background:
Fourier transform infrared spectroscopy generally used when analyzing the bond
types found in an analyte. Until recently this instrument has been used just for qualitative
analysis. Recently it has been found useful for quantitative data. The IR analyzes molecules
based on vibrational frequencies. Since these frequencies are different for each molecule
and also rely on arrangement of the atoms you are able to identify your analyte due to their
unique IR spectrums. The FTIR uses an interferometer to determine wavelengths, which
relies on moving mirrors.
FTIR microscope background:
The microscope allows you to focus the IR beam at a specific part of the sample. It
also lets you locate and analyze generally small samples. This technique is often used for
fibers. The microscope is also capable of taking close up photographs of the sample.
Ramen background:
The Ramen spectroscopy compliments the IR but instead uses scattered rotation,
which corresponds to vibrational modes of a molecule.
Procedure:
-Using the FTIR
o
o
o
o
o
o
Make sure the instrument is on and the back lever is on
 This ensures the interferometer is synced with the IR
Open the computer program and select IR scan
Check the voltage reading and make sure it is between 1 and 5
Run a background scan
Return to rapid scan and run samples
Shut sown FTIR
-Using the Raman
o
o
o
o
o
o
o
o
o
o
o
Fill dewar with liquid nitrogen
Make sure the instrument is on and power on the laser
Open the software after loading the sample
Set the proper parameters for the experiment
Turn on the diode
Open the shutter switch
Adjust the laser controls and auto scale if noise is detected
Adjust the x,y, and z knobs until center burst is at max
Take a scan of samples
Shut down the diode and laser
Turn of the instrument
Data: All spectrums are placed in the lab notebook so refer there for all data. There is no
data for the Raman because it did not give us any results when used.
Results:
% Toluene
% 2Propanol
% 2Butanone
Toluene
(%T)
2-Propanol
(%T)
2-Butanone
(%T)
100
0
0
37
n/a
n/a
0
100
0
n/a
22
n/a
0
0
100
n/a
n/a
4
25
25
50
35
68
7
25
50
25
20
46
22
50
25
25
32
67
13
33
33
33
29
59
11
FTIR Calibration Curves for toluene, 2-propanol, and 2-butanone
FTIR Calibration Curves
80
y = -0.5825x + 78.918
R² = 0.9775
70
60
y = 0.1232x + 24.971
R² = 0.9783
%T
50
40
toluene
30
2-propanol
20
2-butanone
y = -0.1482x + 17.58
R² = 0.7301
10
0
0
20
40
60
80
100
120
% concentration
%T for 2-propanol in unknown is 77, for toluene is 42, and for 2-butanone is 11
2-propanol: 77=-0.5825x + 78.918 x= 3.29
Toluene: 42=0.1232x + 24.971 x=138.22
2-butanone: 11= -0.1482x + 17.58 x= 44.4
Looking at these calculations and results it is impossible to have over 100% for one solvent
therefore something is wrong. I think it may have to do with how I made my calibration
curve or the running of the unknown.
Since the Raman was in the process of being fixed and Amanda was still testing the
instrument we were unable to get any type of data from the Raman. We did try to use it but
it ended up not working after multiple attempts.
For the IR microscope we ran two known samples, cotton and polyester. Since we only ran
two knowns we figured once we ran the unknown we would not have sufficient data to
interpret what it was but when we ran unknown B the spectra ended up being identical to
that of the polyester. Therefore we determined that unknown B is polyester.
Conclusion:
The FTIR was fairly simple to work with. The instrument itself was simple to
set up and place the sample. Also the computer program was very straight forward
and quick to pick up. I find the FTIR to be very user friendly and it was one of the
few instruments that I did not run into a single problem while using it. The IR
microscope was a little bit more difficult to use because the first time we used it we
did not have it set up completely correctly and we could not get a clear spectrum but
once the problem was fixed everything else went smoothly. The Raman was pretty
straight forward to set up on the computer but unfortunately it never ended up
working.