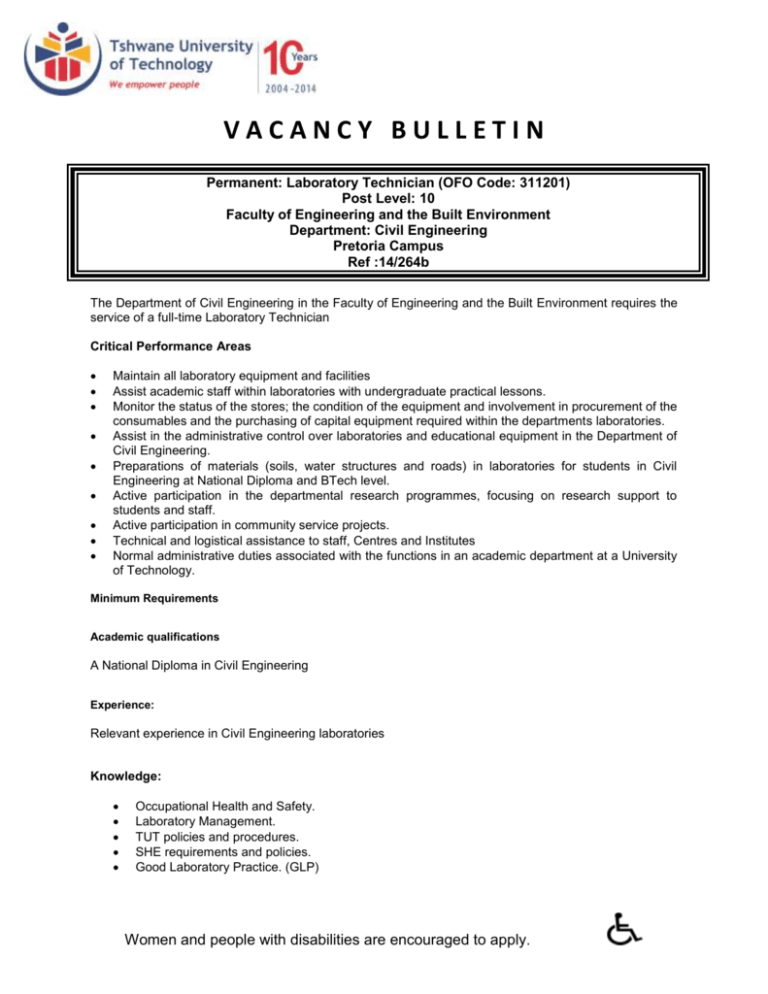 VACANCY BULLETIN
Permanent: Laboratory Technician (OFO Code: 311201)
Post Level: 10
Faculty of Engineering and the Built Environment
Department: Civil Engineering
Pretoria Campus
Ref :14/264b
The Department of Civil Engineering in the Faculty of Engineering and the Built Environment requires the
service of a full-time Laboratory Technician
Critical Performance Areas









Maintain all laboratory equipment and facilities
Assist academic staff within laboratories with undergraduate practical lessons.
Monitor the status of the stores; the condition of the equipment and involvement in procurement of the
consumables and the purchasing of capital equipment required within the departments laboratories.
Assist in the administrative control over laboratories and educational equipment in the Department of
Civil Engineering.
Preparations of materials (soils, water structures and roads) in laboratories for students in Civil
Engineering at National Diploma and BTech level.
Active participation in the departmental research programmes, focusing on research support to
students and staff.
Active participation in community service projects.
Technical and logistical assistance to staff, Centres and Institutes
Normal administrative duties associated with the functions in an academic department at a University
of Technology.
Minimum Requirements
Academic qualifications
A National Diploma in Civil Engineering
Experience:
Relevant experience in Civil Engineering laboratories
Knowledge:





Occupational Health and Safety.
Laboratory Management.
TUT policies and procedures.
SHE requirements and policies.
Good Laboratory Practice. (GLP)
Women and people with disabilities are encouraged to apply.
VACANCY BULLETIN
Skills








Communication.
Computer literacy
Handling, organizing and maintenance of laboratory equipment.
Presentation of practical classes
Organizational
Interpersonal
General laboratory (relevant to particular laboratory)
The ability to construct physical models for research in Civil Engineering.
Send your CV to: Recruitment8@tut.ac.za
Enquiries: Mr Derrick Coetzee
Tel: 012 382 5035
Closing Date: 17 October 2014
NB: If we have not responded within a month from the closing date, you should regard your
application as unsuccessful. Correspondence will only be entered into with short-listed
candidates. The University reserves the right not to make an appointment. It is the intention of the
University to promote representatively in respect of race, gender and disability through the filling
of these posts. Preference will be given to candidates from the designated groups. Candidates are
also required to complete the application form for employment. The application is available on the
University's website, share point and the University's intranet
Women and people with disabilities are encouraged to apply.