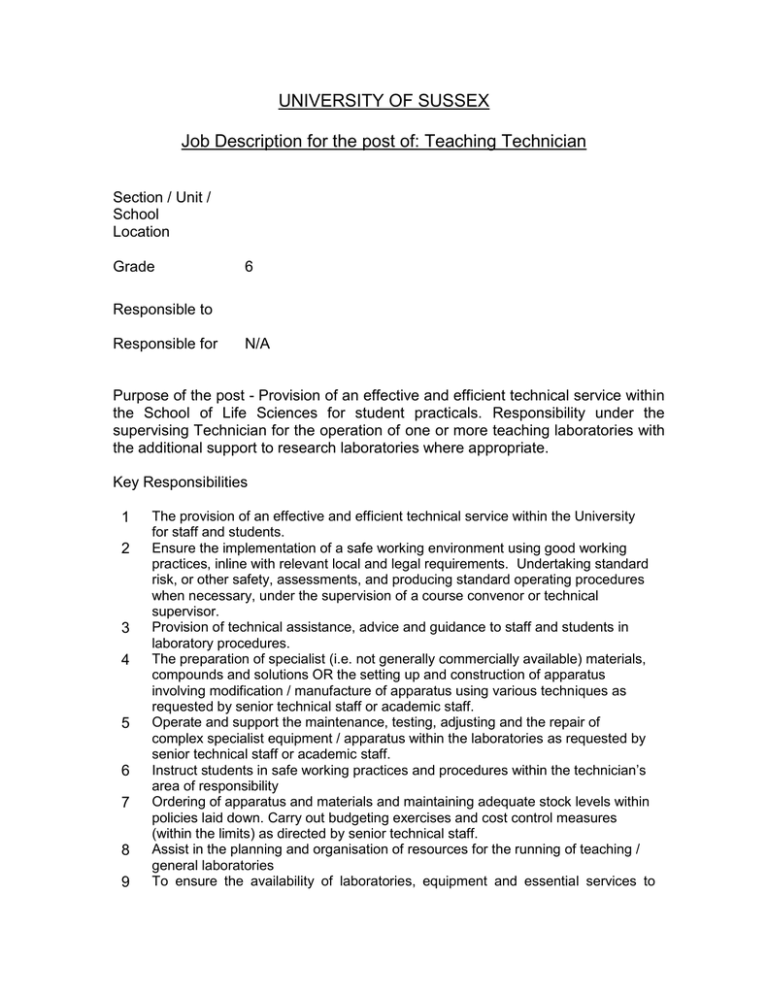 UNIVERSITY OF SUSSEX
Job Description for the post of: Teaching Technician
Section / Unit /
School
Location
Grade
6
Responsible to
Responsible for
N/A
Purpose of the post - Provision of an effective and efficient technical service within
the School of Life Sciences for student practicals. Responsibility under the
supervising Technician for the operation of one or more teaching laboratories with
the additional support to research laboratories where appropriate.
Key Responsibilities
1
2
3
4
5
6
7
8
9
The provision of an effective and efficient technical service within the University
for staff and students.
Ensure the implementation of a safe working environment using good working
practices, inline with relevant local and legal requirements. Undertaking standard
risk, or other safety, assessments, and producing standard operating procedures
when necessary, under the supervision of a course convenor or technical
supervisor.
Provision of technical assistance, advice and guidance to staff and students in
laboratory procedures.
The preparation of specialist (i.e. not generally commercially available) materials,
compounds and solutions OR the setting up and construction of apparatus
involving modification / manufacture of apparatus using various techniques as
requested by senior technical staff or academic staff.
Operate and support the maintenance, testing, adjusting and the repair of
complex specialist equipment / apparatus within the laboratories as requested by
senior technical staff or academic staff.
Instruct students in safe working practices and procedures within the technician's
area of responsibility
Ordering of apparatus and materials and maintaining adequate stock levels within
policies laid down. Carry out budgeting exercises and cost control measures
(within the limits) as directed by senior technical staff.
Assist in the planning and organisation of resources for the running of teaching /
general laboratories
To ensure the availability of laboratories, equipment and essential services to
10
11
12
13
14
meet with the needs of teaching and practical classes
Ensuring that the tidiness and the provision of the laboratory/laboratories is
maintained and teaching equipment is operational
Apply working knowledge of theory and practice, sharing this knowledge with
others as appropriate. S/he should demonstrate continuous specialist
development by acquiring relevant skills and competencies.
Explain or show the use or application of equipment, systems, operations and
techniques to students within class providing an understanding of underlying
operational and practical principles, where appropriate.
The allocation of duties, supervision and training of technical staff, ensuring
tidiness and the provision of general laboratory services.
Deputise for Teaching Technical Supervisor when required
This Job Description sets out current duties of the post that may vary from time to
time without changing the general character of the post or the level of
responsibility entailed.
Departmental role specific duties are listed under Extra Factual Data
Date ……………………………………
UNIVERSITY OF SUSSEX
Person Specification for the post of: Technician
SKILLS / ABILITIES
Good interpersonal skills: ability to both convey and
understand communication with fellow workers.
The ability to produce a high level of quality and
quantity of work with the use of good sensory and
physical co-ordination within the requirements of the
job.
Proven competence in use of complex sophisticated
laboratory equipment eg……
Numerate & literate with excellent oral and written
English communication skills
Good personal organisation , with proven competence
to organise others and an ability to prioritise to meet set
deadlines
Essential
X
X
X
X
X
KNOWLEDGE
Essential
Computer: University and other computer software as
X
appropriate.
Possession of the basic knowledge, skill and
experience required for the job and the ability to use
Desirable
X
Desirable
these to discharge their role effectively and efficiently.
Show full working knowledge and proficiency of own
area of expertise
EXPERIENCE
Proven experience of working in science teaching
laboratory
Working knowledge of laboratory skills in ………
techniques
X
Essential
X
Desirable
X
QUALIFICATIONS
NVQ Level 3 HNC / BTEC or equivalent professional
qualification (RSCiTEC) or experience in …………… or
a related subject
NVQ Level 4, Degree or equivalent professional
qualification or experience in …………… or a related
subject
Essential
X
Desirable
X
PERSONAL ATTRIBUTES AND CIRCUMSTANCES
Essential
Dependable and reliable.
X
Good personal organisation , with the competence to
organise others
Willingness to coach develop and instruct other team
members thus ensuring a degree of knowledge and cooperation is achieved at all times.
Ability to prioritise work to meet set deadlines.
X
Ability to work as part of a team and also to take on a
role of team leader with the aptitude to motivate other
staff.
Proficiency to handle confidential matters expeditiously.
X
Flexible attitude to work with an ability to adapt to
change
Good attendance record
X
Desirable
X
X
X
X
Clean driving licence
X
Will be a member of a relevant professional body, IST
for example.
X
EXTRA FACTUAL
DATA






Preparing equipment and chemicals for a range of biological, environmental science and
biochemistry practicals for both laboratory and field work sessions.
Preparation of Risk assessments / COSSH documentation for laboratory teaching
Assist with experimental development and trial of new experiments in teaching
environment prior to use
Ensure that equipment is maintained, clean and available for use in teaching laboratories
to meet teaching timetable
Assist in supporting students during field trips, this may involve working for short periods
in another country eg Portugal
Work in flexible way in order to support laboratory sessions outside of core work hours
The post holder will be expected to work independently although supervision will be
available in the event of a problem. They will be expected to plan their own work
programme, and to respond to requests for work in an organised and logical manner.
Accuracy and dependability are important as any failure to meet standards will result in
losses in terms of resources and will be detrimental. The postholder will be expected to
contribute to the overall co-ordinated effort within the laboratory and to liaise with
members of staff and students at all levels.