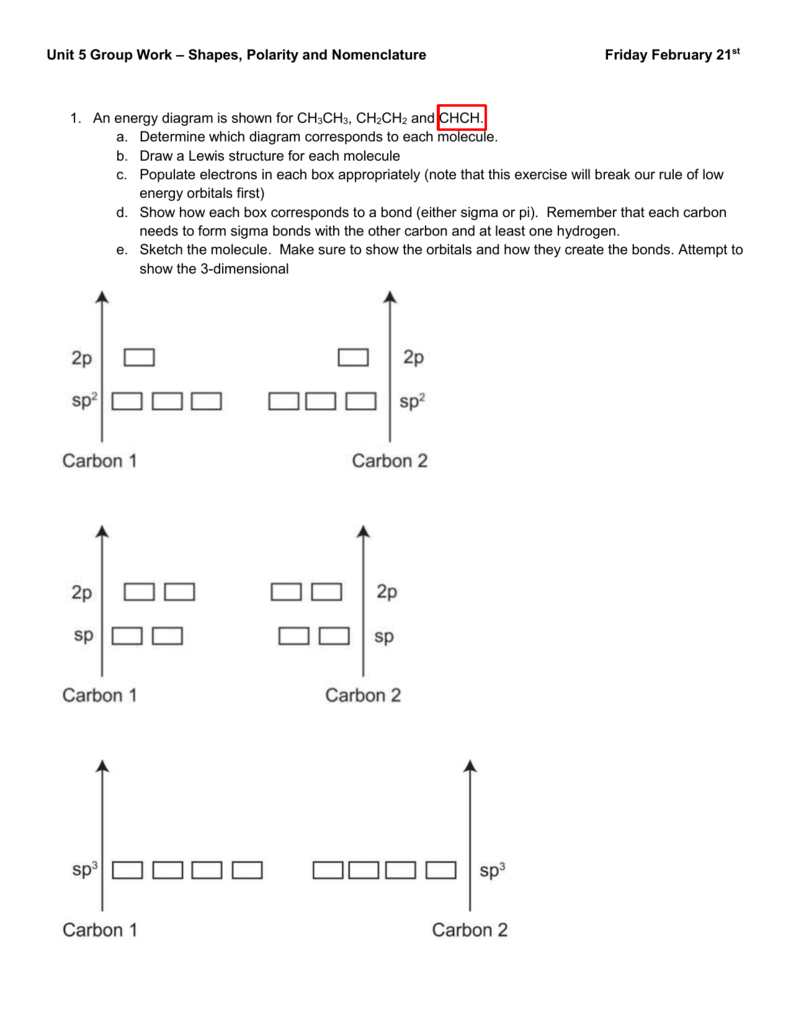 Unit 5 Group Work – Shapes, Polarity and Nomenclature
Friday February 21st
1. An energy diagram is shown for CH3CH3, CH2CH2 and CHCH.
a. Determine which diagram corresponds to each molecule.
b. Draw a Lewis structure for each molecule
c. Populate electrons in each box appropriately (note that this exercise will break our rule of low
energy orbitals first)
d. Show how each box corresponds to a bond (either sigma or pi). Remember that each carbon
needs to form sigma bonds with the other carbon and at least one hydrogen.
e. Sketch the molecule. Make sure to show the orbitals and how they create the bonds. Attempt to
show the 3-dimensional
2. Why can't Hydrogen form hybrid orbitals?
3. Name each of the following compounds.
a. HCl
b. CCl4
c. NaCl
d. MgF2
e. HNO3
f.
HNO2
g. H2CO3
h. CO32i.
CO2
j.
Cu2O
k. CO
l.
FeCl2
4. For each of the boldfaced molecules in Problem 3, draw a correct Lewis structure and determine the
shape and hybridization around each non-hydrogen atom.
5. For each of the following compounds:
a. draw a Lewis Structure
b. State the hybridization on all non-hydrogen atoms
c. Determine the shape around each central atom.
d. Identify all polar bonds.
e. Indicate molecule polarity (if applicable)
f. Identify all intermolecular forces that can stabilize the molecule in condensed phases.
HCl
H2O
CH3OCH3
CF3Br
HCN
CCl4
6. Based on IM force strength, rank these molecules in order of increasing melting temperature. Recall
that stronger IM forces melt at higher temperatures.
F2
HF
H2
BrF
NaF
CH3 CH2CH2CH3
7. Determine the hybridization at each non-hydrogen atom and indicate the shape around each central
atom. Note that lone pairs are not necessarily shown.