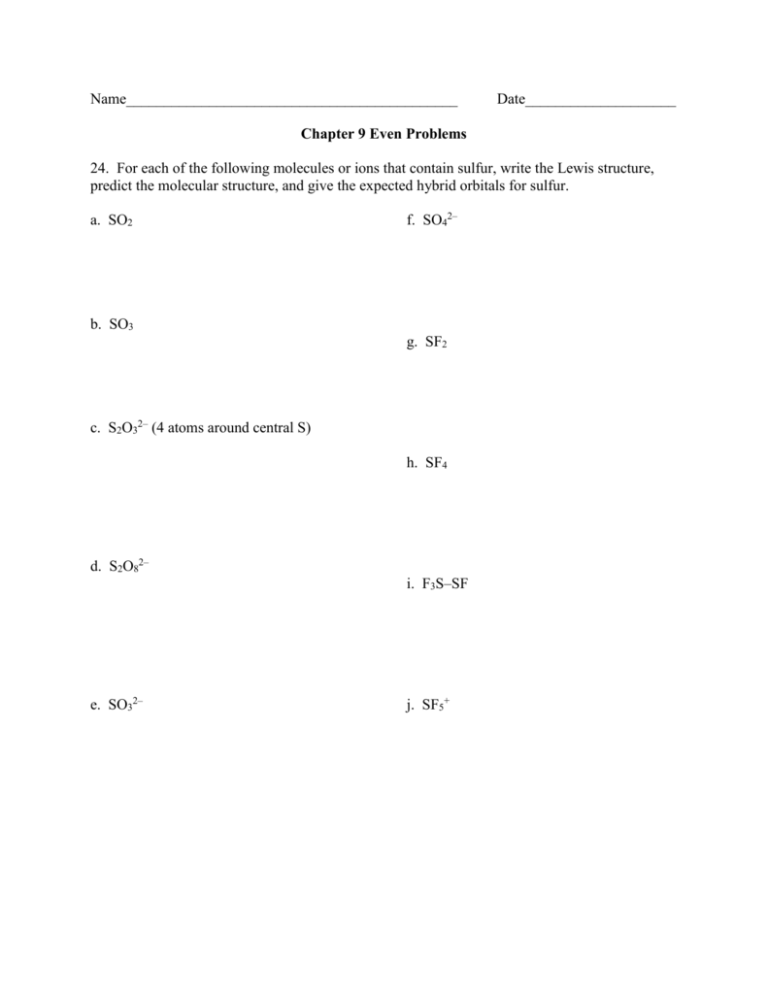 Name____________________________________________
Date____________________
Chapter 9 Even Problems
24. For each of the following molecules or ions that contain sulfur, write the Lewis structure,
predict the molecular structure, and give the expected hybrid orbitals for sulfur.
a. SO2
f. SO42–
b. SO3
g. SF2
c. S2O32– (4 atoms around central S)
h. SF4
d. S2O82–
i. F3S–SF
e. SO32–
j. SF5+
28. Many important compounds in the chemical industry are derivatives of ethylene, C2H4. Two
of them are acrylonitrile (the first one) and methyl methacrylate.
H
H
H
C=C
H
CH3
C=C
C
H
N
C–O–CH3
O
Complete the Lewis structures, showing all lone pairs. Give the hybridization of all carbon
atoms. In acrylonitrile, how many of the atoms in the molecule lie in the same plane? How
many  bonds and how many  bonds are there in each compound?
32. The antibiotic thiarubin-A was discovered by studying the feeding habits of wild
chimpanzees in Tanzania. The structure for thiarubin-A is
H
H
C–C
H3C–C≡C–C
C–C≡C–C≡C–CH=CH2
S—S
a. Complete the Lewis structure showing all lone pairs of electrons.
b. Indicate the hybrid orbitals used by the carbon and sulfur atoms.
c. How many  and  bonds are present in this molecule?
34. Which of the following are predicted by the molecular orbital model to be stable diatomic
species?
a. N22–, O22–, F22–
b. Be2, B2, Ne2
40. Construct a molecular orbital energy-level diagram for the Cl2 molecule. Is Cl2 expected to
be paramagnetic?
61. (challenge problem) Two structures can be drawn for cyanuric acid:
H
O
N
C
N
H
O
C
H
N
O–C
N
C
N
H
O
O–H
C
N
C
O
H
Complete the Lewis dot structures above (add lone pairs).
a. Are these two structures the same molecule? Explain.
b. Give the hybridization of the carbon and nitrogen atoms in each structure.
c. Use bond energies to predict which form is more stable; that is, which contains the strongest
bonds?