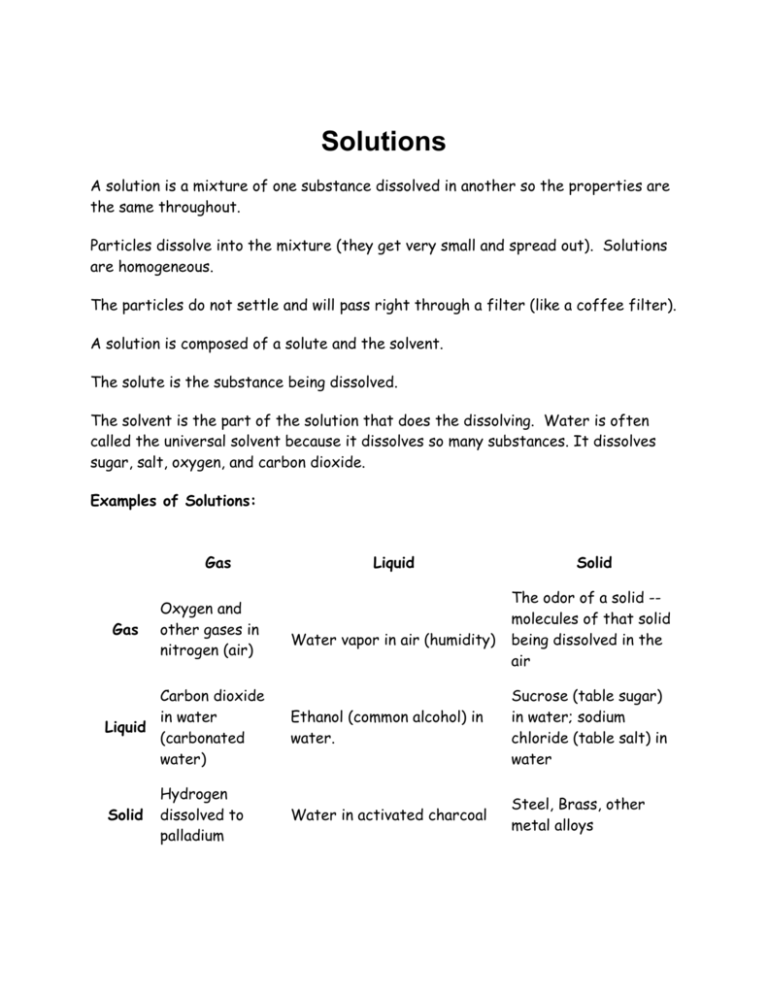 Solutions
A solution is a mixture of one substance dissolved in another so the properties are
the same throughout.
Particles dissolve into the mixture (they get very small and spread out). Solutions
are homogeneous.
The particles do not settle and will pass right through a filter (like a coffee filter).
A solution is composed of a solute and the solvent.
The solute is the substance being dissolved.
The solvent is the part of the solution that does the dissolving. Water is often
called the universal solvent because it dissolves so many substances. It dissolves
sugar, salt, oxygen, and carbon dioxide.
Examples of Solutions:
Gas
Gas
Oxygen and
other gases in
nitrogen (air)
Carbon dioxide
in water
Liquid
(carbonated
water)
Solid
Hydrogen
dissolved to
palladium
Liquid
Water vapor in air (humidity)
Solid
The odor of a solid -molecules of that solid
being dissolved in the
air
Ethanol (common alcohol) in
water.
Sucrose (table sugar)
in water; sodium
chloride (table salt) in
water
Water in activated charcoal
Steel, Brass, other
metal alloys
Making Solutions
So, what happens? How do you make that solution?
Mix the two liquids and stir. It's that simple.
Science breaks it into three steps. When you read
the steps, remember...
Solute=Sugar (Yellow Dots)
Solvent=Water (Blue)
System=Glass.
1. The solute is placed in the solvent and the solute slowly breaks into pieces. If
you start to stir the liquid, the mixing process happens much faster.
2. The molecules of the solvent begin to move out of the way and they make room
for the molecules of the solute. Example: The water has to make room for the
sugar molecules to spread out.
3. The solute and solvent interact with each other until the concentration of the
two substances is equal throughout the system. The concentration of sugar in the
water would be the same from a sample at the top, bottom, or middle of the glass.