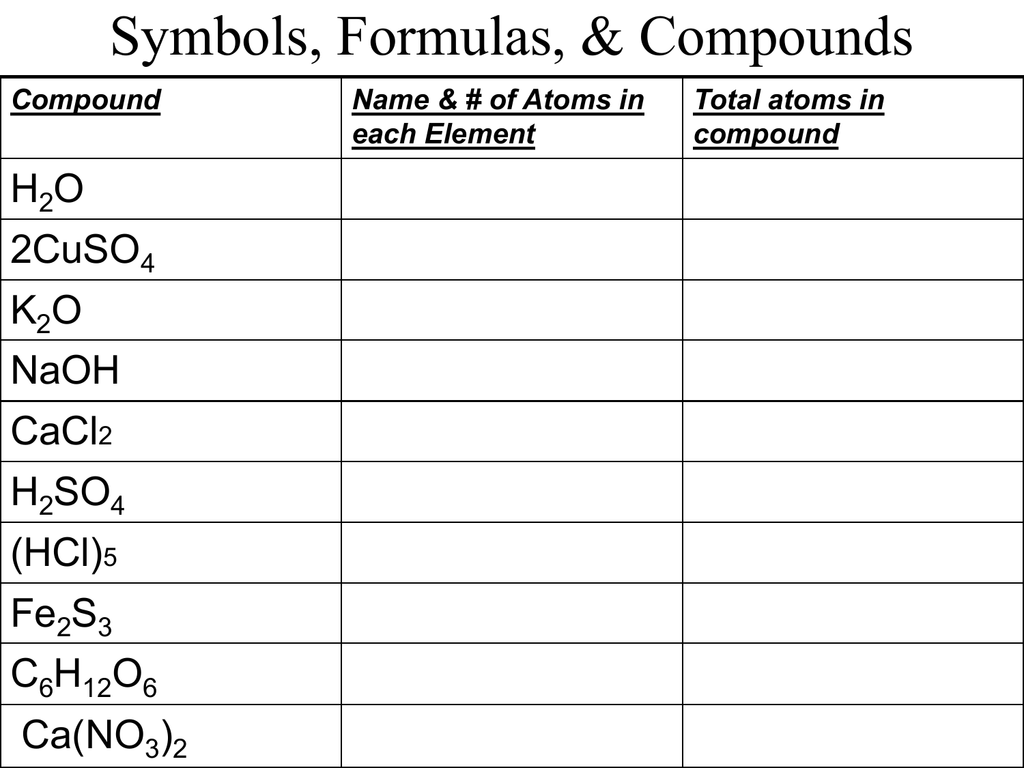 Symbols, Formulas, & Compounds
Compound
H2O
2CuSO4
K2O
NaOH
CaCl2
H2SO4
(HCl)5
Fe2S3
C6H12O6
Ca(NO3)2
Name & # of Atoms in
each Element
Total atoms in
compound
Mixing it Up
NCSCOS 4.05
Chapter 4-1D ~ Messana
Compounds & Mixtures
Today's vocab terms:
Mixture, solution, solute,
Solvent, suspension,
Freezing point, boiling point
Solutions ARE Mixtures
MIXTURE:
combinations of
substances, like a
salad. Easily
separated into basic
components.
SOLUTION: type of
mixture that can not be
separated. Solutions
are blended together so
well that they become
one. Known as a
homogenous mixture.
Parts of a Solution
Solutions have two
definite components:
1.
SOLUTES: the
substance that is
dissolved to make a
solution; the solute
dissolves and is
usually the smaller
component
2.
SOLVENT: the
substance that
dissolves the solute;
usually the larger
component
Ex: Kool- Aid
Solute (sugar) + Solvent (water) = SOLUTION (Kool- Aid)
Types of Solutions
3 types of solutions:
1. Liquid Solution:
water contains
many dissolved
substances
2. Solid solution:
bronze is a metal
solution
consisting of tin
dissolved in
copper
3.
Gas Solution:
air around you is
a solution
Suspensions
In a SUSPENSION, the
particles are larger than those
found in the solution; instead
of dissolving ,the particles
turn the mixture cloudy.
Ex: Flour in water
Suspensions can be easily
separated.
How could this solution be
separated?
Changing Properties
Adding a solute will:
1. Lower the FREEZING
POINT (the temperature at
which a liquid turns into a
solid)Ex: SALT added will make it more
difficult to freeze
2. Raises the BOILING
POINT (the temperature at
which a liquid turns into a
gas) Ex: SALT added to water will make it
take longer to boil…but water will be hotter!
What are examples of solutions?
1.oxygen gas is dissolved in
seawater
2. air is oxygen dissolved in
nitrogen
3. bronze consists of tin dissolved
in copper (solid solution)
4. carbon dioxide gas dissolved in
soda
5. vinegar is acetic acid in water
(liquid solution)
POP QUIZ!!!! Please put on back of
Notesheet 
1.
2.
3.
4.
What are the two parts of a
solution?
Which part of a solution gets
dissolved?
Which part of a solution
dissolves the other?
Which type of bonding occurs
when electrons are shared?
POP QUIZ
5. Which type of solution has charged particles
that interact with the solvent?
6. What happens to the freezing point of a
compound when you add a solute?
7. What happens to the boiling point when you
add a solute?
8. What is a subscript, where is it located, and
what does it tell you?
9. What are the three types of solutions?
BONUS: What is known as the temperature at
which a solid becomes a liquid?