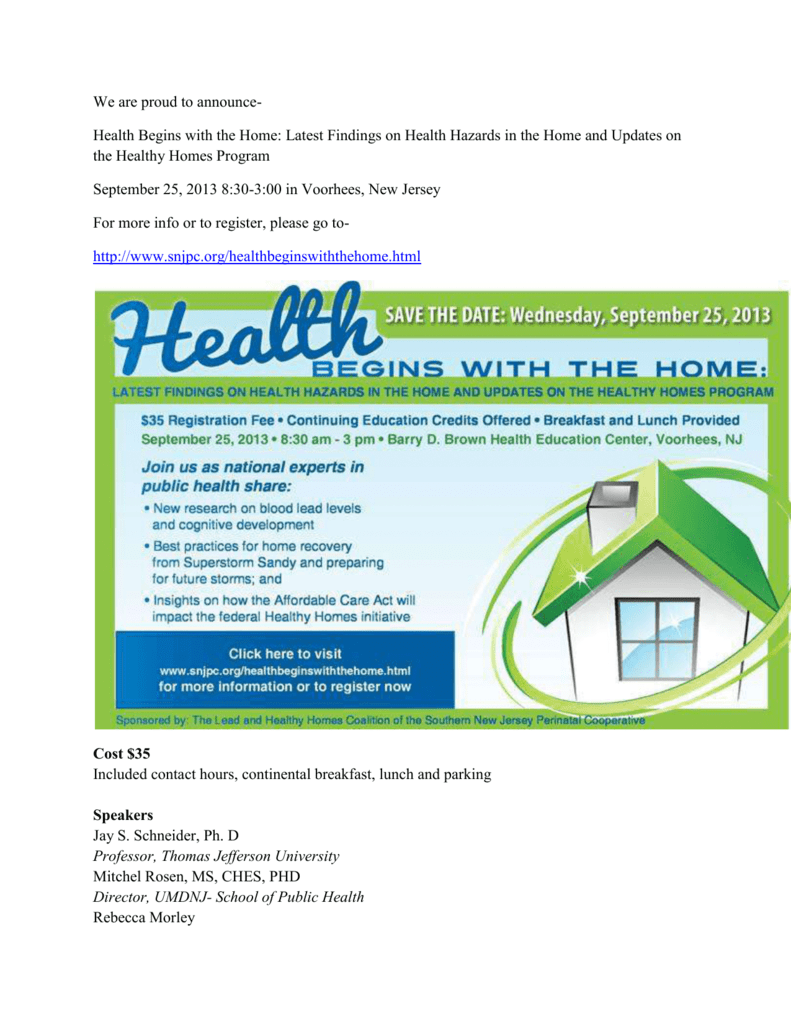 We are proud to announceHealth Begins with the Home: Latest Findings on Health Hazards in the Home and Updates on
the Healthy Homes Program
September 25, 2013 8:30-3:00 in Voorhees, New Jersey
For more info or to register, please go tohttp://www.snjpc.org/healthbeginswiththehome.html
Cost $35
Included contact hours, continental breakfast, lunch and parking
Speakers
Jay S. Schneider, Ph. D
Professor, Thomas Jefferson University
Mitchel Rosen, MS, CHES, PHD
Director, UMDNJ- School of Public Health
Rebecca Morley
Executive Director, National Center for Healthy Housing
Jack Rayburn, MPh
Government Relations Manager, Chronic Disease Prevention, Trust for America's Health
Accreditation:
Nurses: Participants who complete the program will be awarded 4.25 Nursing contact hours by
the Southern New Jersey Perinatal Cooperative.
CHES: An application for CHES (entry-level)/MCHES (advanced level) Category I continuing
education contact hours (CECH) has been made to the National Commission for Health
Education Credentialing, Inc. (NCHEC) through the approved provider New Jersey Society for
Public Health Education (NJ SOPHE).
Public Health: Participants who successfully complete this educational program will be
awarded NJ Public Health Continuing Education Contact Hours (CEs).
The Southern New Jersey Perinatal Cooperative is an approved provider of continuing nursing
education by New Jersey State Nurses Association, an accredited approver by the American
Nurses Credentialing Center's Commission On Accreditation. P# P106-11/12-15
Accredited status does not imply endorsement by NJSNA, SNJPC, or ANCC of any commercial
products or services.
The speakers have declared that they have nothing to disclose.