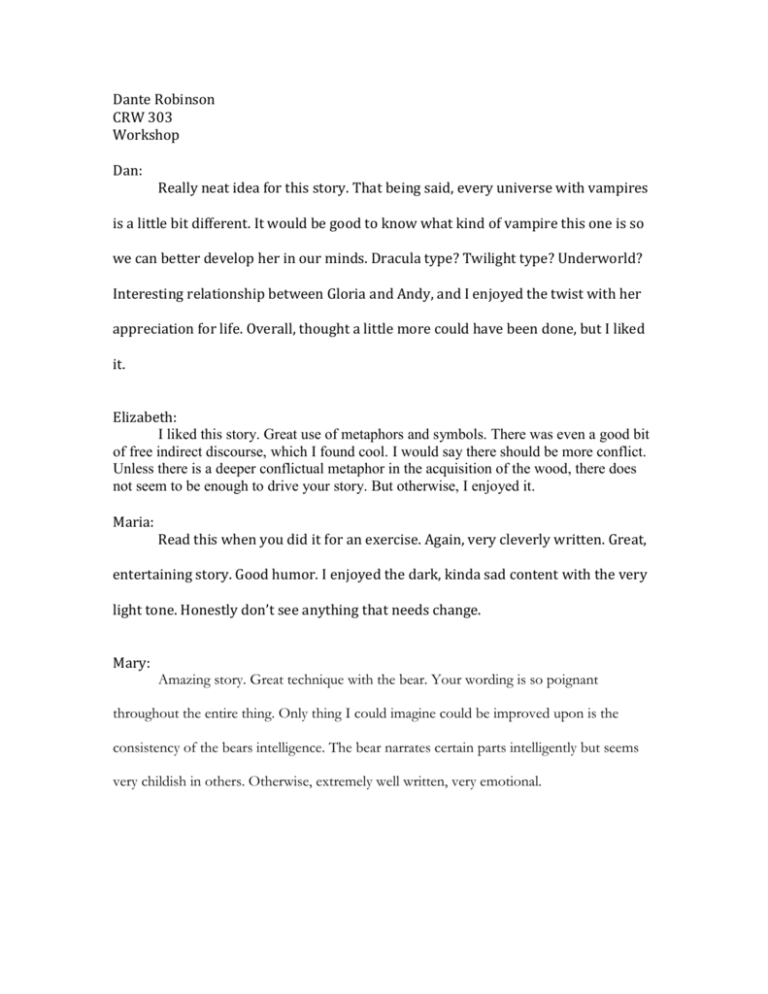 Dante Robinson
CRW 303
Workshop
Dan:
Really neat idea for this story. That being said, every universe with vampires
is a little bit different. It would be good to know what kind of vampire this one is so
we can better develop her in our minds. Dracula type? Twilight type? Underworld?
Interesting relationship between Gloria and Andy, and I enjoyed the twist with her
appreciation for life. Overall, thought a little more could have been done, but I liked
it.
Elizabeth:
I liked this story. Great use of metaphors and symbols. There was even a good bit
of free indirect discourse, which I found cool. I would say there should be more conflict.
Unless there is a deeper conflictual metaphor in the acquisition of the wood, there does
not seem to be enough to drive your story. But otherwise, I enjoyed it.
Maria:
Read this when you did it for an exercise. Again, very cleverly written. Great,
entertaining story. Good humor. I enjoyed the dark, kinda sad content with the very
light tone. Honestly don't see anything that needs change.
Mary:
Amazing story. Great technique with the bear. Your wording is so poignant
throughout the entire thing. Only thing I could imagine could be improved upon is the
consistency of the bears intelligence. The bear narrates certain parts intelligently but seems
very childish in others. Otherwise, extremely well written, very emotional.