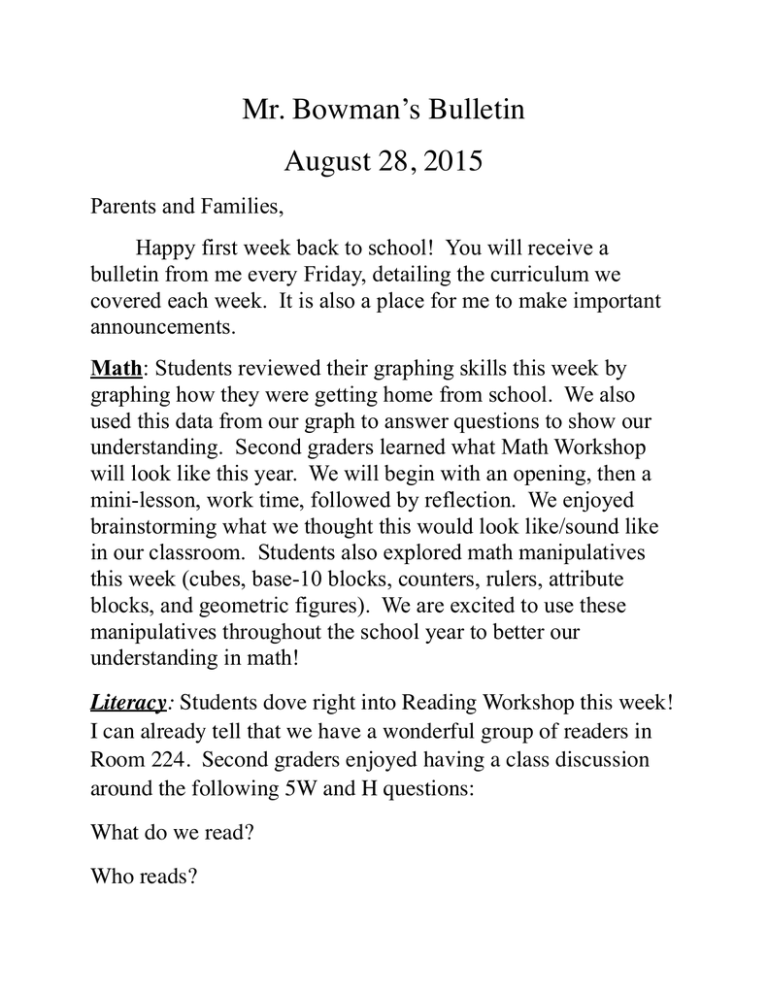 Mr. Bowman's Bulletin August 28, 2015
Parents and Families,
Happy first week back to school! You will receive a
bulletin from me every Friday, detailing the curriculum we
covered each week. It is also a place for me to make important
announcements. Math: Students reviewed their graphing skills this week by
graphing how they were getting home from school. We also
used this data from our graph to answer questions to show our
understanding. Second graders learned what Math Workshop
will look like this year. We will begin with an opening, then a
mini-lesson, work time, followed by reflection. We enjoyed
brainstorming what we thought this would look like/sound like
in our classroom. Students also explored math manipulatives
this week (cubes, base-10 blocks, counters, rulers, attribute
blocks, and geometric figures). We are excited to use these
manipulatives throughout the school year to better our
understanding in math!
Literacy: Students dove right into Reading Workshop this week!
I can already tell that we have a wonderful group of readers in
Room 224. Second graders enjoyed having a class discussion
around the following 5W and H questions:
What do we read?
Who reads?
Why do we read?
Where do we read?
When do we read?
How do we read?
We came to the conclusion that readers can read everywhere/
anywhere, anything, and anytime! We also began to learn and
practice how to "Read to Self" this week in Reading Workshop.
They are already working hard in building their stamina! Ask
your child what "Read to Self" should look like in our
classroom. In writing students enjoyed listening to a variety of back to
school read alouds, as well practicing how to respond with
writing in their Writing Notebooks. They enjoyed making
connections to the text, as well as sharing these connections with
their classmates.
Social Studies: This week in Social Studies, the students
worked hard in creating our class promise and rules for the
school year. We enjoyed reading Officer Buckle to help us
brainstorm ideas for creating a positive classroom community.
The students also went on a tour of the school building by
reading a map to help find our way. Specials Schedule for Next Week:
Monday: Music
Tuesday: Art
Wednesday: Library
Thursday: P.E.
Friday: Music
Important Dates
September 7th : No School
September 10 : Curriculum Night 6-7pm !