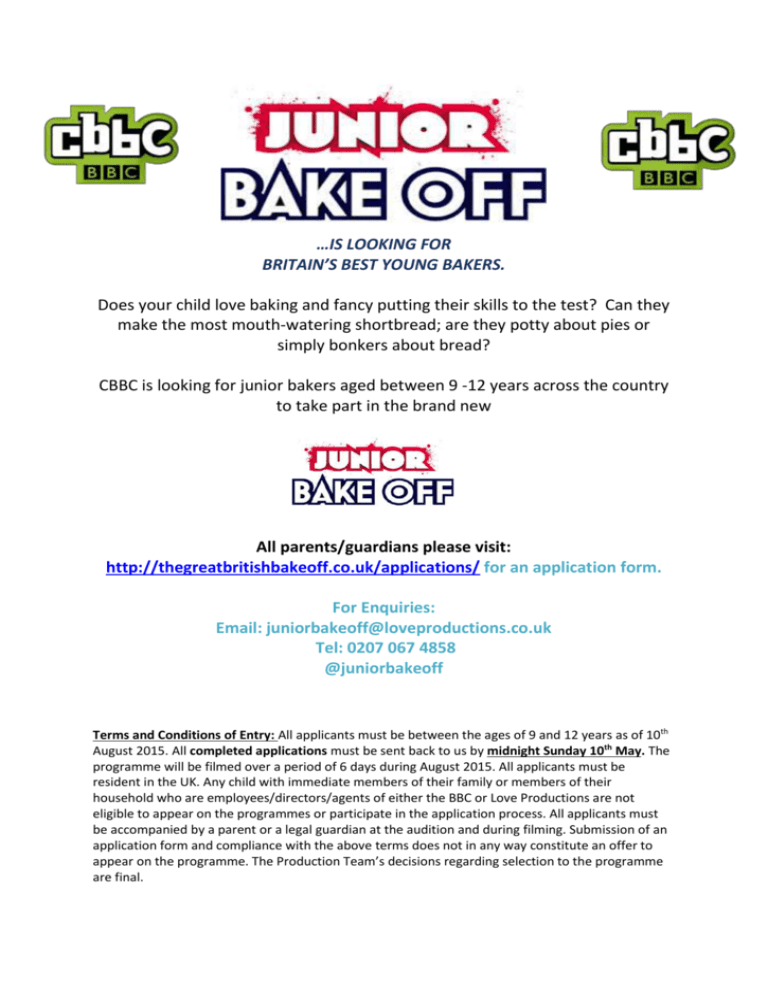 …IS LOOKING FOR
BRITAIN'S BEST YOUNG BAKERS.
Does your child love baking and fancy putting their skills to the test? Can they
make the most mouth-watering shortbread; are they potty about pies or
simply bonkers about bread?
CBBC is looking for junior bakers aged between 9 -12 years across the country
to take part in the brand new
All parents/guardians please visit:
http://thegreatbritishbakeoff.co.uk/applications/ for an application form.
For Enquiries:
Email: juniorbakeoff@loveproductions.co.uk
Tel: 0207 067 4858
@juniorbakeoff
Terms and Conditions of Entry: All applicants must be between the ages of 9 and 12 years as of 10th
August 2015. All completed applications must be sent back to us by midnight Sunday 10th May. The
programme will be filmed over a period of 6 days during August 2015. All applicants must be
resident in the UK. Any child with immediate members of their family or members of their
household who are employees/directors/agents of either the BBC or Love Productions are not
eligible to appear on the programmes or participate in the application process. All applicants must
be accompanied by a parent or a legal guardian at the audition and during filming. Submission of an
application form and compliance with the above terms does not in any way constitute an offer to
appear on the programme. The Production Team's decisions regarding selection to the programme
are final.