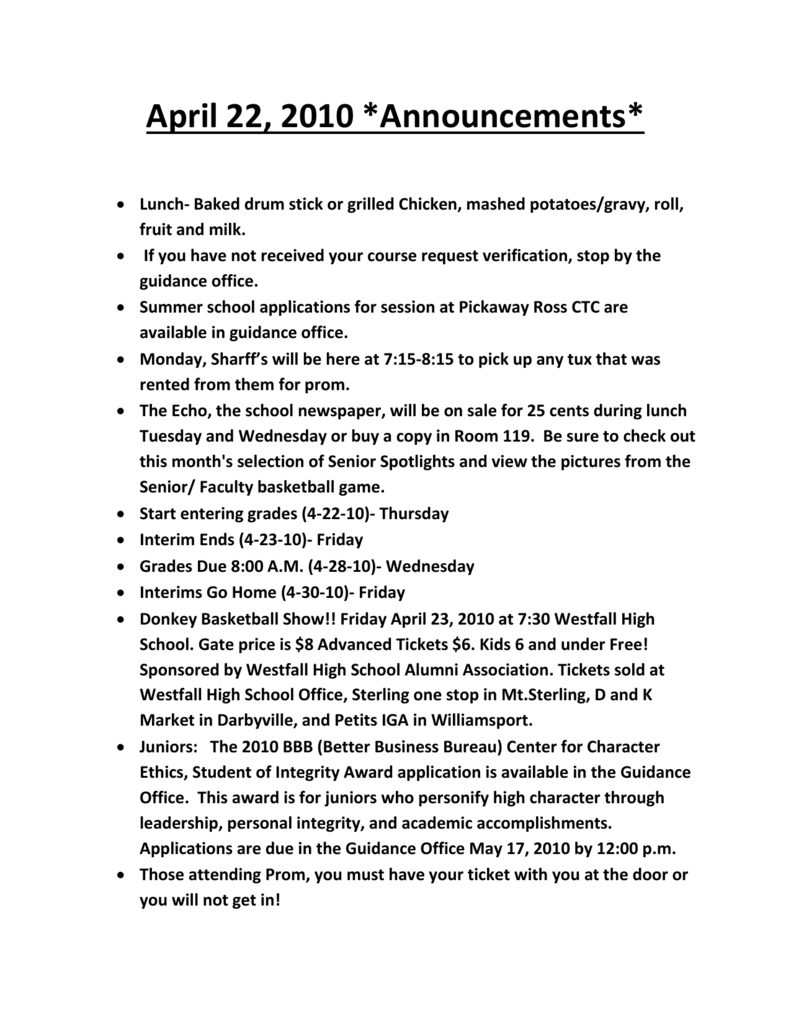 April 22, 2010 *Announcements*
 Lunch- Baked drum stick or grilled Chicken, mashed potatoes/gravy, roll,
fruit and milk.
 If you have not received your course request verification, stop by the
guidance office.
 Summer school applications for session at Pickaway Ross CTC are
available in guidance office.
 Monday, Sharff's will be here at 7:15-8:15 to pick up any tux that was
rented from them for prom.
 The Echo, the school newspaper, will be on sale for 25 cents during lunch
Tuesday and Wednesday or buy a copy in Room 119. Be sure to check out
this month's selection of Senior Spotlights and view the pictures from the
Senior/ Faculty basketball game.
 Start entering grades (4-22-10)- Thursday
 Interim Ends (4-23-10)- Friday
 Grades Due 8:00 A.M. (4-28-10)- Wednesday
 Interims Go Home (4-30-10)- Friday
 Donkey Basketball Show!! Friday April 23, 2010 at 7:30 Westfall High
School. Gate price is $8 Advanced Tickets $6. Kids 6 and under Free!
Sponsored by Westfall High School Alumni Association. Tickets sold at
Westfall High School Office, Sterling one stop in Mt.Sterling, D and K
Market in Darbyville, and Petits IGA in Williamsport.
 Juniors: The 2010 BBB (Better Business Bureau) Center for Character
Ethics, Student of Integrity Award application is available in the Guidance
Office. This award is for juniors who personify high character through
leadership, personal integrity, and academic accomplishments.
Applications are due in the Guidance Office May 17, 2010 by 12:00 p.m.
 Those attending Prom, you must have your ticket with you at the door or
you will not get in!
 Happy Birthday!-Jeffery Christman, Jordan Pine, Kaitlyn Fields, and
Candace Russell.
 There will be a Student Council Meeting "C" lunch on Friday, April 23.
 The results for Prom Court are in.
The candidates for Prom King are:
Gabe Whitesides
Nate Curry
Clint Boring
The candidates for Prom Queen are:
Abby Self
Kara Davis
Natalie Ogle
 Voting for King & Queen will be done at Prom.
Congratulations to the candidates!