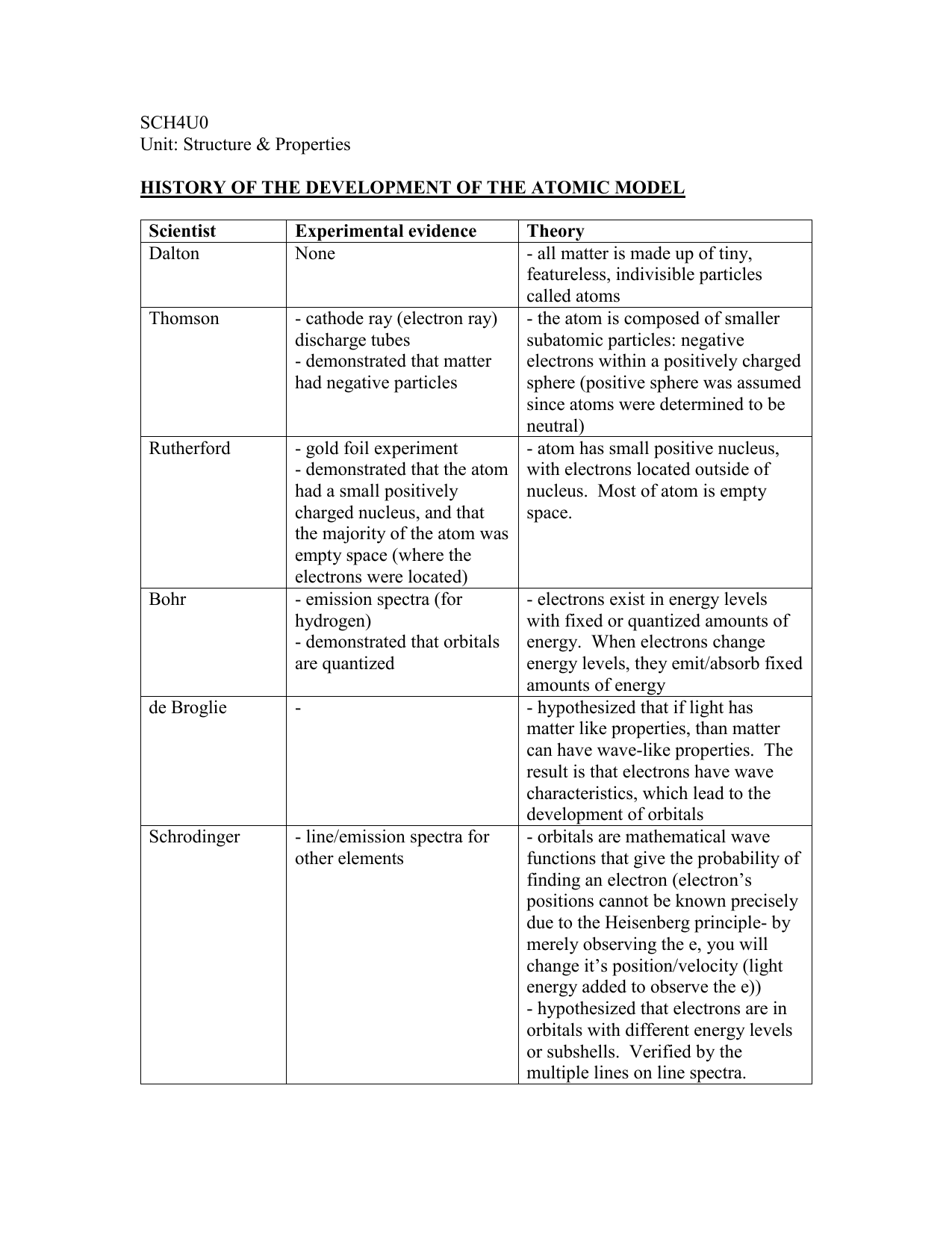 SCH4U0
Unit: Structure & Properties
HISTORY OF THE DEVELOPMENT OF THE ATOMIC MODEL
Scientist
Dalton
Thomson
Rutherford
Bohr
de Broglie
Schrodinger
Experimental evidence
None
Theory
- all matter is made up of tiny,
featureless, indivisible particles
called atoms
- cathode ray (electron ray)
- the atom is composed of smaller
discharge tubes
subatomic particles: negative
- demonstrated that matter
electrons within a positively charged
had negative particles
sphere (positive sphere was assumed
since atoms were determined to be
neutral)
- gold foil experiment
- atom has small positive nucleus,
- demonstrated that the atom with electrons located outside of
had a small positively
nucleus. Most of atom is empty
charged nucleus, and that
space.
the majority of the atom was
empty space (where the
electrons were located)
- emission spectra (for
- electrons exist in energy levels
hydrogen)
with fixed or quantized amounts of
- demonstrated that orbitals energy. When electrons change
are quantized
energy levels, they emit/absorb fixed
amounts of energy
- hypothesized that if light has
matter like properties, than matter
can have wave-like properties. The
result is that electrons have wave
characteristics, which lead to the
development of orbitals
- line/emission spectra for
- orbitals are mathematical wave
other elements
functions that give the probability of
finding an electron (electron's
positions cannot be known precisely
due to the Heisenberg principle- by
merely observing the e, you will
change it's position/velocity (light
energy added to observe the e))
- hypothesized that electrons are in
orbitals with different energy levels
or subshells. Verified by the
multiple lines on line spectra.