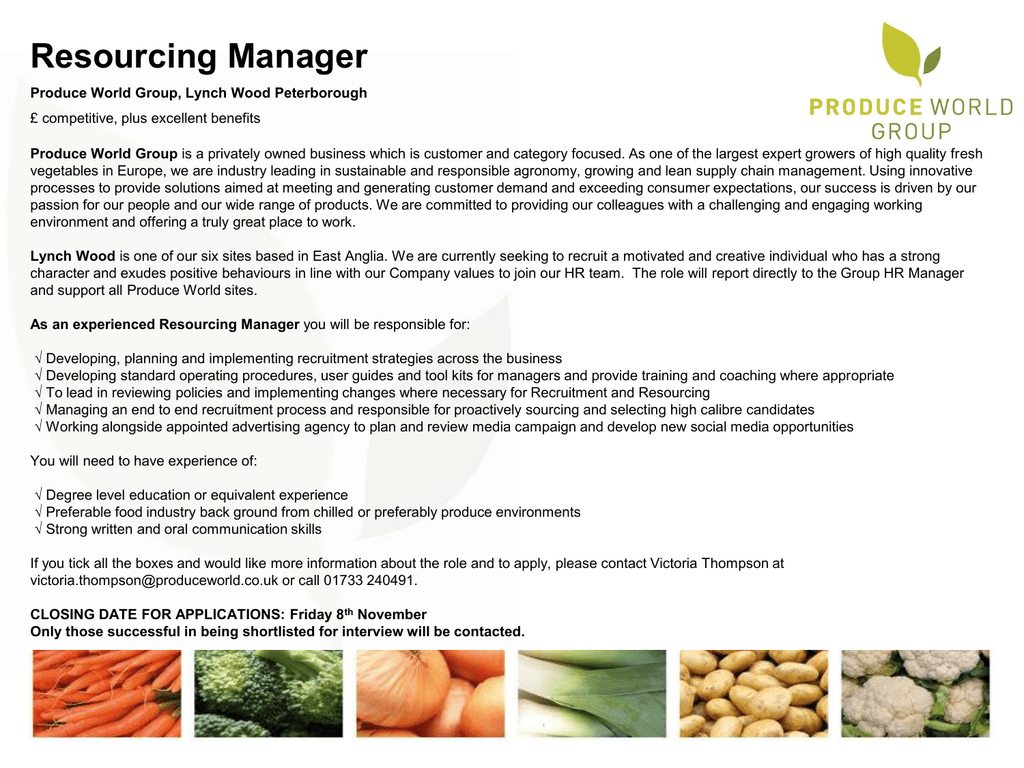 Resourcing Manager
Produce World Group, Lynch Wood Peterborough
£ competitive, plus excellent benefits
Produce World Group is a privately owned business which is customer and category focused. As one of the largest expert growers of high quality fresh
vegetables in Europe, we are industry leading in sustainable and responsible agronomy, growing and lean supply chain management. Using innovative
processes to provide solutions aimed at meeting and generating customer demand and exceeding consumer expectations, our success is driven by our
passion for our people and our wide range of products. We are committed to providing our colleagues with a challenging and engaging working
environment and offering a truly great place to work.
Lynch Wood is one of our six sites based in East Anglia. We are currently seeking to recruit a motivated and creative individual who has a strong
character and exudes positive behaviours in line with our Company values to join our HR team. The role will report directly to the Group HR Manager
and support all Produce World sites.
As an experienced Resourcing Manager you will be responsible for:
√ Developing, planning and implementing recruitment strategies across the business
√ Developing standard operating procedures, user guides and tool kits for managers and provide training and coaching where appropriate
√ To lead in reviewing policies and implementing changes where necessary for Recruitment and Resourcing
√ Managing an end to end recruitment process and responsible for proactively sourcing and selecting high calibre candidates
√ Working alongside appointed advertising agency to plan and review media campaign and develop new social media opportunities
You will need to have experience of:
√ Degree level education or equivalent experience
√ Preferable food industry back ground from chilled or preferably produce environments
√ Strong written and oral communication skills
If you tick all the boxes and would like more information about the role and to apply, please contact Victoria Thompson at
[email protected] or call 01733 240491.
CLOSING DATE FOR APPLICATIONS: Friday 8th November
Only those successful in being shortlisted for interview will be contacted.