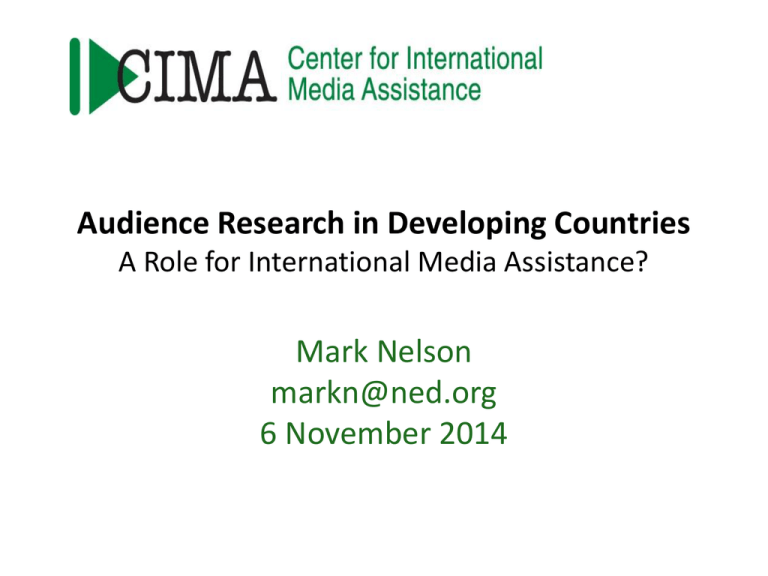 Audience Research in Developing Countries
A Role for International Media Assistance?
Mark Nelson
markn@ned.org
6 November 2014
Press freedom is declining
Freedom of the Press Index
100
90
80
70
60
50
40
30
Freedom House data rescaled 100=best
20
10
0
1996
1997
1998
1999
2000
2001
2002
2003
2004
2005
2006
2007
2008
2009
2010
2011
Country level media systems have stagnated
Average MSI Score Europe/Eurasia: Selected Years
2.5
2
1.5
1
0.5
0
2001
2003
2005
2006
2008
2009
2011
2013
A sliver of development assistance
Donor spending on "media"
$625 million (est.)
Global ODA
$135 billion
Rethinking Media Development:
Media Map Project
• Surveyed existing data
and media sector
indicators
• Country case studies on
effectiveness of donors
• A look at how public &
private sectors work
together (or not) in
media development
Findings on Donor Support
• Lack of sector diagnostics
or use of data—neither
partners nor donors
• Failure to integrate media
into broader devt agenda
• Over-reliance on training
as an instrument
• Inadequate scale
Instead, often useful but not
addressing systemic issues
MSI Objective 4: "Media firms well managed,
allowing editorial independence"
media are selfsustaining
enterprises
revenue comes
from multiple
sources
advertising market
institutions in
place
government
subsidies don't
distort market
advertising
revenue % in line
with standards
other market data
reliably produced
market research
used for tracking
outcomes
Business management: Europe-Eurasia
No countries in "sustainable" category
Unsustainable
Unsustainable
Near sustainability
anti-free press [0-1.0]
mixed system [1.0-2.0]
[2.01-3.0]
• Turkmenistan
• Azerbaijan
• Belarus
• Uzbekistan
• Macedonia
• Russia
• Tajikistan
• Ukraine
• Albania
• Armenia
• Bosnia
• Bulgaria
• Kazakhstan
• Kyrgyzstan
• Moldova
• Montenegro
• Serbia
• Croatia
• Georgia
• Kosovo
• Romania
The changing environment for media
in developing countries
Unstable business model & inadequate
finance
Exploding connectivity & changing media
habits
Growing demand for quality management
& data
Report topics
Models of audience research
Audience data and its uses
• Business development
• Audience development
• Informing and evaluation of media development efforts
• Limits to audience research as a tool for media
development
Conclusions and recommendations
The value of audience research
Country level
• Levels playing field, enhances business climate
• Reduces corruption
Firm level
• Helps improve business model content, reach,
relevance & loyalty; a tool for learning
Owners and
investors
Donors &
implementers
• Strengthens trust in market & investment climate
• Creates more transparent marketplace
• Can strengthen effectiveness of support
• Enhances learning from success and failure
Substantial Shifts in Global Ad Spending
Substantial Shifts in Global Ad Spending
Mobile internet from 2.7% to 7.6%
Institutionalizing audience research
Country
capacity
Sector
capacity
Sector
governance
Market
transparency
& integrity
Four key recommendations
Research
& data
Technical
support
Advocacy
Working
group
Four key recommendations
Research
& data
Advocacy
Technical
support
Working
group
More questions than answers
Working
group
• How do countries get
sustainable audience
research systems; more
open data, transparency?
• What role should outside
partners play?
• What is best sequencing?
• What governance models
for various country types?
• How can we better
capture the learning from
each other?