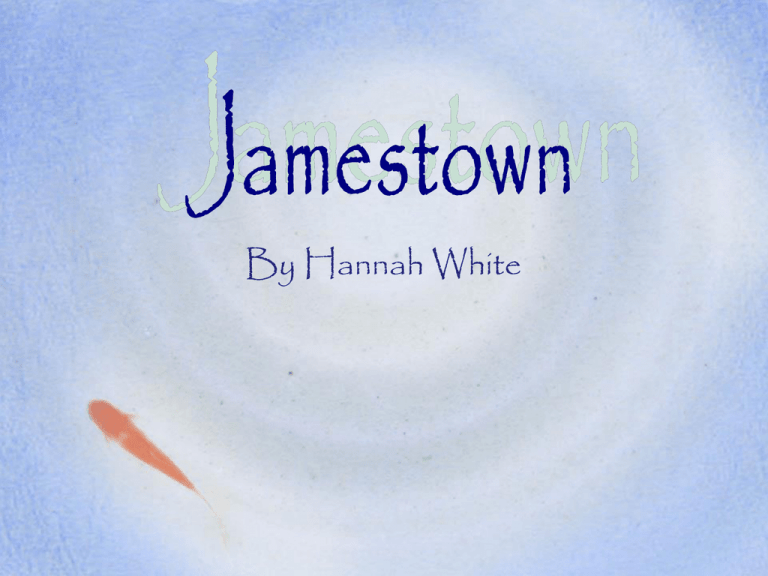 By Hannah White
Goals
• To find a way to the
Pacific Ocean
• Establish a colony
• And to find gold.
Obstacles
• They knew they were
going to meet Indians,
but they didn't know what
their reaction would be.
• Housing materials
• Food source
4000
3500
3000
2500
2000
1500
1000
500
0
1608
1609
1610
Arrived
Total
Survivors
• 7 out of 10 people died in what was called the
"Starving Time". It was a ratio of 7:10.
• Water was one of the main reasons people died.
• The colonists were so hungry the were forced to eat
dead bodies, horses, dogs and even cats.
• Most of them died with-in four months.
• Every step away from camp could of possibly of been
their last.
• The Jamestown fort was built in only 19 days.
• The fort was designed around the guns.
• The fort stretched along the James river.
• John Smith was the most
important person in the
colony.
• His journal is the primary
source of the Jamestown
story.
• John got his leg blown of
from an "accidental"
explosion sparked by his
gun powder bag.
• He returned home in the
fall of 1605.
• He was the bravest one in
the colony because he went
up to the Indian Chief
Powatan and made a deal
with him. Sparkly jewels for
food.
• The colony had to face
their 3rd year alone
• The Indians were one of the things that
helped the colony survive, or at least for a
little while.
• They used what was called the hit and run
tactics for taking out the colony.
• Their bows and arrows were light and
extremely accurate.
What did save the colony from total
destruction anyway?
• The answer: tobacco.
• Every man, woman, and child drank about a
gallon of beer each day.
• The reigning superpower was fame.
• Spies were common in the 20th century.
• The buried their dead colonists inside of the
fort walls, but their 1st Capitan, Bart Gosnold,
was buried outside of the walls to show that they
were losing a ton of colonists and they were on
the edge of death to the entire colony.