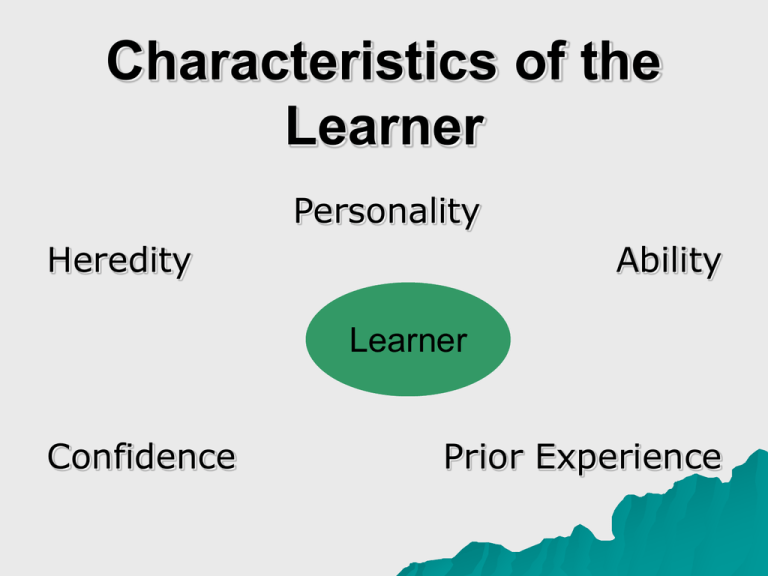 Characteristics of the
Learner
Personality
Heredity
Ability
Learner
Confidence
Prior Experience
Personality
Personality refers to an individual's
characteristic way of behaving.
 Personality develops as a result of the
individual's infinite social interactions and
learning experiences throughout life.
 Coaches describe athletes in terms of
observable traits such as consistency,
reliability, level of motivation and ability to
express feelings.

Heredity
Individuals are endowed with certain
characteristics inherited from their
parents. These are unchangeable and will
limit the dimensions of their potential.
 The relative percentage of fast-twitch to
slow-twitch fibres
 Somatotype
 Gender
 Height
 Conceptual ability

Confidence
 Confidence
is a firm belief in one's
own ability
 Self-confidence is critical not only to
improvements in skill acquisition, but
also to the performance of many
tasks faced in everyday living.
 Confidence develops from
experiencing success in learning
situations.
Prior experience
 In
a group situation, learners will be
quite diverse in terms of background
experience. If an individual earlier
learned a movement that is similar
to one being taught, they have the
potential to accelerate the current
learning process. This is referred to
as the transfer of leaning.
Ability
 Ability
is seen in the way in which an
individual is able to learn, process
and implement new skills. Ability
incorporates a range of factors such
as sense acuity, perception, reaction,
time and intelligence, which combine
to allow the individual to do readily
what is intended.